20 Images
Red Carpet Rewind: Cannes '08 fashion
By Elizabeth Snead, The Envelope
The first week of the
Cannes Film Festival
was, as always, a couture fashion show of international proportions featuring stunning creations by Giorgio Armani, Ferragamo, Versace, Chanel, Max Azria and Christian Lacroix worn by stars such as
Cate Blanchett,
Angelina Jolie,
Julianne Moore
and
Natalie Portman.
The finest rocks from Bulgari, Van Cleef & Arpels and Chopard decorated the ears, necks, wrists and fingers of both the filthy rich partygoers and the film famous.That's not even counting all the Christian Louboutins and the Jimmy Choo stilettos teetering up those Palais steps.
And it's not over yet. There will be another fashion free-for-all this week, with Sharon Stone and Madonna due in town for the star- studded AmFAR Cinema Against AIDS fundraiser.
But let's be honest. Not everyone who shows up in Cannes' global media spotlight has (A) a good reason to be there or (B) the skill (or stylist) to dress appropriately for the big occasion(s).
In fact, it's hard to fathom why both "Desperate Housewives" TV star
Eva Longoria
and desperate former talk show host Star Jones were at Cannes, wearing all manner of glam gear and fashion finery to several premieres and parties.
Let's take a closer look at the good, the bad and the simply inexplicable highs and lows of the fest's annual fashion show.
(Christian Hartman / Associated Press)
Desperate for attention?
Eva Longoria Parker
, a spokesmodel for L'Oreal, a major Cannes sponsor, came to promote her ability to wear designer gowns and L'Oreal beauty products at parties and premieres. Here she is in a gold Ferragamo backless number at the "Blindness" opening night dinner, where she got to eat with real award-winning movie stars like
Julianne Moore
and
Sean Penn
.
(WireImage)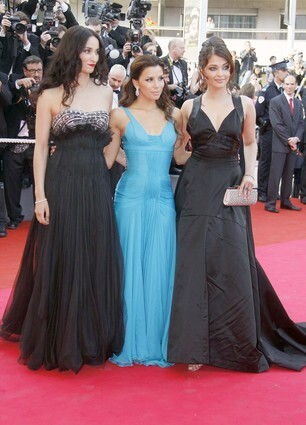 The three muses
Here's
Eva Longoria Parker
again, in a turquoise Versace gown at another premiere last week with two other L'Oreal muses, French actress Rachida Brakni, left, and Indian actress Aishwarya Rai. It's hard to earn the big beauty contract bucks. This is work, people! You try walking in their stilettos for one night.
(Francois Guillot / AFP/Getty Images)
Twin peaks
Angelina Jolie
, with a mustachioed
Brad Pitt
, looked like a beatific
Madonna
with twins in her avocado-green Max Azria gown at the "Kung Fu Panda" premiere. But she's got another gown for the premiere of her other film, "Changeling," this week. The fashion suspense is killing us!
(Pascal Le Segretain / Getty Images)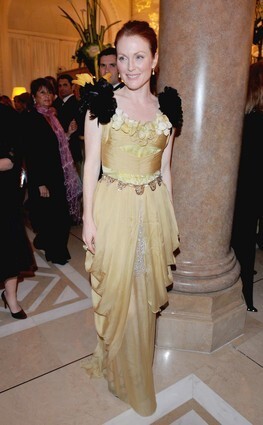 Fine feathered friends
Julianne Moore got rave reviews for her performance in "Blindness," the festival's opening film. But not for her Christian Lacroix couture gown with crazed feathered ravens perched on her shoulders.
(Pascal Le Segretain / Getty Images)
Breast dressed
Model/activist Petra Nemcova, who was partying with a then-single Sean Penn at Elton John's Oscar bash earlier this year, flashed a bit of breast in her loose white gown on the Cannes red carpet. Was she trying to get Penn's attention? Or just irritate his wife, Robin Wright Penn?
(Francois Guillot / AFP/Getty Images)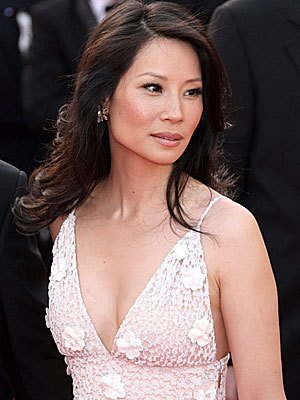 Charlie's angel
Lucy Liu came over for "Kung Fu Panda," but we sure wish she had stayed. She was one of the most elegantly attired actresses at the festival, in a Valentino couture gown with Chopard jewelry. If only she'd worn clothes like this on "Lipstick Jungle," it might not have flopped so fast.
(WireImage)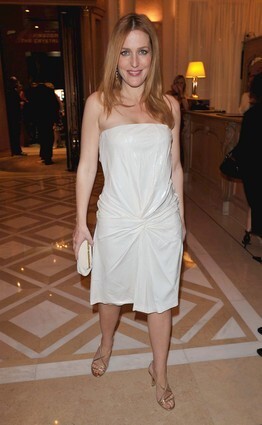 X marks the spot
Talk about an "X-Files" mystery. Why is Gillian Anderson wearing a wrinkled bedsheet to the "Blindness" opening night party? And what would Agent Mulder make of her inexplicably bad fashion choice?
(Pascal Le Segretain / Getty Images)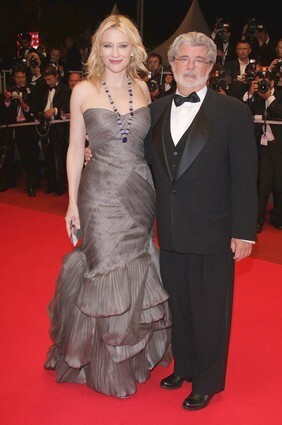 Now with moving parts
George Lucas has his hands full of more than just
"Indiana Jones and the Kingdom of the Crystal Skull,"
-- leading lady Cate Blanchett, wearing a smoky gray Armani Prive strapless gown. Who knew he was so short? Next to statuesque Cate, George looks like a Lucas action figure.
(Francois Durand / Getty Images)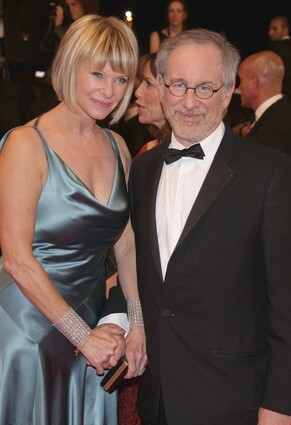 Man of the hour
Director Steven Spielberg sticks close to his wife, Kate Capshaw, who wears an unfortunate blond Katie Holmes-like bob and a silvery blue satin gown. Sadly, Kate's film career was done in by "Indiana Jones and the Temple of Doom." Let's hope they don't resurrect her whiny character, Willie Scott, in any forthcoming Indiana Jones film.
(Francois Durand, Getty Images)
Jury of her peers
Natalie Portman
is serving as a Cannes juror this year. That means she has to see all the films in competition and look good in couture at the major premieres. So she's to be excused for letting her makeup artist go a little heavy with the blush and lipstick for the "Indiana Jones" carpet. The navy blue Chanel couture gown was dramatic enough without the war paint.
(Francois Mori / Associated Press)
Taking a licking
Juliette Lewis wore a black-fringed mini-dress by Alberta Ferretti and a Chopard lariat necklace to the Chopard fete. Why she's at Cannes, we have no idea. Did
Madonna
bail and are Juliette and her band, the Licks, playing AmFAR?
(Kristian Dowling / Getty Images)
Jonesing for Cannes
A long way from over the hill, Harrison Ford, 65, looks fine in an Armani suit, with longtime love Calista Flockhart in an elegant off- one-shoulder turquoise satin gown at the premiere of "Indiana Jones and the Kingdom of the Crystal Skull." Who said their love wouldn't last?
(Francois Durand / Getty Images)
Uneasy rider
Artist/actor/writer/photographer
Dennis Hopper
's still hitting his Cannes red carpet stride at age 72. He celebrated his birthday at a charity poker event Saturday night and then put on his dark formal suit for the "
Indiana Jones
" premiere Sunday night, with his young wife, Victoria Hopper.
(WireImage)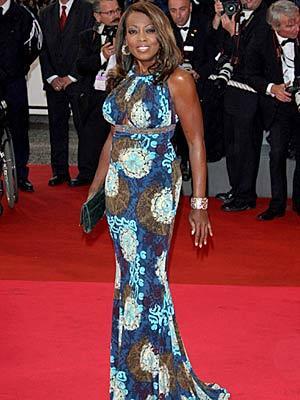 Star struck
Because I know you just can't get enough of Star Jones, here's the final shot of her at Cannes, wearing a blue floral print halter gown and pretending to be a celebrity. Wonder if anyone thought she was
Jennifer Hudson
?
(WireImage)
Ms. Director
Writer/director/producer
Jada Pinkett
-Smith wore a cap-sleeved, high-waisted teal satin dress to a yacht party in Cannes. And why not, now that's she's officially more than just
Will Smith
's wife and a "Matrix Reloaded" actress.
(WireImage)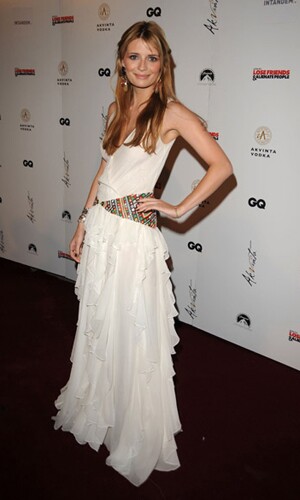 OC or OD?
Mischa Barton
wore a Matthew Williamson dress to a Cannes event last week. But strangely, she left the festival before the premiere of her new film, "You and I," a tale of two girls who are "swept into a dangerous world of obsession, drug abuse and murder." Wow. Sounds like "The O.C."
(WireImage)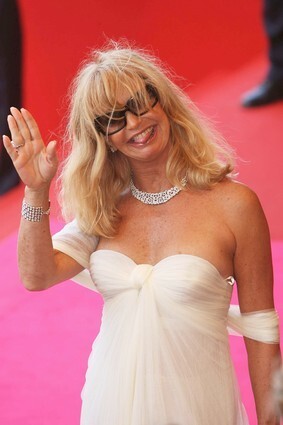 Chiffon becomes her
Goldie Hawn kept it simple with a flattering white chiffon gown to stroll the "Indiana Jones" carpet Sunday. Not sure about those oversized shades, though. Maybe she stayed up too late playing poker at the Partouche Poker party the night before?
(Sean Gallup / Getty Images)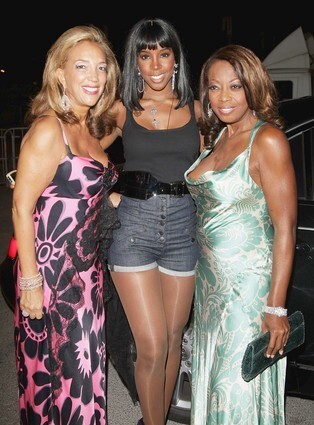 Three's company
The only thing stranger than songwriter Denise Rich hanging at Prince Albert's Cannes bash with Kelly Rowland? That would be that mysterious bump on Star Jones' upper arm. Good lord, is that a ... muscle?
And Rowland: She's wearing high-waisted jeans and nude stockings. Where's House of Dereon when we need it?
(Francois Durand / Getty Images)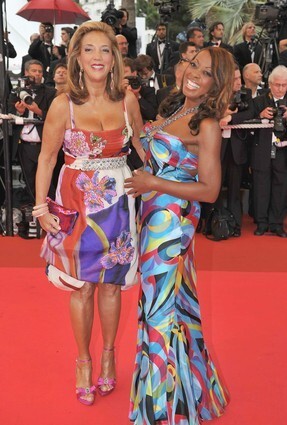 Cougar Alert!
Seen stalking the Cannes carpets: songwriter Denise Rich (in ironic leopard print) and a surprisingly svelte and shapely (for her) Star Jones, clad in a mirrored silver slit sheath gown. Star is definitely in the market for another young hunky husband. Maybe a Frenchy this time?
(Pascal Le Segretain / Getty Images)