8 Images
SHOWBIZ SEVEN: Best kid performances from Abigail Breslin to Jodie Foster
By Deborah Netburn
Los Angeles Times Staff Writer
"People always say you shouldn't work with children or animals," said Jennifer Flackett, one half of the husband and wife directing team behind "Nim's Island," a new film from Walden Media opening Friday. "We worked with a lot of animals on this film and it was difficult. But kids are different. Kids are fantastic."
"Nim's Island," which stars Jodie Foster and 11-year-old Abigail Breslin, is the second time Flackett and husband Mark Levin have worked together on a film with child stars — in 2005 they collaborated on "Little Manhattan," a love story starring two 11-year-olds.
Levin says his main criterion for a good kid performance is that the young actor is never preening or cute, or mugging for the camera. "If there is depth and honesty to the performance, then when things are funny they are so much funnier," he said.
Here are the seven kid performances that Flackett and Levin love the most.
(Associated Press)
1. Tatum O'Neal (with dad Ryan) in "Paper Moon."
"She played her father's daughter in the movie. It was Peter Bogdanovich who directed it, and he did incredible work with it. She was the classic tomboy, never cute, always tough. She was a great model for a girl."
(Paramount Pictures)
2. Justin Henry in "Kramer vs. Kramer."
"One of the most touching performances you've ever seen. Totally honest and totally real. Rumor has it that Dustin Hoffman held his hand through the whole thing, but obviously the director, Robert Benton, had a lot to do with it too."
()
3. Max Pomeranc in "Searching for Bobby Fischer."
"Steven Zaillian was a first-time director, and the performance he got out of that boy — that is what we hold as a gold standard for child performances. It had all this emotional integrity."
(Fox Family Channel)
4. Josh Hutcherson in "Little Manhattan."
"From the moment he first read for us he completely owned the role. He did the reading of the movie for the studio and it was like watching Brando do 'Streetcar'; it was the perfect marriage of person and role."
(20th Century Fox)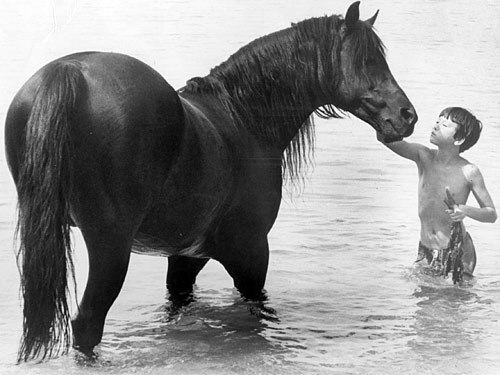 5. Kelly Reno in "The Black Stallion."
"This is an incredible performance from the horse, but also from Kelly Reno. It is just so incredibly honest and showed such daredevilness. What they were able to capture with this kid and this horse is really amazing."
(United Artists)
6. Abigail Breslin in "Little Miss Sunshine."
"She just takes the idea of child actor and takes the child part out of the equation. When people ask about Abby, we always say she is just an actress who just happens to be an 11-year-old at the same time."
(Fox Searchlight Pictures)
7. Jodie Foster in "Alice Doesn't Live Here Anymore."
"We always said she was so Nim-like in that role, so strong and funny," Flackett and Levin write of Foster, seen here at the "Nim's Island" premiere. "She has the line 'So long, suckers' that we quote all the time. And we taught all our kids to say that."
(Alberto E. Rodriguez / Getty Images)