10 Images
Judy Greer to Vivian Vance: A field guide to female sidekicks
By Rebecca Snavely,
Los Angeles Times Staff Writer
Ethel Mertz and Rhoda Morgenstern might not be household names like Lucy and Mary Tyler Moore, but they were always knocking on the door, ready with a smile.
And if you were paying any attention, you would have noticed that over the last few years,
Judy Greer
has served as Central Casting's zany go-to gal pal. She was always right there on drums for headliners Jennifer Lopez in "The Wedding Planner," Jennifer Garner in "13 Going on 30," Katherine Heigl in "27 Dresses" and "Love Happens" with Jennifer Aniston.
Greer took a turn as a leading lady in ABC's "Miss Guided' in 2008, and now she's taking another shot at carrying a show in a project called "I'm With Stupid" that's in development at the network. We think it's high time for a quick spin through film and TV's funniest lady sidekicks.
(Bob D'Amico / ABC)
Partner in crime
Ethel on "I Love Lucy" (Vivian Vance)
Whether staging a break-in or stealing John Wayne's footprints from Hollywood's Walk of Fame, Ethel was the sidekick most easily duped into risking arrest due to Lucy's latest scheme.
(Viacom)
Beauty school dropout
Paulette in "Legally Blonde" (Jennifer Coolidge)
When crisis hits, the best gal a friend can turn to is one who is a great listener and who offers sage advice and encouragement, all while serving up a mean mani-pedi.
(Tracy Bennett / MGM)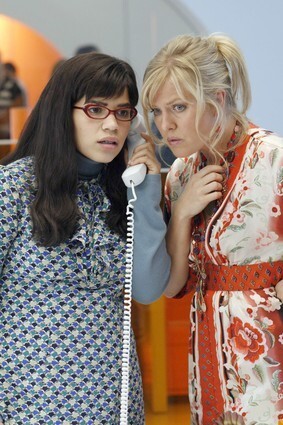 Best dressed
Christina on "Ugly Betty" (Ashley Jensen)
When awkward Betty got her break in the high-end fashion world, she was saved by her friendly sidekick, Christina. With access to Mode magazine's wardrobe closet, Christina is the best friend a girl in a tacky Guadalajara poncho can find.
(Ron Tom / ABC)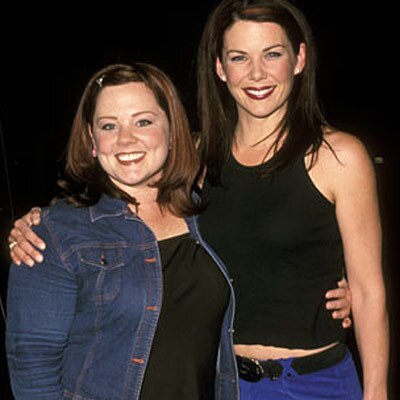 Interpreter/Nurturer
Sookie on "Gilmore Girls" (Melissa McCarthy)
Didn't understand Lorelei's last rant? Not to worry, sidekick Sookie is never far from Lorelai, serving as interpreter and best-friend-bearing-baked-goods.
(WireImage)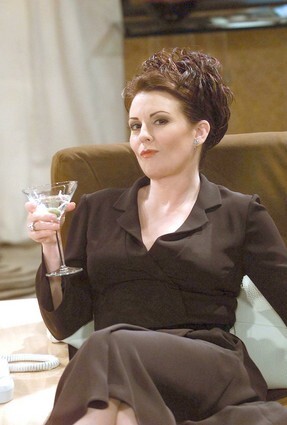 Zany wag
Karen on "Will & Grace" (Megan Mullally)
Armed with style, wit and enough party-mix pills to kill an elephant, Karen's the sassy sidekick who you won't take home to the parents, but who you can't quite seem to fire.
(Chris Haston / NBC)
Grouchy singleton
Rhoda on "The Mary Tyler Moore Show" (Valerie Harper)
Perky Mary would be a touch too cheerful without Rhoda, her upstairs neighbor, raining on the parade. In a defining sidekick moment, Rhoda persuades Mary not only to join, but head up, a divorcee club in the hopes of meeting men and winning a trip to France.
(CBS)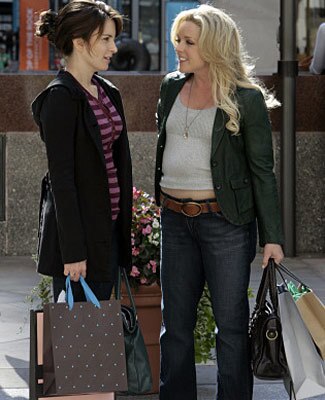 Superficialist
Jenna on "30 Rock" (Jane Krakowski)
Liz Lemon's endlessly superficial sidekick, Jenna Maroney, is the anti-sidekick; Jane is as high-maintenance as they come, and is far too wrapped up in her own problems to help Liz with hers. Hey, that's what you get when your sidekick is a vain, aging actress.
(NBC)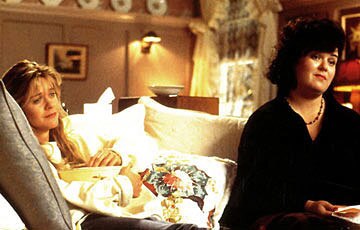 Facilitator
Becky in "Sleepless in Seattle" (Rosie O'Donnell)
She adopts your obsession as her own, rising at the crack of dawn to tune in to your favorite radio show. She listens to your most mind-numbing relationship stories. She puts you on a plane to pursue your dreams. Now that's a best friend.
(Columbia TriStar)
Realist
Vickie in "Reality Bites" (Janeane Garofalo)
On the edge of adulthood and drowning in 1990s angst, Lelaina (Winona Ryder) needs a reality check. Enter Vickie, sidekick with an edge, a dark side and an employee discount at The Gap. She's the friend willing to tell it to you straight: Get over the guy and get a job.
(Chris Pizzello / AP)