10 Images
'Mad Men' style
By Stephanie Lysaght, Los Angeles Times Staff Writer
"Mad Men" costume designer Katherine Jane Bryant must have some beef with actress Elizabeth Moss (who plays secretary-turned-copywriter Peggy Olson on the show). Throughout the first season, Bryant outfitted newcomer Moss in dowdy plaid figure-obliterating skirts and sweater sets. Well, as Peggy gingerly climbs the corporate ladder, it looks as if Bryant and Moss are poised to patch things up in season two, as illustrated by this photo of Moss in the upcoming season, wearing a fetching gingham number and pearls.
Now about those bangs ...
(AMC)
Who says redheads can't wear pink? The ever rebellious Joan Holloway, played by Christina Hendricks, breaks rules of both office decorum and '50s fashion on a daily basis.
(AMC)
January Jones is the best thing to happen to tobacco companies since the indelible Virgina Slims slogan, 'You've come a long way, baby.' The icy blonde actress exudes an effortless glamour that seems to truly be from another time -- OK, Alfred Hitchcock's -- and her omnipresent cigarette is part of her appeal. Can you believe she used to be an Abercrombie & Fitch bathing suit model?
(AMC)
When we left John Slatterly's Roger Sterling at the end of season one, he wasn't doing so well. Following a heart-attack double whammy, one of his office mates quipped that Sterling's skin was the color of his hair: gray.
We're glad to see that in the second season, Sterling is looking dapper again; it's his suit that's gray, not his skin.
We suspect that Sterling will be strong enough to drink in the middle of the afternoon again. We'll drink a toast to that.
(AMC)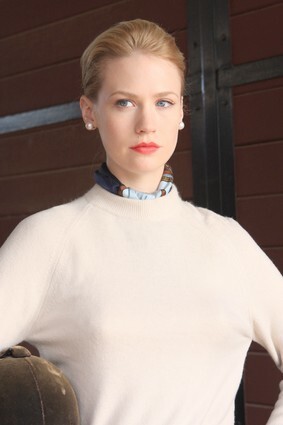 Never underestimate a woman in a tight, creamy cashmere sweater and pearls. Betty Draper's neat Grace Kelly pin curls and stern grimace suggest something is askew in the suburbs. Speaking of which, we look forward to a few supermarket smackdowns in the TV dinner aisle in the upcoming season.
(AMC)
"Mad Men" leading man Jon Hamm, seen here at the Television Critics Assn.'s July panel, told GQ that he's virtually unrecognizable without his stiff onscreen hairdo. "Brylcreem tends to make the difference. If I have it in, it happens. If not, I can usually slip in and out."
We'll take Hamm either way. Windswept or ready for his daily commute.
(Matt Sayles, Associated Press)
"Mad Men's" most unlikable character, Pete Campbell, always manages to look a bit garish alongside his fellow ad men. While they don tan, brown, gray or black suits, Pete's bright blue is as loud and invasive as his pestering personality.
(AMC)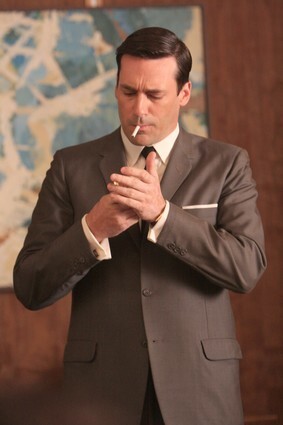 "Don Draper is my father," Jon Hamm told GQ. "My dad was that guy. He was that guy living the American Dream in 1960s America. He owned a trucking company in St. Louis. Everyone in town knew him. He was the life of the party. But there was an incredible sadness inside him, too. Unfortunately, he died when I was 20, so I never got to know him man-to-man. Draper is my attempt to know him better."
Fortunately, we will enjoy watching, especially in those striking period suits.
(AMC)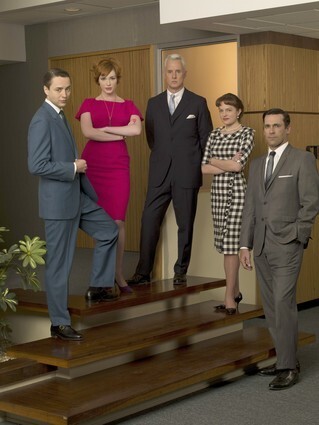 Jonathan Kanarek, owner of the Los Feliz vintage clothes store Jake Vintage, told The Times that clients often come searching for '60s styles, and mention "Mad Men" by name. "That classic look is in magazines all the time, but when people actually see it in play on TV, that pulls it all together for them," said Kanarek.
(AMC)
There's no question that "Mad Men" style is catching the eye of fashion designers. In the Pittsburgh Post-Gazette, designer Peter Som confessed that his new collection was "playing with 'Mad Men." Michael Kors recently referenced the series on his runway, too.
(AMC)