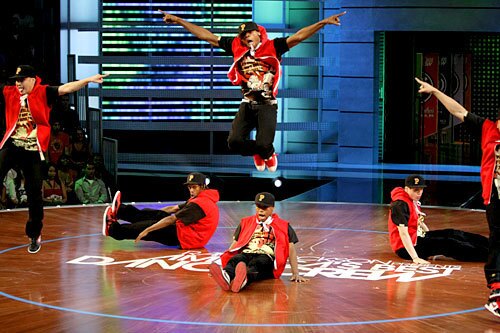 13 Images
'America's Best Dance Crew' - Week 1 performances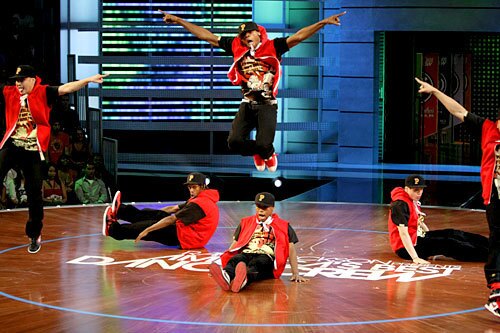 Phresh Select
Performance
: The Philadelphia crew lived up to their words that "hip hop is a celebration of life" with their performance of Boyz II Men's "Motownphilly" on the "America's Best Dance Crew 2" season premiere.
Judges
:
Shane Sparks
said, "That was hot, fellas," and noted that
Virgil "Lil-O" Gadson's
headslide-bridge-roll over his team was "perfection."
JC Chasez
said he liked Phresh Select's moves, their positive message and the work they're doing at schools in the Philly community.
Lil Mama
memorably observed that "the bottom five should have been the top five."
Staying power
: If Phresh Select hangs tough and nails it over the course of the next six episodes we think they will be in the top three.
Members
: Jay "Rukkus" Jao, 23; Virgil "Lil-O" Gadson, 21; Jon "Poppin Jon" Bulack, 22; Lor "Blao" Song, 20; Andrew "Riot" Ramsey, 27, Pennsauken, N.J.; Mark "Smart Mark" Boston Jr., 22.
(Mark Davis / MTV)
So Real Cru
Performance
: Fondly known as "Kaba Houston," this co-ed Texas crew has a serious fan following, a thing for windbreaker jackets, and performing in office building reflections. They performed tightly to Omarion's "Entourage," while team member
Patrick "Pat" Lam
(pictured) caught
JC Chasez's
slo-mo attention with a butterfly or "man's split."
Judges
:
Shane Sparks'
said So Real are "ones to watch" and complimented female crew members
Jackie "Jackstar" Lautchang
and
Ailyn Joy "Eye Candy" Isidro
for "killing it" right alongside the men.
Lil Mama
compared So Real to Kaba and called Ailyn "alien."
Staying power
: The popular speculation is the So Real will end up in the top two. But can they knock out Supreme Soul, ASSID, Phresh Select, Fanny Pak, Boogie Bots and Xtreme Dance Force? And yes, we've already said goodbye to Sass x7.
Members
: Brian "Burna" Puspos, 22; Jackie "Jackstar" Lautchang, 20; Mark Fucanan, 20; Ailyn Joy "Eye Candy" Isidro, 20; Patrick "Pat" Lam, 21; Brian "Ian" Fucanan, 21; Andrew "Goodfoot" Baterina, 22.
(Mark Davis / MTV)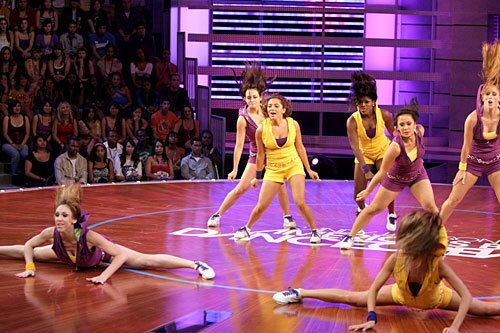 Sass x7
Performance
: Not to sound too cold, but we don't remember this performance. We do remember these Jersey girls swimming in an above-ground pool in their intro clip (without water-wings). Then they did some high-kicks and hair flips to Danity Kane's "Damaged" in Lakers-like dance outfits that only reinforced their rep for being cheerleaders out of their element.
Judges
:
JC Chasez
said they were smart to dance to a girl group but called them out on their single stunt, straight out of the cheerleader playbook, a no-handed cartwheel.
Lil Mama
busted on their Lakers outfits, put on a cheesy suburban voice and said, "And one and two and three and split and kick!"
Shane Sparks
advised them to add some body waves, chest pumps and ticks which just made the dancers in the audience laugh. Then Sparks brought it home by saying out loud what everybody's thinking: What are they still doing on this show?
Staying power
: Don't ask us. We're sure they're great people, but we still can't believe Sass x7 made it past the live casting special.
Members
: Dominique "Dom" Conti, 22, Paramus, N.J.; Madeleine "Mads" Camacho, 19, South Brunswick, N.J.; Becca Lee, 22, Indianapolis; Julie "Jules" Swartz, 22, Bel Air, Md.; Amanda "Mandee" Cilento, 22, Dunellen, N.J.; Lindsay "Linds" Ritter, 22, Sayreville, N.J.; Felicia Rembert, 23, Colonia, N.J.
(Mark Davis / MTV)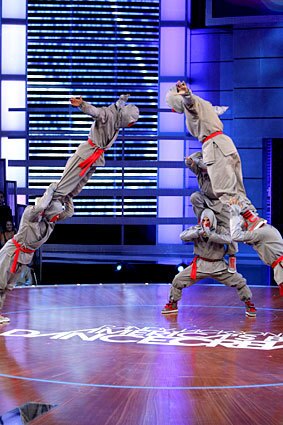 Super Cr3w
Performance
: The moment Super Cr3w ran onstage in gray ninja costumes, then split down the middle like two halves of a watermelon after a bare-handed karate chop, it was clear this Las Vegas crew's grasp of strong concepts will carry them to the final episode. We loved their Leaning Tower of Ninjas followed by the locking and body rocks to James Brown's "Get Up Offa That Thing..." The audience gave Super Cr3w the only standing "O" of the evening. And can we talk about those mad striped socks and grey suede Pumas?
Judges
:
Lil Mama
said they "turnt it up" and repeated her "go home or go hard" aphorism.
JC Chasez
said Super Cr3w was "wildly entertaining," noted their cultural references to old school breakers, then provided a segueway for the camera to point to Taboo from Black Eyed Peas in the audience.
Shane Sparks
shouted, "Y'all just sh*tted on everybody!"
Staying power
: If there is one group that is here to stay 'til August 21 it's Super Cr3w, target on their backs and all.
Members
: Mike "Murda" Carrasco, 25, El Paso; RJ "Rockadile" Puno, 26, Riverside, Calif.; Abenamar "Ben" Honrubia, 24, Las Vegas; "Do-Knock" Cruz, 24, Riverside; Ronnie "Ronnie Boy" Abaldonado, 25, Las Vegas; Angelito "Vex" Casal, 25, Riverside.
(Mark Davis / MTV)
Supreme Soul
Performance
: This Bay Area crew has gotten a seriously bad rap for being arrogant and not giving JabbaWockeeZ it's due props. But we've met these guys, and that's not who they are, it's a conceit of the show crafted by the producers of "America's Best Dance Crew." So don't hate! Having said all that, we'd like to see Supreme Soul make like Emeril Lagasse and "kick it up a notch." We loved their choice of Busta's hard-driving "Put Your Hands Where My Eyes Could See" but their lines were loose.
Judges
: "Clean it up a little," was
Shane Sparks'
advice.
Lil Mama
was disappointed.
JC Chasez
said they need to try to connect with the audience more.
Staying power
: They've got tricks and strong ideas but Supreme Soul needs to show improve to make it into the top three.
Members
: Antoine "Frost" Troupe, 19, Fairfield, Calif.; James "Slim" Dang, 29, San Francisco; Alfred "Mitch" Sanedrin, 18, from the San Francisco Bay Area; RJ "KoolRaul" Navalta, 23, Union City, Calif.; CJ "Pharside" Jennings, 22, the Bay Area; George "Ge.nius" Anzaldo, 20, San Francisco; Jonathan "Bionic" Bayani, 27, Fremont, Calif.
(Mark Davis / MTV)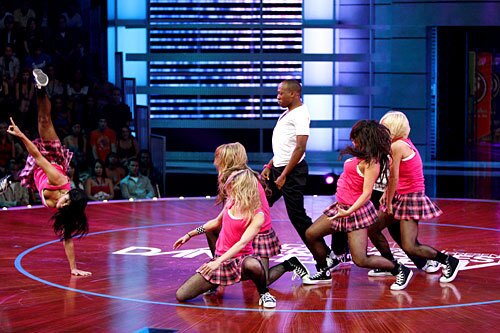 ELIMINATED (JUNE 19)
Distorted X
Performance
: This little co-ed crew from Houston was strong but not especially unique. They had the looks, the diversity and the ladies had cute short pink plaid skirts which they flipped up, with their shirts, to Tweet's "Oops Oh My."
Judges
:
Shane Sparks
said the females were enticing.
JC Chasez
took the opportunity to wax poetic about how "society doesn't want to see beautiful girls do well."
Staying power
: They were too polite to say it, but you could tell Distorted X was furious they didn't get the chance to battle and take down Sass x7. And who wouldn't be?
Members
: Sayree "Uncle Fred" Chatelain, 21; Lori Mallini, 20, Clear Lake, Texas; Lindsey "Lil" Slott, 20, Spring, Texas; Donna Hood, 21; Courtney Paige, 29; Jerome "JNug" Hill, 22; Keana "Kiki" Noons, 18, Honolulu.
(Mark Davis / MTV)
A.S.I.I.D. (And So It Is Done)
Performance
: Typecast as the "inspirational crew" because this Detroit team has a deaf team member, A.S.I.I.D. surprised everybody with the sexiest stunt of the premiere. We said it before and we'll say it again, when they performed to Nicole Scherzinger's "Whatever You Like," the ladies of A.S.I.I.D. made you believe they could battle the Pussy Cat Dolls and win. Meaning, when "MeMe," "Dalla...Licious" and "MD" walked the dog on "DreeZ," "T.A." and "Joey" they put the world on notice.
Judges
:
Shane Sparks
was practically speechless, muttering "That's beautiful ladies and gentlemen."
Lil Mama
said their choreography wasn't hard but they were entertaining.
JC Chasez
, who always seems to consider his words before saying them, seemed to surprise himself when he said, "I want to be on the floor. Take me for a walk!"
Staying power
: Hey, if A.S.I.I.D. can provide inspiration to handicap people and deliver sex appeal who knows what else they have up their sleeves. We think they could even end up in the top five to seven if they can keep up the element of entertaining surprise.
Members
: Himerria "MeMe" Wortham, 23 – Berlin; Della "Dalla…Licious" Hamby, 23; Adrian "DreeZ" Harvey, 23; Tristan "T.A." Fisher, 22; Joseph "Joey" Antonio, 21; Melissa "MD" Banners, 23.
(Mark Davis / MTV)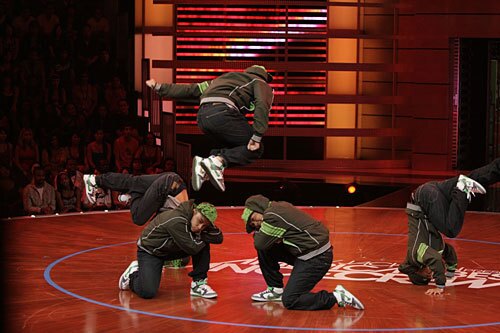 Boogie Bots
Performance
: This D.C. crew could deliver the toytastic but they may need some more time in Santa's workshop. The Bots' turn to Zapp & Roger's "More Bounce to the Ounce" remix had a bit more soul than the group conveyed. But we're fans of their little bounce-knee-slide-hop.
Judges
:
Shane Sparks
said, "When I hear y'all's name, I expect to see a little more 'Transformers' type of stuff in your choreography ... spend more time on getting sharper, cleaner and a little bit more creative."
Staying power
: No one's exactly sure. The crew is definitely together, with great teamwork and choreography, but they are, as of now, sparse on tricks and have yet to perform a breakout routine. The Bots are good enough to continue a few more rounds, but they could see an earlier exit than anticipated.
Members
: Ryan "Gesture" Dalisay, 26, Miami; Miguel "Migs" Almario, 23, Columbia, Md.; Joesar "JPizol" Alva, 20, Parsippany, N.J.; Bryan "Boogie Mind" East, 21 Chantilly, Va.; Michael "Magic Mike" Arellanno, 21 Silver Spring, Md.
(Mark Davis / MTV)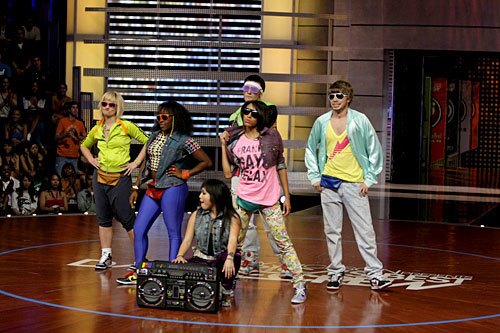 Fanny Pak
Performance
: What's in your fanny pack? How about a whole lot of "artsy" moves no other group has rolled out previously on "America's Best Dance Crew." Choreographer Matt Cady has brought together the dance variation of a themed prom or dress-up band. He bounced around in '80s threads with a boom box, loving the limelight, while his crew provided an alt background to the sounds of Kylie Minogue's "Speakerphone." It was Megan "Meg" Lawson who rolled out a hilarious vertical back bend that caught the eye of
Lil Mama
.
Judges
:
Shane Sparks'
said there was no way Fanny Pak should be in the bottom two.
Lil Mama
played the zany "Meg" slo-mo.
JC Chasez
said he'd "never seen anything like it."
Staying power
: Fanny needs fans, lots of them.
Members
: Beau Fournier, 24, Chatsworth; Matt Cady, 22, Van Nuys; Glenda Morales, 20, Murietta, Calif; Megan "Meg" Lawson, 22, Calgary, Canada; Phil Collins, 19, La Crescenta; Tiffani Grant, 21, Antioch, Calif.; and Cara Horibe, 24, Honolulu.
(Mark Davis / MTV)
Lil Mama
It's a little early for Fourth of July but Lil Mama looked cute in red, white and blue. We laughed when she made fun of Sass X7's self-made pigeon-holing and we agreed when she said the bottom five crews should have been the top five. We hope you patriots were listening and you voted correctly!
(Mark Davis / MTV)
Shane Sparks
Shane's pants were hanging so low and his Timberlands were so loose he ran out into the audience a little bit funny. But that didn't seem to affect his judgment or years of experience as a working choreographer. He clearly thinks Sup3r Crew is the group to beat.
(Mark Davis / MTV)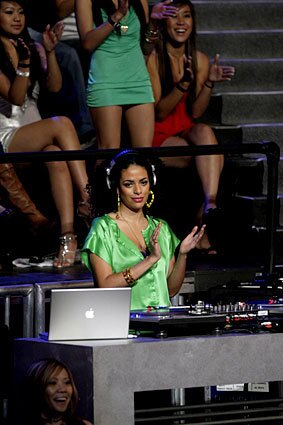 DJ Rashida
You may not have seen much of her at home, but during commercial breaks and pick-up shots DJ Rashida leads the audience in dance battles with classics by EPMD, Eric B. and Rakim's "I Know You Got Soul," and Jay-Z's "H to the Izzo."
(Mark Davis / MTV)
Finale
At the end of the show all the crews come out and perform onstage. We watched in horror as SoReal Cru's "Pat" and Supreme Soul's "Pharside" nearly knocked skulls doing some crazy b-boy floor work. See you all back on Thursday, June 26th.
(Mark Davis / MTV)