Janet McTeer says her 'Jessica Jones' role is an exciting departure, but theater still her first love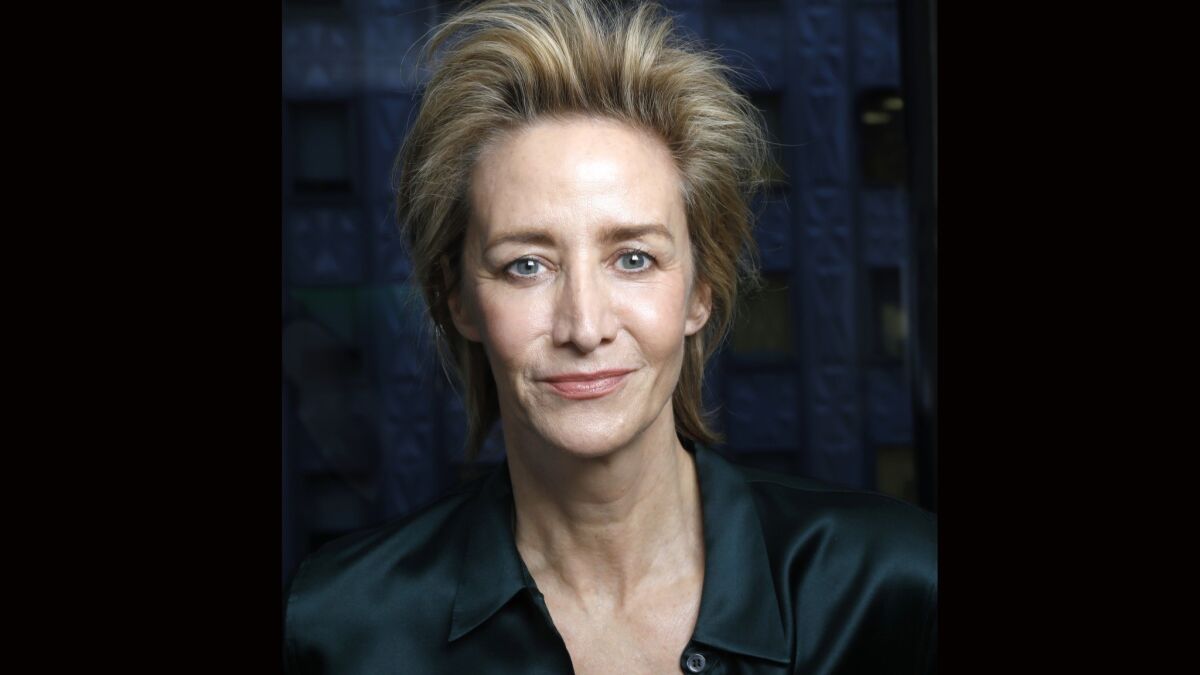 Reporting from New York —
Janet McTeer has spent the last three decades with one foot in the screen and the other on the stage. Raised in the north of England, the Tony Award-winner first impressed American moviegoers with her Oscar-nominated turn as a free-spirited single mom in the 1999 film "Tumbleweeds." Since then, she's mostly alternated between independent film ("Albert Nobbs," "Songcatcher") and theater ("Mary Stuart" and "Les Liaisons Dangereuses" on Broadway).
But lately, McTeer has been lured away from her home in the woods of coastal Maine by TV roles, including her current turn as a villain (of sorts) in the just-launched second season of "Marvel's Jessica Jones." The portrayal is an exciting departure for the 56-year-old actress.
"It's enjoyable having to do something so physical," said McTeer, who stands a smidge over 6 feet, during a recent visit to New York. In one memorable scene, she even got to smash a piano (it was made of balsa wood).
It's her first time playing a character with superpowers, and she credits showrunner Melissa Rosenberg with thinking outside the box.
"I honestly feel that if this had been written by a man, my character would have been played by a middle-aged man," said the actress, who will also appear in the second season of "Ozark" on Netflix and in the dark comedy "Sorry for Your Loss" for Facebook Watch. "I don't feel like I've ever seen a woman play this part, and that's pretty cool."
You haven't really done much work in genre films or shows. What excited you about "Jessica Jones"?
When I first started watching, I thought, "Oh well, I'm never going to do this. I think this might be too broad strokes for me." And then I watched it and realized how dark and subtle it is. It wasn't anything that I imagined it was going to be, tackling these subjects that were so prescient. I think it's a program essentially about various forms of PTSD in all its shapes and forms, and abuse, and women, and how they cope and struggle, and families. And that seems to me to be pretty universal. All the women are traumatized in the whole piece.
It seems like you have worked with a lot of women throughout your career, including on "Jessica Jones." Is that just luck?
It's not luck at all. It is because partly they've sought me and partly I've sought them. Strong women like working with strong women, and clearly I'm not a fading lily. I love women. I think some people don't. I think women are amazing, and the older I get, the more amazing we all are. It's harder being a woman. Much harder. And much more rewarding in many ways, I think.
Do you ever feel like your height has inhibited you as an actor?
Oh, I'm sure it did when I was young and I didn't notice. But the upside of it is, you can't miss me on the stage, and that's been a great advantage, and I feel lucky that my personality fits the way I look, you know what I mean?
I've probably lost a bunch of parts, but honestly, probably gotten a bunch of parts too. And certainly now at this phase of my life, it adds to your own sense of presence. You just have to sit there and say nothing and people are intimidated. It's fantastic.
Do you feel like people are intimidated by you often?
Well, with the whole #MeToo campaign, for example, I've never been on the receiving end of anything inappropriate, ever. I think part of that is because people assume that I would turn around and punch them. They're probably not wrong. You don't mess with someone who can get you on the ground in a choke hold really quickly.
Have you been surprised by the scope of #MeToo in the industry?
As a woman of my generation, it really has challenged the way one thought certain things. It's really made me think about how much I've probably accepted without even thinking about it. Or, without being quite as robust as I could have been, perhaps. It certainly makes you question all of that. Especially now when you get to my age and you get incredibly fiercely protective about the young actors who come behind you. I've found myself thinking, "Why wasn't I angrier earlier?"
Tell me about how you got into acting. Did you grow up in an artistic family?
No. My parents' great love is golf. I think nobody was more shocked than them when I said this is what I wanted to do. I think they were quite scared, bless them. They were very supportive but looking back, I think I would have gone, "Oh, Christ." But I was determined and they were incredibly supportive. I was a teenager when I got into it. I kinda fell into it at school, and then I sold coffees at my local theater. I felt at home there. I still feel at home in the theater. It's still my first love.
You've been living in the States for a while now. Do you think of it as home?
I feel like my home is wherever my family is. I miss England. But I love Maine. I love New York. I've always lived in more than one place. I enjoy the feeling of going back to Maine. You know, you put your jeans on, you take your dog out and never look in the mirror, and you know, you're in the woods, or you're in the ocean, or you go fishing. And then you get [to New York] and you go, "Ooh, those shoes are nice," "Where's my cappuccino?" Or, "That's a good red lipstick." I love the contrast.
There's obviously such a wonderful tradition of British stage actresses. Are there any other women who inspired your career?
I remember seeing Helen Mirren playing "The Duchess of Malfi" when I was a student and thinking, "Oh, my God, you're amazing," and seeing Judi Dench on stage. Eileen Atkins, Harriet Walter, who I loved and who I got to work with [in "Mary Stuart"]. Julia Stevenson and Fiona Shaw, these amazing women that ... I would just go and see and think, "I just want to be you." That was my instinctive dream. Whereas I think if my aim had been to be some very beautiful film star, then I probably would be a very disappointed actress. Because that never was my métier.
It's 50 times harder being a woman in our profession. We all know that, so why even bother with anything other than sorority?
— Janet McTeer
Emma Thompson and I both played Beatrice [in "Much Ado About Nothing"] at the same time, I played it onstage and she was playing it on films. It was just gorgeous and so fabulous to be able to see two people interpret things differently. I've never been competitive at all. It's 50 times harder being a woman in our profession. We all know that, so why even bother with anything other than sorority? Seriously.
You seem to be interested in parts that explore gender and sexual identity.
Growing up the way I grew up in the north of England, it was all a bit risque. I think one of the things about being an arty-farty person coming from a very normal family is that you feel very much the odd one out. When I went to college, I met a lot of gay people and it felt like they were the odd ones out. This was at the time of AIDS. There was a lot of gay-bashing. I felt that that was something I very, very, very much related to, on a very deep sort of emotional level.
For many, many years, people thought I was gay and I never once put anyone right. I never felt the need. People can feel what they like, I don't care. It just made me smile. Mostly I used to think, "Do you not honestly think that if I was gay, given the parts that I play, do you not think I'd be standing up and shouting that out loud?" Of course I would.
The reason I kept quiet was because I just thought, "Well, then that puts me in the straight camp, I don't wanna be in any camp." I'm hopefully a good actress, who's playing good characters, whether they're straight or gay or transgender or whatever.
When you were playing Hubert, a woman living as a man in 19th-century Dublin in "Albert Nobbs," did you feel like you learned anything about what it's like being a man?
Not specifically in that sense. It was very interesting to inhabit that in terms of the portrayal. How do you walk? How do you move? What do you feel about yourself? What will you do with your body? If you asked Hubert if he was gay or straight or transgender, he'd go, "I don't know what you're talking about, I'm just me." And I thought that was pretty cool. I wanted to create somebody who was totally happy with who they were, in a time when not many people were.
What are you reading or watching these days?
My husband's having a year of the Russians. I was feeling left behind, so I started "War and Peace." I feel a bit of a pretentious tosser for saying that, but it's true. I'm about a third of the way through.
Apart from "The Handmaid's Tale," which I loved, I just finished watching "La Casa de Papel," it's called "Money Heist" on American TV, which is the Spanish series, which I thought was brilliant. I'm just completely addicted.
See the most-read stories in Entertainment this hour »
Follow me @MeredithBlake
Get our L.A. Goes Out newsletter, with the week's best events, to help you explore and experience our city.
You may occasionally receive promotional content from the Los Angeles Times.