Q&A: 'The Family's' Joan Allen finds freedom in simplicity
Los Angeles Times
Reporting from NEW YORK —
Joan Allen still lives in the same one-bedroom Upper West Side apartment she moved into in 1983, shortly after arriving in New York from Chicago, but her career has been anything but static. She's a Tony Award winner and three-time Oscar nominee who's appeared in films as wide-ranging as the stylish action thriller "Face/Off" and last year's "Room."
Like many of her acting peers, Allen, 59, has migrated to the small screen in recent years. She can be seen in ABC's "The Family" playing Claire Warren, the Republican mayor of a small town in Maine whose son suddenly reappears 10 years after he went missing. Over a leisurely lunch at a Manhattan cafe, she talked about the role and why she'll always be a Midwesterner at heart.
What made you want to do "The Family"?
There's better writing happening in television these days. I wouldn't get to play this character in a feature film. The in-between film, which I did so many of — "Pleasantville," "The Upside of Anger," "The Ice Storm" — those are fewer and further between.
Between this and "Room," you've done two projects in a row about abducted children returning to their families.
That was a crazy coincidence. We finished shooting "Room" a year ago last December and a year ago in January I got the script for "The Family," and my initial gut response was, "Oh, my God, I just shot those scenes. Can't we just take the scenes from 'Room' and splice them into the story?" It was uncanny. But after I'd read the script for "The Family," I realized the abduction is kind of the launching pad. "Room" is more of a microscopic study of a relationship between a mother and a son.
How does Claire differ from your character in "The Contender," who was also a politician?
My character's not a seasoned politician. She's in some ways more Sarah Palin than Hillary Clinton. She was a stay-at-home mom and she got into local politics once her kids reached a certain age, and she found that she was good at it. The trauma of the kidnapping propelled her into that world. Some people in the face of trauma fall apart. Some become activists.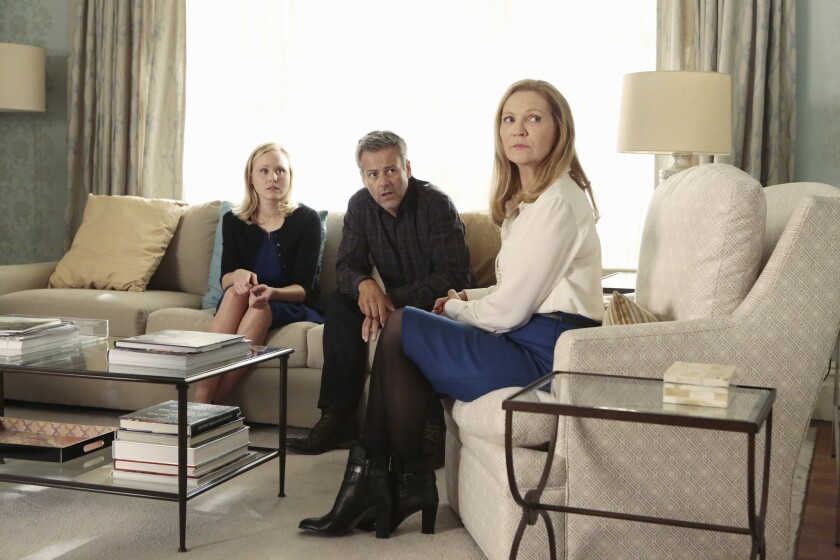 You grew up in small-town Illinois. How did that influence you?
I think my approach to life, my attitude, I credit to my parents, and it really hasn't changed. They were such good parents. It kind of makes me cry. They gave me the best foundation that I could ever want: Work hard, don't complain, treat everybody equally, pull your weight, appreciate the simple things in life. I think that's also why I'm in the same apartment and so happy since 1983. I just don't need tons of homes and cars. I've just kept my lifestyle so simple, which gives me freedom to do the things that I want to do.
When did you feel the pull of acting?
I would say since I was 6 or 7, but I didn't know what it was because I was in this little cornfield town. I was a cheerleader in middle school, and that was as close to performing as you could get, and I didn't become a cheerleader in high school, which actually really devastated me. But then I auditioned for a play and I was like, that's what I wanted anyway. From then on, that was it.
Was your family supportive?
Yes, but they did say, "Always have something to fall back on." The whole time I was working with Steppenwolf Theatre company in my 20s, I had a full-time day job at an educational film company in Evanston, and I'd come and do plays at night. It was one of the best times for my life.
Tell me about how you got involved with the Steppenwolf Theatre Company — and what John Malkovich was like in college.
Oh, my God, he was so exotic. I went to college and I met John, who was in purple platform shoes and had this beard and this Romeo shirt on and I'm in my Midwestern blue jeans with a kerchief on my head. We did a scene study from an Arthur Miller play together. And he transferred to Illinois State and met all the other Steppenwolf people. I was really lucky that one of their actresses left after a year and John called me up and asked, "Do you want to come and do a play this summer?" I said yes.
You've done little theater very since moving into film in the '90s. Why is that?
Even though it's only in the nighttime, I find the whole day is calibrated toward that event — I'm making choices about what I do when based on knowing that that has to happen that night. You just know you gotta be on your game all the time.
Are there any films that you are particularly proud of?
There are lots of films I haven't seen in 20, 25 years. But I remember watching "The Ice Storm" in a screening room at Fox in Los Angeles. From the opening credits, the way the train whistle sounded, Tobey Maguire taking the train from New Canaan into the city, it felt so perfect.
The narrative about your film career is that you started out doing a lot of wife parts in films like "Nixon," "The Crucible" and "The Ice Storm."
Every character was the moral compass. I didn't really have an awareness at the time, it was only kind of in retrospect, but I think it also speaks to the industry. There are just more films where you're a wife and mother than heading up the story. But I found variations in each of those characters.
ALSO:
'London Has Fallen' star Angela Bassett is always up for the challenge
Domhnall Gleeson, on playing gentle and evil and surviving the harsh shoot for 'The Revenant'
Shailene Woodley flexes her opinions on staying in shape, feminism, stardom, Twitter and acting
---
Inside the business of entertainment
The Wide Shot brings you news, analysis and insights on everything from streaming wars to production — and what it all means for the future.
You may occasionally receive promotional content from the Los Angeles Times.