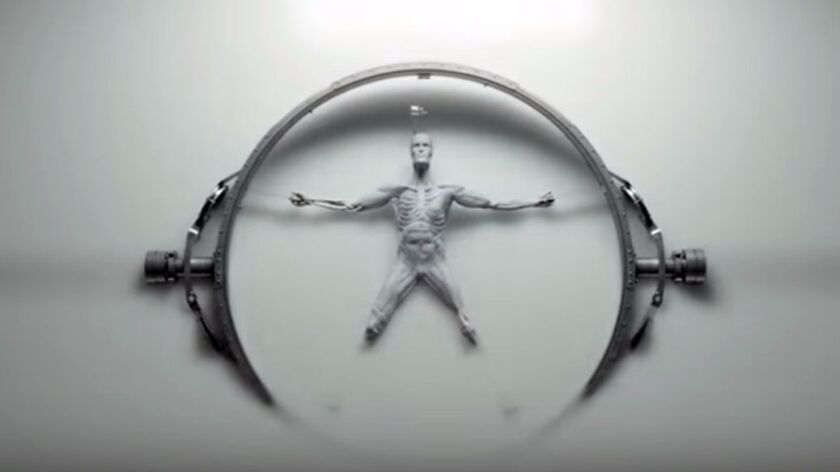 Patrick Clair's name may not be the first on your list of high-profile Emmy contenders, but you've already been introduced. In fact, introductions are something of his specialty.
Eligible for a third win for main title design during last weekend's Creative Arts Emmys, Clair and his company Elastic face earned three of the category's five nominations but ultimately lost out to the opening of "Stranger Things." If you've watched "The Crown," "American Gods" or "Westworld"— the last with its striking imagery of a humanoid form being lowered into milky fluid — you're familiar with his work.
Clair previously scored Emmys for Elastic's opening-credits sequences in Amazon's "Man in the High Castle" and HBO's "True Detective." Below, he talks about a process that's led to opening titles that say more than simply who and what you're watching.
It seems like a tightly knit community among people who do what you do. Did the other nominees stand out for you too?
I think Kyle [Cooper] and his team from Prologue, who were nominated for "Feud," have created so many incredible pieces over the years, stretching back to the title credits for "Seven," which were a big inspiration for me in joining the industry. And Michelle [Dougherty, who ultimately won for "Stranger Things"] has an incredible catalog of work. She's been nominated many times as well. It's nice company to be in.
It has to be such a challenge to try to introduce a show in a short window of time. How do you approach it?
For me, it's really about understanding the story and the world. Certainly, a large part of what a title sequence can do is set up the tone of the show and, functionally, provide a bit of an air lock between real life and going into the world of the show. I think that's becoming increasingly important when people are watching things not on a network but online or bingeing or whatever, so you're not coming to it with those extra kinds of wrappers you get on TV with logos and branding.
But I think there can be a deeper purpose to it if we can manage to create a sequence that really says something more fundamental about the characters. If you can do something that looks like the show from the first time [viewers] see it, it's great, but as people come to see it more and more and they gain a deeper understanding of the story, if they can feel there's something that resonates with that lead character's journey that's sort of embedded in the title sequence, then I think that's a title sequence that can really stand the test of time.
Before you start work on titles, are you given full episodes, or is it just concepts?
It's a complete mix, but I will say the titles that turn out the best are always the ones where we've had a chance to dig as deep as possible.
It's a pretty challenging thing. We kind of come along at a critical moment in production, usually. Ideally, we get to watch a rough cut of the first episode — something like that's often available. But sometimes it's just words on the page; it's references, photography books, things the set designer or the costume designer's working on. The more visual material we can get, the better.
The music particularly stands out in something like "Westworld," where it's folded into what you're seeing with the player piano. Did you have the music in advance for that one?
It was very much a case of it evolved along the way. We worked to just a temp track initially. We sent them over to Ramin [Djawadi, composer for "Westworld"] and his team, and they started to put the score together and send it back to us. It really got to this point where, in the final days, the composition team were recording themselves on their iPhones playing the melody on the piano and then sending it back to us so we could copy it perfectly, so that every finger-stroke is playing the exact riff you get in the song.
It was a real thrill because we rarely get that much of a relationship between the visuals and the music, but I think the more they can support each other, the more powerful the results.
The "Westworld" titles seem to have their own narrative. Is that a goal when you're making these?
Absolutely. I think what was really exciting for me working on "Westworld." First of all, I'm a huge [Michael] Crichton fan, I'm a huge fan of the original film, and we started to get materials for the show, and it became obvious that the processes in the show for creating hosts seemed very beautiful and very poetic and just full of grace. That was wonderful, but it also meant it was a real challenge for us because we couldn't just lean on doing an abstract and pretty version of that for the titles, because it was abstract and pretty in the show itself.
So we had to figure out something to go to the next step, and that's why it was great working with ["Westworld" executive producer] Jonah [Nolan] and the team to try and figure out a story that could be within the titles themselves that got to the heart of the themes on the show. This idea of someone creating something, only to be replaced, then facing the end, the closing of their loop, so to speak. This kind of ashes to ashes, dust to dust, milky liquid to milky liquid journey of that central host protagonist.
The way you overlaid the desert landscape over parts of that sequence, it recalled what you did with the "True Detective" credits. How did that idea come about?
For me, the thing I have the most fun doing is getting two things and smashing them together. I think that tends to be at the heart of most of our work. Certainly if you look at "The Night Manager," it was about weapons and luxury. "Man in the High Castle" was about Nazi symbols and American symbols. Even "American Gods" was about taking stuff from the modern world and smashing that together with ancient religious icons.
And it was very much in "Westworld" as well. It was icons of the Wild West mashed together with the icons of science fiction. It's like industrial robotics meets "High Noon." Being a fan of westerns and a huge sci-fi nerd, it was great being able to get those symbols and icons and put them together.
Please consider subscribing today to support stories like this one. Already a subscriber? Your support makes our work possible. Thank you. Get full access to our signature journalism for just 99 cents for the first four weeks.
ALSO
Stephen Colbert talks 'Stranger Things' after rolling out the red carpet for Sunday's Emmys
Seth MacFarlane's 'Star Trek' homage 'The Orville' has a mixed-up mission
Nine burning questions we have after the super-sized 'Game of Thrones' finale
---
UPDATES:
1:43 p.m.: This post was updated with information about the results of the Creative Arts Emmys awarded this past weekend.
---