L.A. was ready for its close-up on TV in 2017
Television Critic
The city obsessed with image got a makeover in 2017, and it turns out that Los Angeles isn't that vapid after all, at least on series television.
"Insecure," "Snowfall," "Marvel's Runaways," "Bosch" and "East Los High" were among an unprecedented number of new and returning series set in, and in some cases starring, slices of the city and its subcultures that Angelenos might actually recognize.
The stucco apartment complexes and busy burger joints of of Inglewood. The homeless encampments from downtown to Santa Monica. The small mom and pop stores of El Sereno and Boyle Heights.
L.A. on the small screen went from a fantasy city of sun, fun and fame to a real place, where the majority of residents can't afford their rent, homelessness is more prevalent on the streets than convertibles and race and class divides are everywhere.
Taken as a whole, these shows presented a city that began to look more like the real Los Angeles, where there are more than 100 districts and neighborhoods, the annual per capita income is around $29,000 and most residents have never seen the inside of soundstage, let alone stepped foot in the hotel suites or penthouses of "Ray Donovan's" world.
A boost to California's film tax credit program a few years ago, with added incentives for TV productions, has likely contributed to bringing productions back to the city. But it's the fresh perspective from a diverse collection of shows that rendered fictional L.A. a more believable place in 2017.
It's a notable shift, especially in a year that demanded we rethink just about everything, including how we watch TV.
Stream it. Binge it. Swap passwords. Just make sure it's commercial-free because no one should ever have to see that Liberty Mutual insurance ad about a car named Brad again.
The proliferation of content across multiple platforms has equaled a demand for fresh, new narratives, and in L.A.'s case that's meant a move away from the medium's historically vapid depictions of the city.
From "Baywatch" to "Beverly Hills, 90210" to "Entourage" to "Curb Your Enthusiasm," the general formula has been the same: blonds in big sunglasses and small bikinis. Celebrity and/or rich-kid excess. Moneyed Westsiders and their self-centered escapades. And, holy avocado toast, don't forget the establishing shots of roller skaters on the Venice boardwalk. This isn't Poughkeepsie, after all.
The city's homogenized suburbs and Westside mansions have been portrayed or lampooned in series from "The Brady Bunch" to "Transparent" to "Curb Your Enthusiasm." The "dark side" presented in police procedurals from "CHiPs" to "NCIS: Los Angeles" often meant (or means) venturing into dicey areas and subcultures, meaning anything outside the aforementioned safety zones of white, upscale L.A.
Shows such as HBO's comedy-drama "Insecure," now headed into is third season, bring viewers through a very different L.A. experience, that of a single black woman stumbling toward her 30s with a group of lifelong friends and a career in the not-so-lucrative nonprofit world
Main character Issa (played by the show's creator, Issa Rae) lives in a '60s-era, courtyard apartment complex called the Dunes, which, like most every other vintage building in L.A. with a beachside name, is nowhere near the shore. The constant whooshing sound outside her window is not waves but Airbus after Airbus landing at nearby LAX. She meets friends at an Ethiopian restaurant in the Carthay neighborhood and West Hollywood's Swingers diner, shops at the local Rite Aid and Eastside hipster boutiques, goes clubbing on Crenshaw and in DTLA.
Each 30-minute episode is full L.A. immersion, from gridlock to gentrification. And characters here don't just drive past Randy's Donuts because it's a cultural landmark that must be in every montage about L.A. They get out of their cars and eat there.
The new FX series "Snowfall" is set in 1980s South Los Angeles just before the crack epidemic wreaks havoc on an otherwise tight and fairly quiet working-class neighborhood. It moves among the small, tidy rows of 1920s bungalows in Leimert Park, a Hispanic neighborhood across the city and the ostentatious mansion of an Israeli drug dealer in the hills — a triangulation that shows the connections between seemingly disconnected social classes and cultures.
Even familiar milieus, such as the glamour of Hollywood past, took on different meaning in 2017. "Feud," FX's anthology series, premiered this year with a season dedicated to the rivalry between Bette Davis (Susan Sarandon) and Joan Crawford (Jessica Lange). The show re-created the splendor of Hollywood in both actresses' heyday, as well as its brutality toward them as their careers declined.
Objectification, degradation and humiliation: for women they were as much a part of Hollywood here as storied celebrity hangouts like Perino's and Chasen's, a truth often overlooked as the price of admission prior to the #MeToo movement and the fall of many powerful media moguls this year. The series, set all over L.A., shows how much has and hasn't changed.
It certainly would have been easier to focus on the glamour and nostalgia of the era, but director Ryan Murphy chose to plumb the unspoken depths of sexist Hollywood and expose a very specific misogynistic studio culture that still exists today. And the show's re-creation of the 35th Academy Awards on the very site where they took place, the Santa Monica Civic Auditorium, is about as authentic as it gets.
Hulu's longest-running series, "East Los High," now in its fourth and last season, was on the front end of presenting a diverse Southern California narrative far from the world of the Kardashians or O.C.'s supposedly real housewives. The entirely Hispanic cast navigates the usual set of young adult challenges — love, identity, independence — on another side of the city off the 10 Freeway. Though Latinos are the majority in L.A., when the show ends its run in 2018, so will TV's one series dedicated to life in East L.A.
FX's "You're the Worst" lives in Silver Lake and Los Feliz among the hipsters, artists and LGBTQ community who gentrified and priced out much of the Latino population. Now they're being priced out by wealthier white folk who've themselves been priced out of the Westside. A modern L.A. story.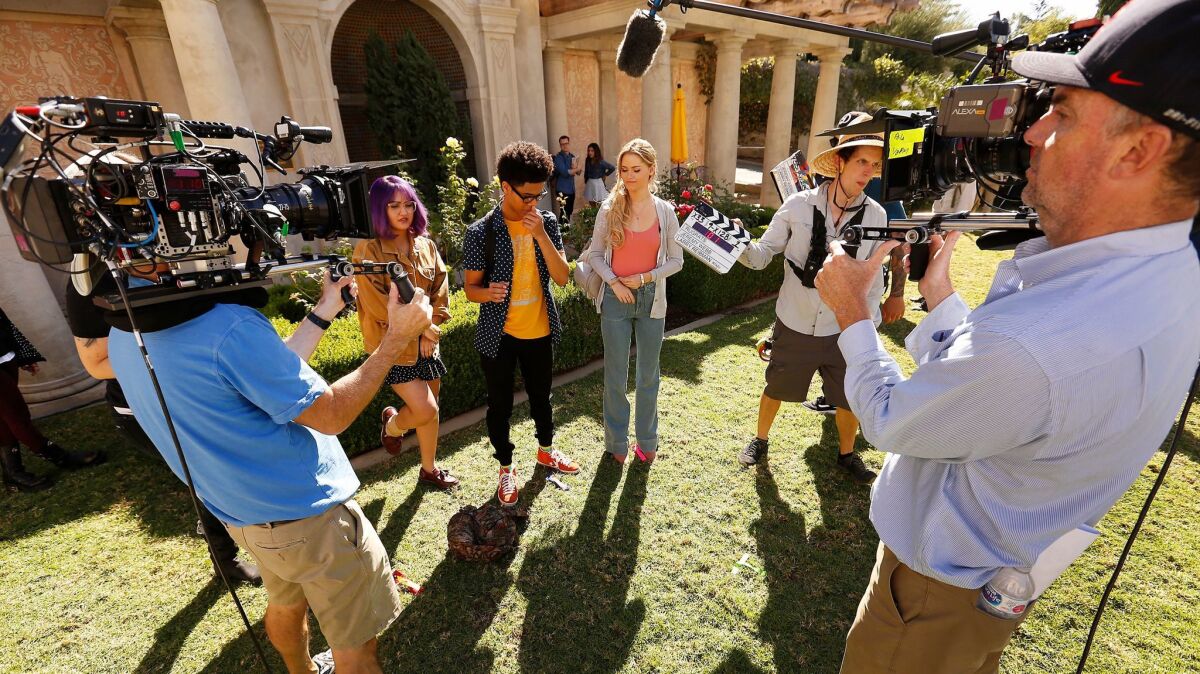 Even Marvel ventured outside of NYC this year for "Marvel's Runaways," Hulu's first crack at the superhero franchise. It's hardly the hardscrabble world of "The Punisher" or "Jessica Jones." These defenders are privileged teens who live in areas like Brentwood and almost never have to slay evil in the rain or a dark Bronx-like alley. But they do offer an updated version of what "90210" might look like now: more colorful, more feminist, more aware of the absurdity of their lux lifestyles.
Get our L.A. Goes Out newsletter, with the week's best events, to help you explore and experience our city.
You may occasionally receive promotional content from the Los Angeles Times.