Heading into its 20th season, 'Law & Order: SVU' is as relevant — and addictive — as ever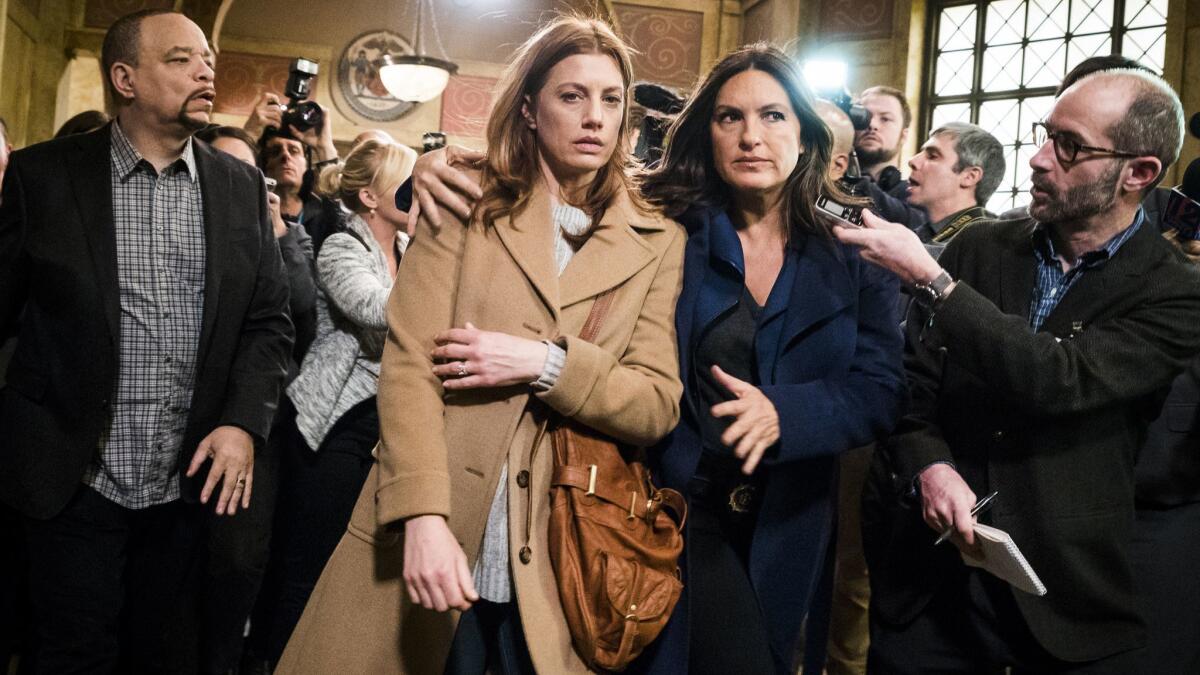 Reporting from New York —
On a Manhattan sound stage masquerading as a Rikers Island interrogation room, Mariska Hargitay acted out a tense scene as Lt. Olivia Benson, the tough yet compassionate protagonist of NBC's hit procedural "Law & Order: Special Victims Unit."
"I believed you when you said all the empowerment and all the strength that you were looking for is inside of you," she tells Lilah, a 30-ish willowy blond inmate played by Sarah Carter. Lilah, who has been charged with carrying out a murder at the behest of a manipulative guru, is resisting a plea deal.
"If you're lucky you can get out of here by the time you're 50," says Benson. "And believe me," she adds, her warm eyes narrowing as her voice softens to a whisper, "That's a lot of life."
The scene is part of an upcoming episode of "SVU" inspired by the cult-like NXIVM organization, yet another example of the topical subject matter tackled by the series that fans often refer to as just "SVU" that illustrates what's made the crime show one of broadcast television's most enduring success stories. And as it kicks off its 20th season Sept. 27, it is marking a milestone, tying "Gunsmoke" and the original "Law & Order" as the longest-running prime-time drama in broadcast history.
In its advanced age, the drama remains as culturally relevant as it's ever been. Despite — or perhaps because of — its pulpy entertainment value, the series has helped shift the conversation around sexual assault and deliver weekly lessons about consent to a generation of viewers.
As creator Dick Wolf put it, "We've been doing #MeToo for 20 years."
To date, 434 episodes of the series have aired, enough TV to fuel a 13-day binge-watching session — without ads. Excessive? Maybe, though anyone who's fallen under the spell of an "SVU" marathon on cable, where reruns are nearly ubiquitous, can attest to its compulsive watchability. To hear that signature "dun-dun" — or "chung-chung," depending on who you ask -- is to be instantly hooked. In the 2017-18 TV season, viewers spent 135 billion minutes watching "SVU" on NBC, USA and Ion, according to NBC.
Not even Wolf, who will have five shows on broadcast TV this fall and is developing another "Law & Order" spinoff about hate crimes, is immune. "I'm perfectly happy the four days a week there are marathons running, because I just turn it on and leave it on," he said by phone from Chicago.
TIMELINE: 'Law & Order: SVU' turns 20: A look back at drama's many on and offscreen changes »
Hargitay has been the anchor and rock of the series since its start. Two decades ago, her agent sent her the script for the pilot of a series called simply "Sex Crimes" with a major disclaimer: It was pretty dark.
Soon retitled to the more advertiser-friendly "Law & Order: Special Victims Unit," the series opened with a bang: On a rainy night in New York, a cabbie is found dead, his genitals mutilated. A twisty investigation eventually reveals the driver was actually a Serbian war criminal, murdered in an act of vengeance by two of the women he raped. Benson is unusually sympathetic to the victims because, we learn, she was conceived by rape.
"It was bold, it was brave, it was unchartered territory, it was this incredible female character with this back story that made perfect sense," Hargitay recalled during an impassioned conversation in her sprawling dressing room at "SVU's" production offices. "I remember reading it and having chills and going, this is it."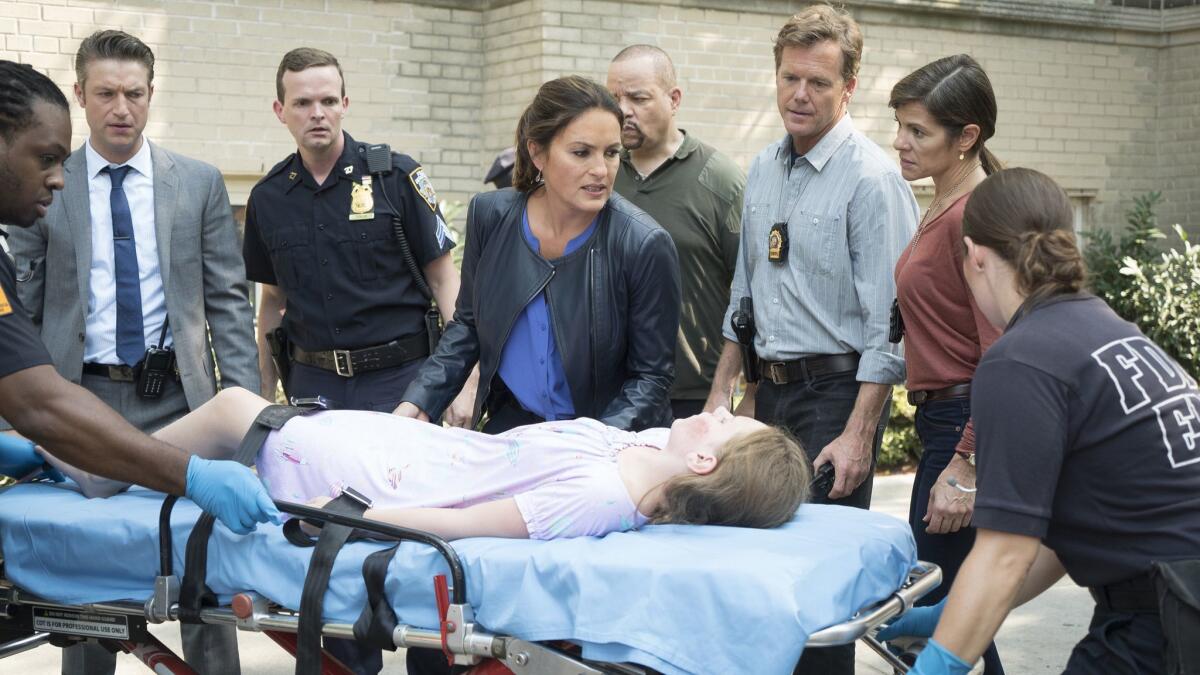 When Wolf began pitching the series in the late '90s, the original "Law & Order" was a well-established hit, but his idea for a procedural about sex crimes was met with skepticism by Warren Littlefield, then entertainment president of NBC, who asked, "Are there enough of them for a series?"
Turns out there are — and then some. Over the years, "SVU" has never lacked for real-life inspiration, riffing on high-profile abuse cases and sex scandals from young kidnap victim Jaycee Dugard to Chappaquiddick. The only off-limits subject is teen suicide, because of the "link between movies and TV shows that feature teen suicide and a spike in the rates," said Wolf.
While never a ratings blockbuster on the order of "NCIS" and other CBS procedurals, "SVU" has been a steady performer in an era of ratings erosion, drawing 8.9 million weekly viewers and finishing last season at No. 17 among broadcast entertainment series, its highest Nielsen ranking in a decade. It has endured despite the abrupt cancellation of the original "Law & Order" in 2010 after 20 seasons and outlasted that show's numerous spinoffs. And it has weathered high-profile personnel changes, including the departures of showrunners Neal Baer and Warren Leight and original co-lead Chris Meloni.
Along the way, "SVU" has turned into a magnet for big-name guest stars, from former Vice President Joe Biden to musician Questlove, who played a bullet-riddled corpse.
Rather than a liability, "SVU's" difficult and often graphic subject matter has been the key to its longevity, forging an unusually strong connection between the show and its audience. This was clear to Hargitay "from minute one" in the letters she received from fans and the tearful faces of women who approached her to say, "That happened to me and I never told anyone."
"I realized that we hit the pulse of the country," she said. "These things that were taboo in our society -- sexual assault, incest, domestic violence -- all of a sudden it was like, 'Did you see 'SVU' last night?' "
According to the show's famous opening narration, "in the criminal justice system, sexually based offenses are considered especially heinous." In reality, rape cases are notoriously difficult to prosecute and accusers often face deep skepticism from law enforcement.
"I remember reading it and having chills and going, this is it."
— Actress Mariska Hargitay
"SVU" has always been sympathetic to survivors. Benson will never ask a woman what she was wearing because, Hargitay said, "If somebody steals your car, nobody goes, why were you driving a Porsche?" An academic study published in 2015 found that college students who watched "SVU" had a better understanding of consent and were less likely to believe in myths about rape.
With a touch of hyperbole, Wolf calls Hargitay "the Mother of #MeToo." Although she's not willing to claim the mantle herself, Hargitay is a vocal ambassador for survivors, founding a charity and producing "I Am Evidence," a documentary about the rape kit backlog.
"Mariska is a symbol of hope," said showrunner Michael Chernuchin.
Benson has become a kind of feminist folk hero — Wonder Woman with a badge and a blazer, and the namesake of Taylor Swift's cat. Hargitay grew animated as she described her character's appeal — a "half-cop, half-rape counselor" and "mama bear" and who will "fight for you in your most tender place," she said, gesturing to her stomach.
For the show's first 12 seasons, "SVU" was, as Wolf put it, "a classic two-hander." Benson's nurturing warmth was balanced by the fiery masculinity of her partner Elliot Stabler, played by Meloni. Their obvious chemistry inspired constant will-they-won't-they speculation and reams of fan fiction. But Meloni walked away from the series amid a contract dispute in 2011, triggering fan outcry and a sense of panic among the creative team.
Julie Martin, a longtime writer and executive producer on the series, recalled how the initial instinct was to find a replacement for Meloni. Instead, the focus shifted to Benson as she worked her way up the chain of command and became a mother. Behind the scenes, Hargitay also got more involved as a director and executive producer.
"We were nervous," she said. "It really shifted the paradigm of the show. But it was exciting, especially for a woman writer to be like, 'OK, now we really have a single female lead." The writers also leaned more heavily on the supporting ensemble, including Ice-T as the tough-talking Fin Tutuola, a fixture in the squad room since Season 2.
While "SVU" remained a procedural at heart, it dabbled in more serialized storytelling, including a multi-episode arc in which Benson was kidnapped by a serial rapist. Hargitay said this evolution has helped keep her invested: "Now things are so much more meaningful because of all this history we've had, as opposed to these disjointed individual little islands of episodes."
The latest chapter in "SVU's" journey began last season, when Chernuchin, a longtime veteran of the "Law & Order" universe, took over as showrunner and corrected course after what many considered a wobbly 18th season -- a.k.a. the one with a shelved episode about a Trump-like politician. While the series has never had a female showrunner, women currently dominate the writers room, and Martin is a principal creative force.
Portraying the darkest human impulses on a weekly basis requires a healthy dose of gallows humor. "You can't deal with it other than putting a little bit of distance, or you'd just be crying every day," said Martin. With a laugh, she and Chernuchin rattled off the innovative ways they've found to portray the same crime — "clown rape," "table-leg rape." These occasionally absurd twists (see: the episode where rapper Big Boi is devoured by a hyena) are key to "SVU's" appeal.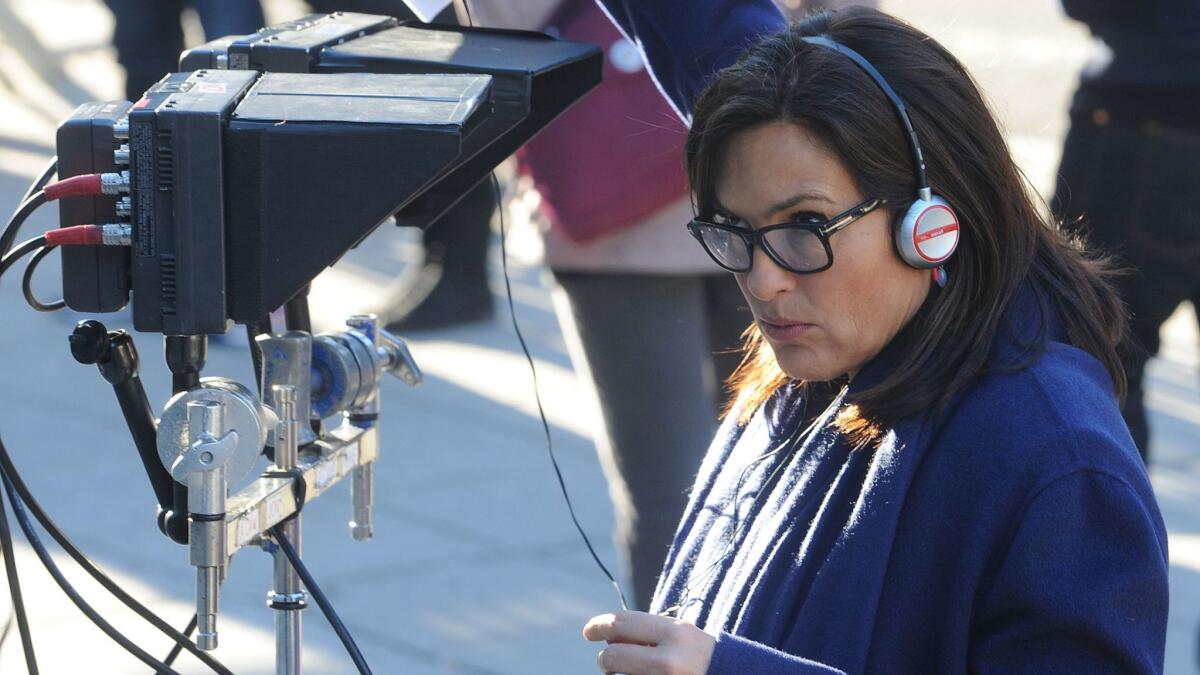 The question now is how long "SVU" can keep running; the headlines of the last 12 months alone could probably fuel five more seasons. Wolf is "absolutely determined" to get to a record-breaking 21st season. Chernuchin wants to reach 500 episodes. And NBC Entertainment Chairman Bob Greenblatt has vowed to keep it on the air as long as Hargitay wants to keep making it.
Now 54, she's been playing Benson for a significant portion of her adult life. Between takes of the Rikers interrogation scene, the Emmy-winning actress joked that her plans to phone it in keep getting derailed.
"Twenty years later and I'm more invested, having more fun, having more responsibility. I love it," she said, "and I need it."
In other words, don't expect the marathon to end anytime soon.
Kate Stanhope contributed to this report.
See the most-read stories in Entertainment this hour »
Follow me @MeredithBlake
Get our L.A. Goes Out newsletter, with the week's best events, to help you explore and experience our city.
You may occasionally receive promotional content from the Los Angeles Times.