Wonder how you'd do on 'American Ninja Warrior'? Watch our reporter brave the course
A Los Angeles Times reporter attempts an "American Ninja Warrior" and finds the humanity in failure.
I am not an outdoorsy person. I'm neither agile nor strong. I'm perfectly content huddled in my cubicle, typing on my laptop and enjoying the fluorescent bulbs and recirculated air.
Which is precisely why I jumped at the chance to attempt the Los Angeles course for the upcoming season of Emmy-nominated competitive reality series "American Ninja Warrior."
The series was born on G4 in 2009, migrated to NBC in 2012 and premieres its ninth season on June 12. It features contestants battling themselves as well as an elaborate obstacle course in an attempt to earn the title of "American Ninja Warrior."
The competition is so stiff and the obstacles so challenging that only two people had ever completed the national finals course.
Until now.
Just kidding. I fell off the first obstacle.
But this story isn't about how thoroughly "American Ninja Warrior" destroyed my ego. It's about how it renewed my belief in human spirit. It's also a little bit about how I scraped my leg.
Being an imperfect physical specimen, I put the thought of training for my time on the course out of my head. But that's not to say that I didn't prepare for the encounter.
"If you're feeling anxious," my therapist advised me that afternoon, "just picture the worst thing that could happen and honestly evaluate the likelihood."
"I could drown," I offered.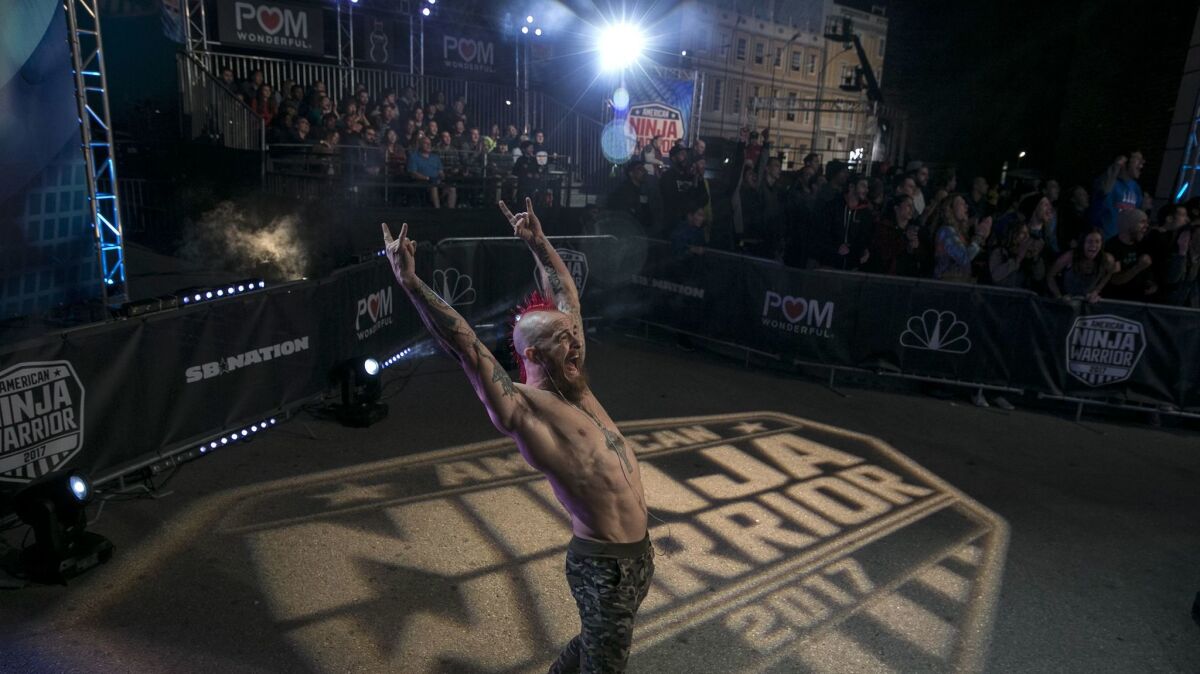 She hesitated, as though sizing me up, "...true. But how likely is that?"
We sat in silence, both calculating my odds. This did little to stem my anxiety.
From there, I headed to Universal Studios, where a sprawling course was set up, wending its way through the historic backlot. My NBC contact found me eyeing the obstacles warily, before uttering the reassurance that every journalist wants to hear: "You're so brave."
SEE OUR COMPLETE SUMMER TV PREVIEW »
The first obstacle — or as I like to call it, the only obstacle — was a variation of an established "ANW" challenge called quintuple steps, which, as you might guess, involved five steep steps angled over a pool of water meant for contestants to leapfrog across to completion.
With back legs more like a bulldog than a bullfrog, I knew I was in trouble.
There were other journalists who were also there to attempt the course. You could identify them by their nervous pacing and trailing camera crews.
We were surrounded by actual "Warriors" warming up for their shot at glory, intense but hopeful. They came in all shapes and sizes, their singular focus on doing their best uniting them into a single collective.
When it finally came time for my reporter peers to attempt the floating steps, nearly all of us were plunged into the chilly depths in short order.
But we weren't alone. The actual contestants were gathered not to gawk but to cheer and offer advice. People who, in a matter of minutes, would themselves be tested stopped to support strangers as they pushed themselves beyond their limits.
That support wasn't restricted to us novices either. There was a constant stream of encouragement from waiting warriors to those on the course.
"American Ninja Warrior" is the best kind of competitive reality show because it reminds us that the challenge is not to be better than others but to be the best versions of ourselves. It's less a competitive reality show and more a competitive utopia show.
I made it to the first floating step, oriented myself and leaped as far as I could toward the second. I fell short, hitting the next step with my shin before spectacularly back-flopping into the water below.
Water-logged and banged up, I was dragged bodily from the pool by two kindly crew members who quickly realized I lacked the upper-body strength to extract myself.
In the moment, I was embarrassed. To fail so conspicuously should be humiliating, but as I looked around, no one was laughing.
The NBC publicist gave me a big hug, even as the water continued to pool in my shoes.
"You were so brave!" she repeated, and this time I understood.
On "American Ninja Warrior," success is not measured in how far you get or how publicly you fail; it's measured in how hard you try.
Read more stories from our summer television preview here.
Get our L.A. Goes Out newsletter, with the week's best events, to help you explore and experience our city.
You may occasionally receive promotional content from the Los Angeles Times.