'American Woman' is Kyle Richards' love letter to her late mom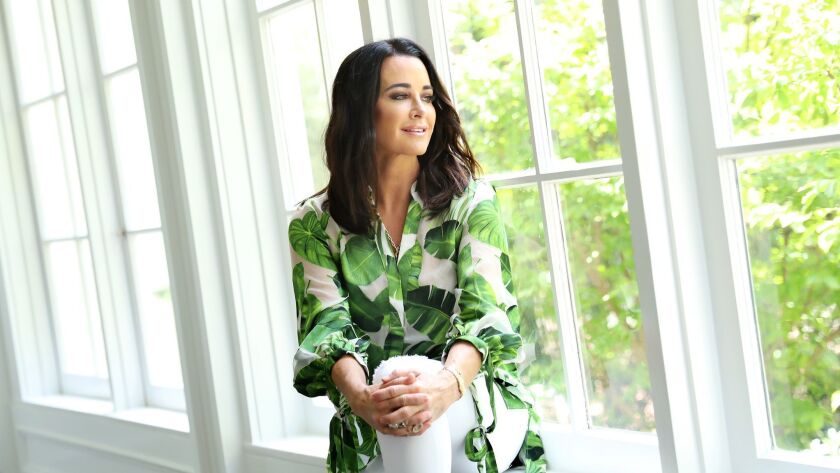 Some people forget — or just don't know — that before Kyle Richards joined Bravo's "The Real Housewives of Beverly Hills" and became a reality star, she was a working actress.
Like her sister Kim, Richards, 49, began her acting career as a child, landing feature roles in "Little House on the Prairie" and the Disney classic "The Watcher in the Woods" (in which her co-star was Bette Davis!) and went on to rack up a long list of guest-starring credits on big shows such as "Fantasy Island," "CHiPs," "7th Heaven," "Beverly Hills, 90210" and "ER."
In June, the reality star and mother of four returns to her scripted roots with "American Woman," only this time as an co-executive producer.
Set in the 1970s, the series is inspired by Richards' childhood and her late mother, Kathleen. It stars Alicia Silverstone as an unconventional mother, Bonnie, struggling to raise her two daughters after leaving her cheating husband. The comedy, which premieres June 7, is the latest series to stock the shelves of Paramount Network, a rebranding of Viacom's male-skewing Spike channel that launched earlier this year.
Before you were a reality TV star, you were an actress. How was it to go behind the scenes with a series you created?
Yeah, I had been in front of the camera my whole life. It's completely different, obviously, when you're behind the scenes. I didn't know all the details that went into it. I remember the first time that we had a conference call, talking about the palette of the show. And I was like "Um, what?" I was sweating bullets. I finally said "Guys, I just have to be honest with you. I'm not sure what you mean, I've never heard these words used for a TV show. I knew the idea of the story I wanted to tell, I knew the look of the show I wanted, the feel, the vibe, the music, all of that. But there was just so much more to it than that. And I didn't realize it.
When you signed on for "The Real Housewives of Beverly Hills," were you thinking you'd have to say goodbye to scripted TV?
I thought I'd be doing the show for two months. Two months shooting turned [into] four months shooting, and that turned to going on to nine years now. Once people started knowing me as Kyle, I started seeing like, "Oh, this is going to be a situation. I don't know how I go back to acting." And I love acting and I'm good at it, but now so many people know me as "Kyle." That's when I started really thinking more about being behind the camera. And the truth is I'm an introvert who lives in an extroverted world. So for me, I was like, "This could actually be the best situation ever. I will never have to audition ever again, this is amazing!"
The reality franchise has a lot of A-list fans, such as Jennifer Lawrence, Lady Gaga and Elisabeth Moss. What's your theory on why that is?
That part is very surreal. When I get the call that Lady Gaga wanted us to be in her music video, I was like, "You've got to be kidding me." And then I saw an interview with Jennifer Lawrence and they said, "Who would you pick as your three horsemen?" She picked me and Hugh Jackman and I was like, "What? I can't believe this."
One of my favorite stories is my daughter was at a karaoke place and someone came in and there's like a commotion, like a big entourage. She turned around and was talking to her friends and then she felt a tap on her shoulder and she turned around and it was Rihanna. And Rihanna goes, "Oh my God, I'm obsessed with you." And my daughter started to cry and she goes, "I'm so confused, what's happening?"
I think that for celebrities, especially really big celebrities, it's not really fun to go out to dinner or drinks with your friends when you're that famous. So a lot of them really are home a lot and watching reality television. The biggest celebrity, they're home watching these shows and it's like being a fly on the wall or watching an accident you can't turn away from.
A lot of the "Housewives" women have created mini empires. Talk about how the show has been beneficial as a platform.
When I first signed on to do the "Housewives," I had no intention of any of that. And in fact, Bethenny [Frankel of "Real Housewives of New York"], because we've been friends for 25 years, said to me: "What's your plan? Like, what do you want to turn this into?" And I'm like, "I don't have a game plan."
Once I saw that it was such a hit and people started coming out of the woodwork approaching me to do things, I was like, "Well, wait a minute, hold on. Let's see what I want to do." I didn't want to just slap my name on just anything. I wanted to be smart about it. I did write a book, which was really fun, because that was something I always had on my bucket list. I did my clothing line, my stores— and I'm grateful for it because I ended up doing "American Woman." The producers of "Shameless" were fans and they wanted to meet me. And in that meeting, having lunch and just chit-chatting, is how the show came about.
How long had you been thinking about doing something based on your childhood?
I like to write, but it's hard when you have four kids. But I would write sometimes when, you know, everyone was sleeping or whatever. When my mom passed away, I thought, "I really wanna share who she was, because she really was a special and unique woman." And it took my being a mom and an adult to have that extra appreciation for her. I always appreciated her, you know, but I had perspective as I got older. She's strict, and she could get, you know, a temper sometimes or whatever it was. But as an adult you're like well, yeah, hello, she was raising these kids on her own. She was stressed. She wanted the best for us, and you know, she was doing her best like we all are trying to do. And I just really wanted to share that story once I lost my mom as a, I guess, sort of love letter to her, too. And just inspire other women.
Viewers of "Real Housewives" know the new series is a source of tension in your family — particularly with your sister Kathy Hilton [Richards has said that Kathy is concerned viewers will think the show is a factual account of their childhood]. Have either of your sisters seen it yet?
It's so funny 'cause I sent Kim [Richards, who is also an actress and former cast member of "The Real Housewives of Beverly Hills"] the DVD and I think as of yet, she still has not been able to figure out how to work her DVD player. People ask me this all the time and I'm like, Kim, can you please figure out how to work your DVD player? [laughs] And then she couldn't come to the screening, because she was babysitting her grandson, who she will never turn down one second with him.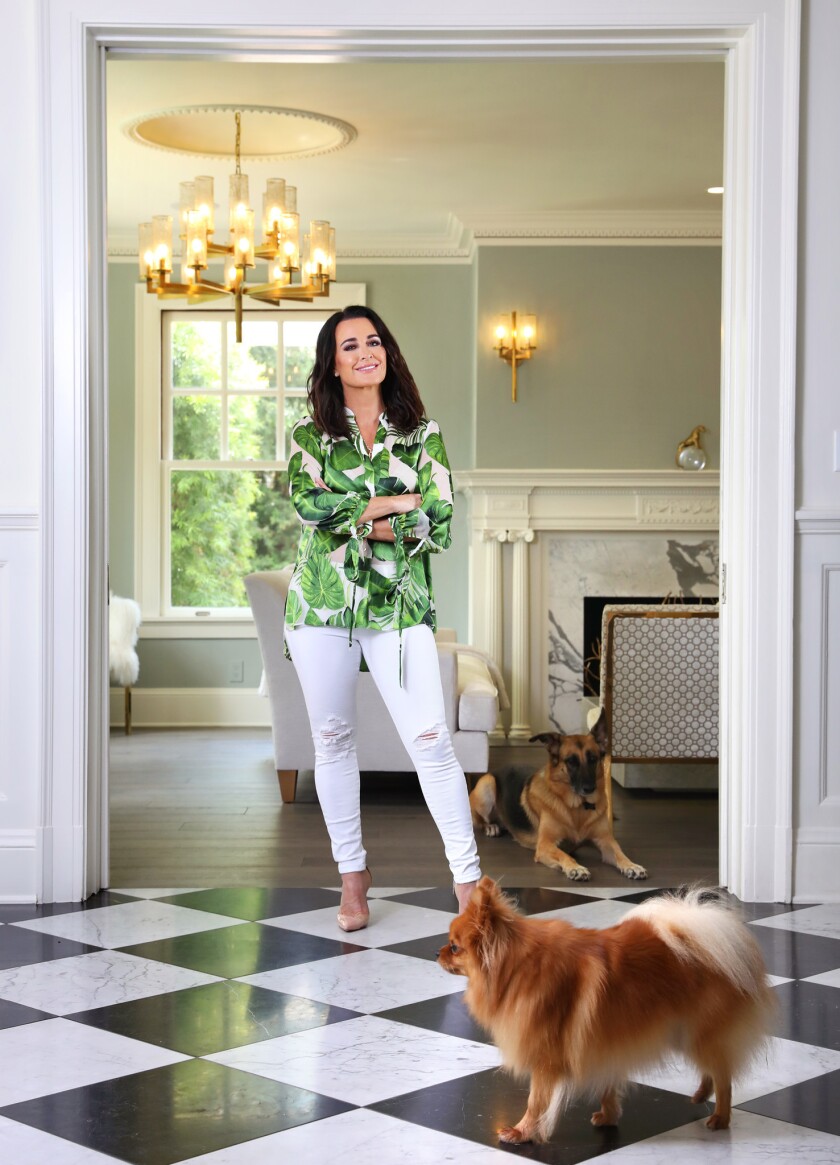 I think everyone has a story to tell, and everyone has a right to tell their story. I would never tell someone else's story. My POV of my mom, I think that I have the right to share that story. And it's done with love, and the utmost respect for my mom who I love more than anything… It is a fictionalized version, it's inspired by childhood, but this is not autobiographical. The show has two sisters. It's not three. My dad's a jerk in the show; in my real life my dad was not. Yes, he cheated on my mom. That part of the story's true. The other stuff, the way he talked to my mom, no. My dad was a good guy. But you know, that's what happens when you make a TV show. It's inspired by, not based on. I am hopeful that after seeing it, [Kathy] will see that it's a fictionalized version and everything will be fine again — I mean, that's what I would like in an ideal world.
John Wells is executive producing the series through his production company. And you, for many years, played a background nurse on "ER," which he ran for a number of years. Did he remember you?
No, I don't think so. I mean, I remember in the first meeting maybe someone had told him. It's such a funny thing with "ER" because here I've been working my whole life and then I stop to have my babies. And when I wanted to go back to work after having my children, one of my first auditions was for "ER," a small part. So I said to my agent, "OK, well, I guess I'll go," because I hadn't been in so long and I need to get over my nerves. So I went in and I got it, and then I said, "Well, I mean, I don't want to take it because it's such a small part." I wasn't used to taking smaller parts like that. My agent was like, "If you don't take this part, John Levey's casting office probably won't see you again." And I was like, "Oh my God!" So I went in and I did it, and then I ended up being on there for almost 10 years. And John Levey was the casting director on "American Woman," and John Wells is a producer. It's amazing.
Twitter: @villarrealy
---
The complete guide to home viewing
Get Screen Gab for weekly recommendations, analysis, interviews and irreverent discussion of the TV and streaming movies everyone's talking about.
You may occasionally receive promotional content from the Los Angeles Times.