Inside the office — and psyche? — of 'Late Night's' Seth Meyers
Reporting from New York —
"Late Night" host Seth Meyers may have exited his home of nearly 13 years, "Saturday Night Live," four years ago, but a quick peep into his office proves that he's brought a lot of memories of those years with him. Meyers' modest corner space on 30 Rock's eighth floor is rife with show props and co-workers' farewell gifts, but a deeper look reveals signs that he's also moving forward (an action figure from his "The Awesomes" animated Hulu series; his wife Alexi Ashe's district attorney's office badge on a plaque). Meyers invited The Envelope into his inner sanctum to talk about personal space, making room for the future and what's up with that giant spoon in the corner.
Office space: "I had my own office at 'SNL'; that was something I got about seven years in. But that office was not very … adult. It had a couch that John Belushi likely slept on, which is exciting if you see it behind glass at the Smithsonian. It's less exciting if you fall asleep with your face on the fabric."
Dedication to design: "I'm very lucky: I married into a family that has a member of the Architectural Digest 100, Ariel Ashe [Alexi's sister, and former "SNL" set designer]. She made a lot of the choices for me. I wanted it to be an adult room; so much of these shows, especially when you start and you're terrified all the time, is a confidence game, so I thought, 'What would a confident person have in his office?' I thought the desk would be an 'L' shape, for one thing. Then the gift my wife gave me was to point out everything that's here, pretty much, and tell me it no longer had a place in our apartment."
Key matters: "We did a parody of newspaper movies called 'Newspaper Movie,' and we had to get antique typewriters for the press room. The guy who rents them out and sells them gave this to us as a gift. I'm actually a pretty good typer; typing, more than any writing class, was the most helpful to being a writer. I'm pretty sure I got a D in typing, but a D in typing is better than not taking the class. I collaborated with other writers in the past, but I hate being the one who isn't sitting at the keys."
Never out of spoons: "Michael Ian Black hosts this Pudd'nhead Festival every year, an event in Connecticut, and you get a spoon as an award. I forgot it at the event, and our keyboardist Eli Janney had to bring it in on the subway. He said, 'You end up realizing every subway has one [jerk] with a giant spoon.' And he was the [jerk]. I think that's just the way to use it – put it in the corner."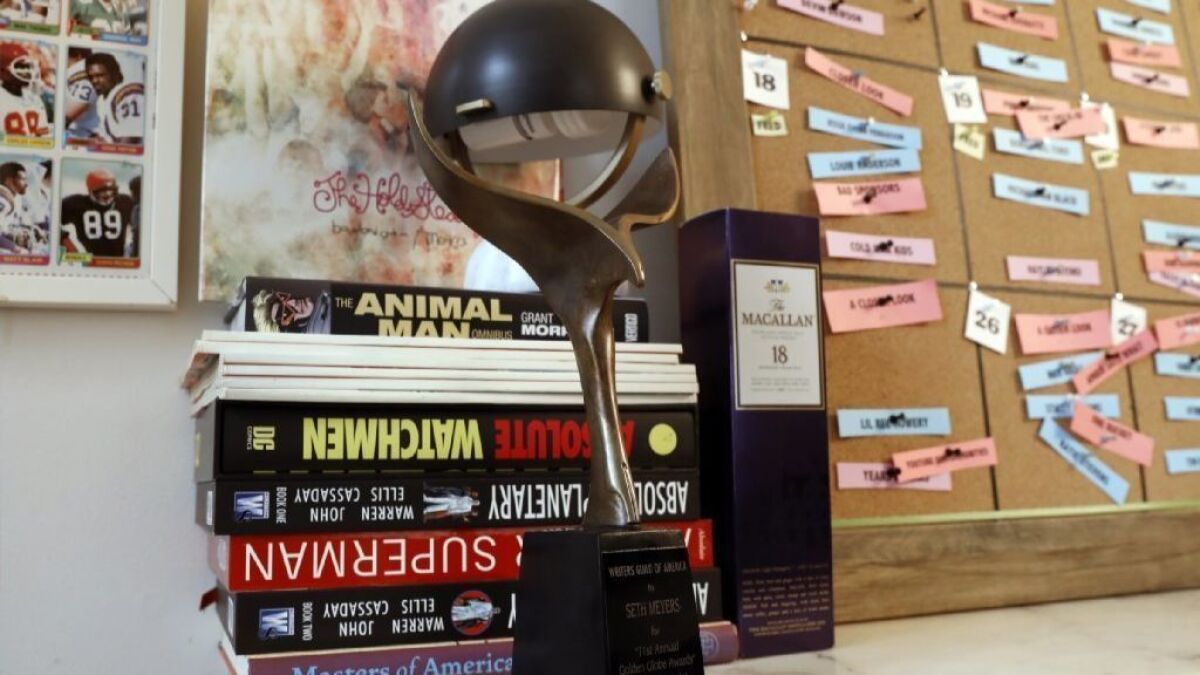 Drink up: "The reality is I thought I'd drink more in this office. Not to say I've stopped drinking, but if I have a cocktail I have it in the dressing room after the show. At 'SNL' you drank all the time, and on this show I don't – because this show is regular life and 'SNL' is where alcoholics live. Maybe one day I'll do something good enough to deserve a big old slug in the middle of the day."
Inviting the muse in: "So much of this job is other people bringing me their inspiration, but this is mission control for that. The first thing I start working on in the morning is 'A Closer Look,' and that's done at the desk. But the biggest difference and best part about having this office versus my office at 'SNL' is at 'SNL' people would knock on the door and tell me to go to Lorne's [Michaels, executive producer] office. I only have home games here. Lorne has a suite that's five times bigger on the 17th floor, but that's a little above the tree (line). The eighth floor gives me a good vantage point. I can see the ice skating rink."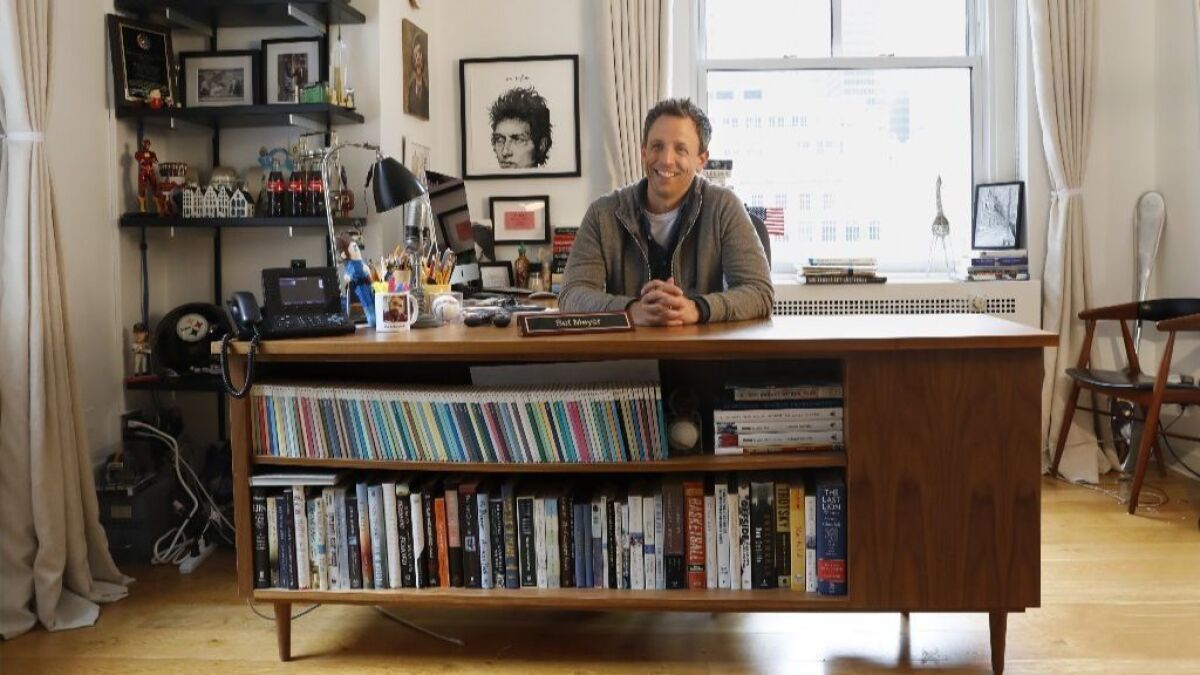 Get outta town: "Those are Wallpaper* City Guides. Back when I was working really long hours there was something peaceful about having vacation books. Like, one day the work will end and I can go somewhere nice. When you're particularly stressed out, it's nice to say, 'I wonder if Marrakesh has a nice restaurant.'"
Previous occupants: "Andy Cohen had this office at one point, he told me. Rosie [O'Donnell] may have been here. There's no late-night legacy to this side of the building; I think they moved offices all around. We don't even tape in Dave's [Letterman] studio."
Know your history: "David Letterman brought that jacket when he came on the show, about a month ago. He brought two things for me: a 'Late Night' jacket and a live tick that he removed from himself. Literally, he took it out and put it on the desk during the interview. Still kicking."
The home office: "There is no home office. Everything comes here. If I have outside writing projects, I tend to come here as opposed to working there. It beats anything I have at home, with two young children who literally have no concept of the writing process."
WATCH: Video Q&A's from this season's hottest contenders »
---
Get our L.A. Goes Out newsletter, with the week's best events, to help you explore and experience our city.
You may occasionally receive promotional content from the Los Angeles Times.