11 Images
'American Idol': David Archuleta vs. David Cook
Hollywood A-Z: David Archuleta
Hollywood A-Z: David Cook
Hollywood A-Z: 'American Idol'
David Archuleta, David Cook
By Richard Rushfield, Los Angeles Times Staff Writer
When the two Davids do battle Tuesday night, they will face off in the most evenly-matched contest since the last two-boy finals, Season Two's Ruben vs. Clay.
The oddsmakers are split, the pundits are divided and for the first time in years anyone could win.
But
who will win
? We have broken the contest into its basic categories. Here is your guide on how to read the final showdown of Season Seven.
(Fox)
David Archuleta, David Cook
CORE VOTING BLOCS
David Archuleta:
Rabid speed-dialing 10- to 14-year-old girls, and their grandmothers.
David Cook:
Teenage rocker fans and grown-up music geeks.
The Edge:
Archuleta. Young girls are the most important demo in the "Idol" universe, by far. Their ability to speed dial their votes in without tiring for the entire voting period makes every 12-year-old girl supporter equal in power to 100 adults.
(Fox)
David Archuleta, David Cook
MOMENTUM
DA:
Started out at the very top tier, and has stayed there.
DC:
The one nobody saw coming. Has grown progressively, until he has come to dominate the show in recent weeks.
The Edge:
David Cook. Looking over past winners, only Carrie Underwood was an early favorite who stayed on top. None of the victories of Kelly Clarkson, Ruben Studdard, Fantasia Barrino, Jordin Sparks and the unlikely Taylor Hicks could have been predicted at the beginning of their seasons. DC has the Big Mo.
(Fox)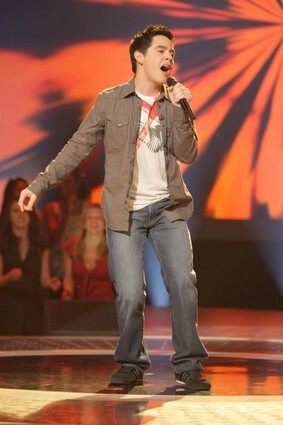 David Archuleta, David Cook
PERSONALITY
DA
: With his "Oh, gosh" nervousness and unaffected little-boy niceness, David Archuleta has won the hearts of young girls everywhere, but the youthful shyness may have worn thin with grown-up viewers.
DC:
While initially labeled without charisma by Simon Cowell, Cook's quiet, cool personality has grown on audiences, his seriousness enhanced by genuine nice-guy appeal.
The Edge:
David Archuleta. While Cook has transformed his personality into a definite net plus, his more understated appeal can't compete with the cries of ecstasy that ensue from an Archuleta nervous giggle.
(Fox)
David Archuleta, David Cook
GEOGRAPHIC BASE
DA:
Utah.
DC:
Missouri and Oklahoma
The Edge:
David Cook. Every Idol except Jordin Sparks has hailed from the Bible belt. Cook had the good sense to move to the home state of Carrie Underwood.
(Frederick M. Brown / Getty Images)
David Archuleta, David Cook
GENRE
DA: Pop balladeer, "
American Idol's"
hallmark style.
DC: Alternative rocker.
The Edge: A tossup. While every Idol (with the possible wild card exceptions of Hicks and country pop balladeer Underwood) has come from the pop balladeer school, the familiarity of that style may signal it's time for a change. Further, Cook is the first who has made the rock style palatable and given it emotional resonance for a broad, ballad-hungry audience.
(Fox)
David Archuleta
WILD CARD:
DA:
Won the coin toss and elected to go second, the favored position. Also, the songwriting competition winner likely favors Idol's genre of choice, pop balladeer.
DC:
Has proven his ability to take songs from unlikely sources (e.g., Mariah Carey) and transform them into dynamite, more powerful than the original version.
The Edge:
Archuleta by a nose, or a coin toss.
(Kenny Crookston / Associated Press)
David Archuleta, David Cook
OVERALL:
That makes three categories for
David Archuleta
and two for
David Cook
, with one tossup. Which is to say, David Archuleta must be considered the favorite by a hair, but it's very much anyone's game.
(Fox)