Haven't we seen this before? TV networks opt for safe bets in the 2016-2017 season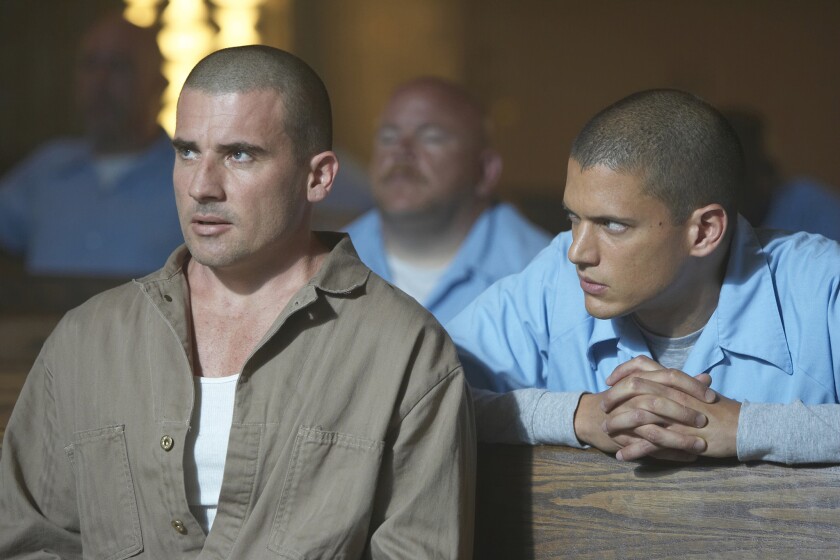 The jokes were writing themselves as the broadcast networks rolled out their fall schedules for advertisers this week.
"In order for broadcast television to survive we have to stay current and that's why we're bringing you fresh new shows like 'MacGyver,' 'Prison Break,' '24,' 'Training Day,'" ABC's late night host Jimmy Kimmel said when he took the stage at his network's fall lineup presentation at Lincoln Center. "Fox picked up series based on 'The Exorcist' and 'Lethal Weapon' -- all your favorite VHS tapes."
It got big laughs. But it told a not-so-flattering truth about the networks' conservative approach to programming next season, reflecting both the fears and revenue-generating opportunities they have as Madison Avenue prepares to spend more than $8 billion to buy commercials in what is called the upfront marketplace.
After a few years of experimenting with edgy shows to compete with cable, broadcast networks are playing it safe during a period of upheaval in the TV industry, relying more heavily than ever on reboots and remakes of old shows that are more salable to advertisers.
It's similar to the risk-averse strategy of the movie business, in which Hollywood studios increasingly depend on recognizable franchises and sequels of proven hits as a surefire way to get a solid opening weekend at the box office ahead of the reviews and word of mouth.
The 2016-17 season includes about a dozen shows based on established titles -- reboots, remakes, film and comic book adaptations, spinoffs and sequels -- one of the highest levels in years.
NBC, once the home of Dick Wolf's "Law & Order" brand, now stocks its prime-time shelves with the producer's Chicago-based dramas. Next season, the network will have its fourth when it launches "Chicago Justice" set in a state attorney's office.
"Ten new shows appear this fall, the word Chicago appears in them all," Fallon quipped during the NBCUniversal presentation to advertisers.
The reboots are part of a new season that includes a return to family sitcoms, proven prime-time stars such as Kevin James and Matt LeBlanc and easy-to-understand concepts such as time-travel (there are three of them, including one based on the film about the granddaddy of the genre, H.G. Wells).
Big specials such as "Dirty Dancing" on ABC and "The Rocky Horror Picture Show" on Fox are also drawing on immediately recognizable titles.
Innovative breakthrough series such as the CW's "Crazy Ex-Girl Friend" and ABC's "American Crime" are getting renewed, but more for the accolades and awards they receive, not their scant ratings. The networks can carry only a few of those types of prestige projects because they need broad audiences to sell to advertisers.
Well-known titles can lessen the heavy lifting required to get the public's attention in a media landscape where choices are now endless because of myriad digital streaming video services such as Netflix, Amazon and YouTube.
One reason there are more remakes is that the networks have to order more programs to avoid repeats that viewers no longer watch. Dana Walden, co-chair of Fox Television Group, acknowledged that with "American Idol" leaving the network, she needed programs that audiences could immediately identify without the benefit of a massive promotional campaign.
"In this day and age it's so difficult to launch anything," said Gail Berman, a former Fox TV entertainment chief who now heads her own production company, the Jackal Group.
CW President Mark Pedowitz adds: "You are now competing with the Netflix and Amazons of the world, and it's harder to make noise."
The trend toward reboots of old shows may elicit cries from the Hollywood creative community that broadcasters are desperate and creatively bankrupt at a time when critics are heralding the quality of programming on cable's HBO, Showtime and FX as well as Netflix and Amazon.
But executives note that the TV business is doing what it always does: following the money.
After two years of declines in the upfront advertising marketplace, broadcasters and ad supported cable networks are sensing a much stronger demand for TV advertising time in 2016. By having so many recognizable titles that have a leg up on getting noticed by viewers, the networks can generate more advertising revenue even at a time when ratings are still declining.
The networks are also taking advantage of advertisers having second thoughts about whether digital video is as reliable as TV in reaching consumers quickly with their messages. "TV works," Disney/ABC Television Group President Ben Sherwood said, a sentiment that was echoed by his peers at the other networks throughout the week.
"There is money out there," said Preston Beckman, a TV consultant who was a top executive at Fox and NBC. "Clearly the networks are starting to smell some blood in the digital world, and they are starting to fight back a little bit. You know what you're buying when you're buying the networks. So there is money to be made."
Berman, who as a producer turned the failed movie "Buffy the Vampire Slayer" into a beloved, long-running hit on TV, said there is nothing wrong with programming familiar franchises as long as the shows have original elements that engage viewers.
"As a programmer I understand the instinct, but I also think you have to balance that instinct with the notion of creative integrity," Berman said. "It's got to have a reason for being, otherwise it isn't going to work."
Brand recognition doesn't guarantee ratings either. Recent movie adaptations such as "Minority Report" and "Limitless" both failed to earn a second season.
Broadcast television seems to be heading in the same direction as the movie business, where comic-book franchises and sequels have squeezed out mid-budget, adult-oriented films. This risk-averse climate has led to a massive exodus of feature film talent to cable and streaming networks -- perhaps most notably, Oscar-winning filmmaker Steven Soderbergh, who's sworn off the movie business but has made shows for Cinemax, Starz and Amazon.
Many of those projects, however, would not be broad enough to attract advertiser support. Although critics sing the praises of Netflix and Amazon shows, their viewership numbers are not made public.
Netflix also isn't immune to recycling well-known titles. The streaming service is now home of the "Full House" reboot "Fuller House," which had been rejected by all the broadcast networks, and a new version of "Gilmore Girls." The streaming service also revived "Arrested Development," which originally aired on Fox.
The antidote to a glut of remakes will be a breakout hit of an original idea. Back in 2000, CBS famously failed with a remake of "The Fugitive," which was deemed a can't- miss hit. But the new show that aired after it, which received little attention before it was launched, was called "CSI," which became a worldwide smash.
"The networks may look at themselves and say we might have overcompensated by believing they needed so many titles to launch with but some of these will presumably be successful," Berman said. "If it doesn't work and these are bunch of big bombs, then guess what: They're not going to have these things."
stephen.battaglio@latimes.com
meredith.blake@latimes.com
---
The complete guide to home viewing
Get Screen Gab for weekly recommendations, analysis, interviews and irreverent discussion of the TV and streaming movies everyone's talking about.
You may occasionally receive promotional content from the Los Angeles Times.