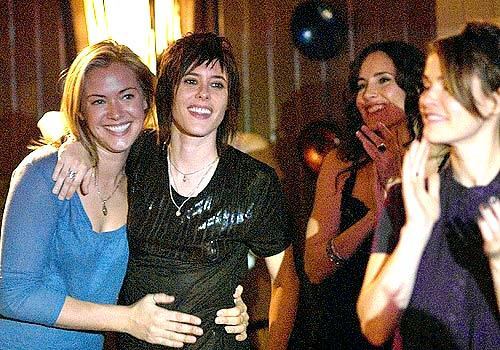 7 Images
Gay TV characters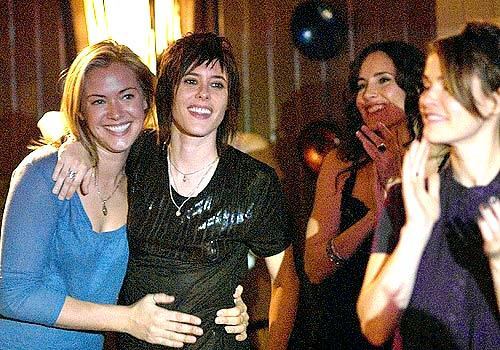 Selling itself as the gay and bisexual answer to "Sex and the City," the Showtime series "The L Word" follows the always complicated lives and loves of a group of friends in West Hollywood, including Kristanna Loken, left, Katherine Moennig, Rachel Shelley and Leisha Hailey.
(Paul Michaud / Showtime)
Though their frequent cross-dressing caused some viewers to question the troupe's sexuality, the Kids In The Hall's Scott Thompson (second from right) was the group's only gay member. His flamboyant monologues as nightclub fixture Buddy Cole were fan favorites.
(David Lachapelle / Paramount Pictures)
Ellen DeGeneres, center, made national headlines when she came out of the closet on a 1997 episode of her hit sitcom "Ellen." Unfortuantely, the show's ratings plummeted soon after the episode and it ended in 1998.
(Timothy White / ABC)
Debra Messing, left, played Grace and Eric McCormack, second from left, played her gay best friend Will on "Will and Grace," one of the first major network sitcoms to feature gay characters regularly.
(Bill Reitzel / NBC)
As the volatile couple David and Keith on "Six Feet Under," Michael C. Hall and Mathew St. Patrick evolved through multiple phases of their relationship, culminating with their adoption of a child in the series' final season.
(Art Streiber / HBO)
In "The Sopranos" final season, the most surprising twist involved the outing of longtime Soprano family lieutenant Vito Spatafore (Joseph Gannascoli, right), who quickly fled the unfriendly confines of New Jersey for the more liberal pastures of New Hampshire, where he began a relationship with a fry cook nick-named "Johnny Cakes."
(Craig Blankenhorn / HBO)
Michael K. Williams' brutal Omar on "The Wire" brought a gay character to the inner city crime genre.
(Paul Schiraldi / HBO)