7 Images
'Idol's' Jordin Sparks
Jordin Sparks
In that Darwinian struggle that is the Internet, Jordin Sparks has clearly come out ahead. The curly-haired singer's fansites are legion and she has racked up a laundry list of previous talent competition wins. In the PR game, Sparks has the others licked. But how will her voice go over on the "Idol" queen-makers? Judge Simon has likened her to a cup of too-sweet coffee, but Judge Randy, one of her staunchest defenders, told Entertainment Weekly, "Curly hair will win this year."
(Fox)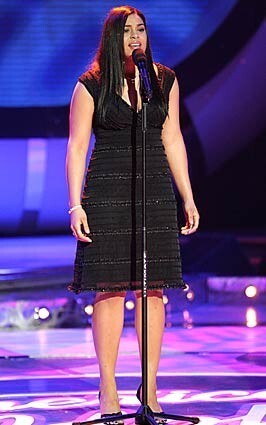 Jordin Sparks: the Average American
Sparks has the ability to win this thing. Like any great candidate she will persevere not because she appeals to one constituency in particular, but because she is so inoffensive that she wouldn't not appeal to anybody. Sweet, young, pretty, talented. This girl has "American Idol" written all over her.
(Fox)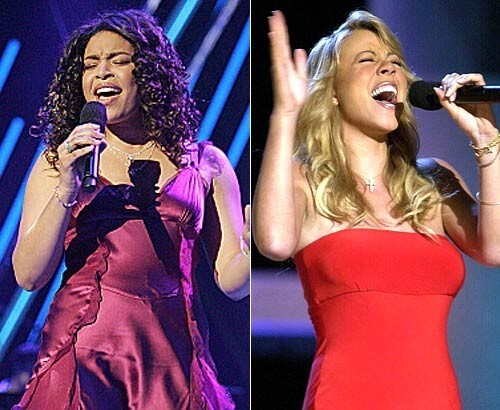 Jordin Sparks: Mariah Carey
It doesn't seem fair to judge Jordin Sparks just yet. She's clearly got lots of talent, but she's only 17 and her voice hasn't fully developed. But give her a few years and she might be making us think of Mariah Carey when she sings. Whether she'll be able to hit those superhigh notes, I'm not sure though. Mariah might be one of a kind.
(Fox / CBS)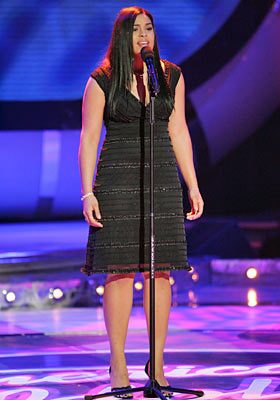 Jordin Sparks
High Point:
Her heartfelt version of "I (Who Have Nothing)" on British invasion night gave us chills.
(Fox)
Jordin Sparks
Low point:
She said she grew up listening to Bon Jovi, so why didn't her version of "Livin' On A Prayer" rock?
(Fox)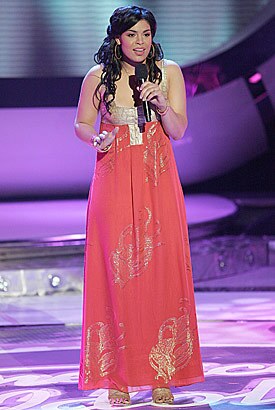 Jordin will win!
She's beautiful, she's young. She makes that cute heart shape with her hands during her post-singing follow up with Ryan Seacrest. Lately her vocals have been on par with Melinda's, and her signage is at an all time high.
(Frank Micelotta / FOX)
Jordin will lose
She may be too young. Will she be able to pull out enough original breathtaking performances in one week to wow on the Kodak stage?
(Frank Micelotta / FOX)