From the Archives: Luke Perry remembers saying goodbye to 'Beverly Hills, 90210'
Actor Luke Perry died Monday at the age of 52 after suffering a stroke. The actor had most recently been starring on the CW's "Riverdale," but it was with his role as bad boy Dylan McKay on the long-running Fox drama "Beverly Hills, 90210" that he enjoyed breakout success. Back in May 2000, Times staff writer Paul Brownfield wrote about a visit to the set of the series as it prepared to wrap its 10-year run.
They are the dog days of "Beverly Hills, 90210," the last gasps of a teen soap grown up and grown old: Episode No. 299, titled "The Penultimate."
In this scene, for the umpteenth time, Dylan McKay (Luke Perry) and Kelly Taylor (Jennie Garth) will (almost) profess their love for each other. Dylan will ask, "How's Matt?," meaning Kelly's boyfriend, and Kelly will say, "He's pretty devastated," because Matt's something-or-other died, and Dylan will say, "The other night. You wanted to know things. But you had to talk to Matt first. I was wondering if you'd done that," and Kelly will say, "Not yet. No," and Dylan will say, "Well, tell him I'm sorry for his loss, will you?," and Kelly will say, "Of course." And then Dylan will go to the door, as if to leave (where is he always going?). He will say, "I talked to David about Donna," and Kelly will ask, "How's he doing?" and Dylan will reply, "He can't figure out how two people so obviously meant for each other can't get together," and then, before he exits, Dylan will add: "And frankly, neither can I."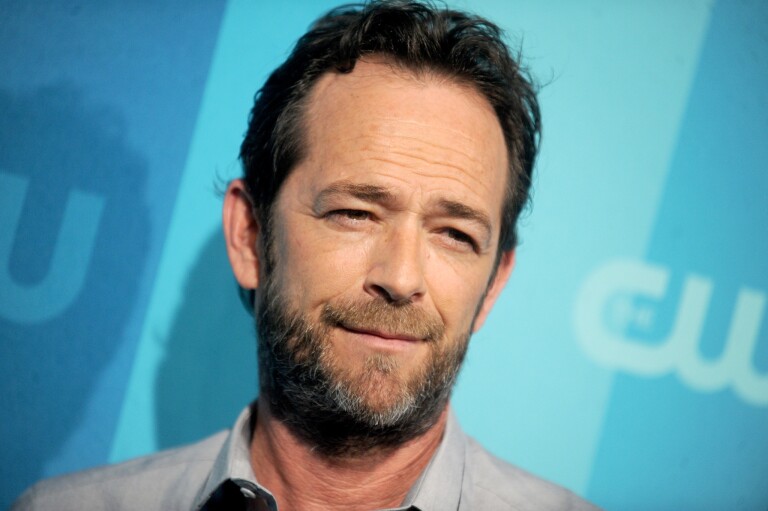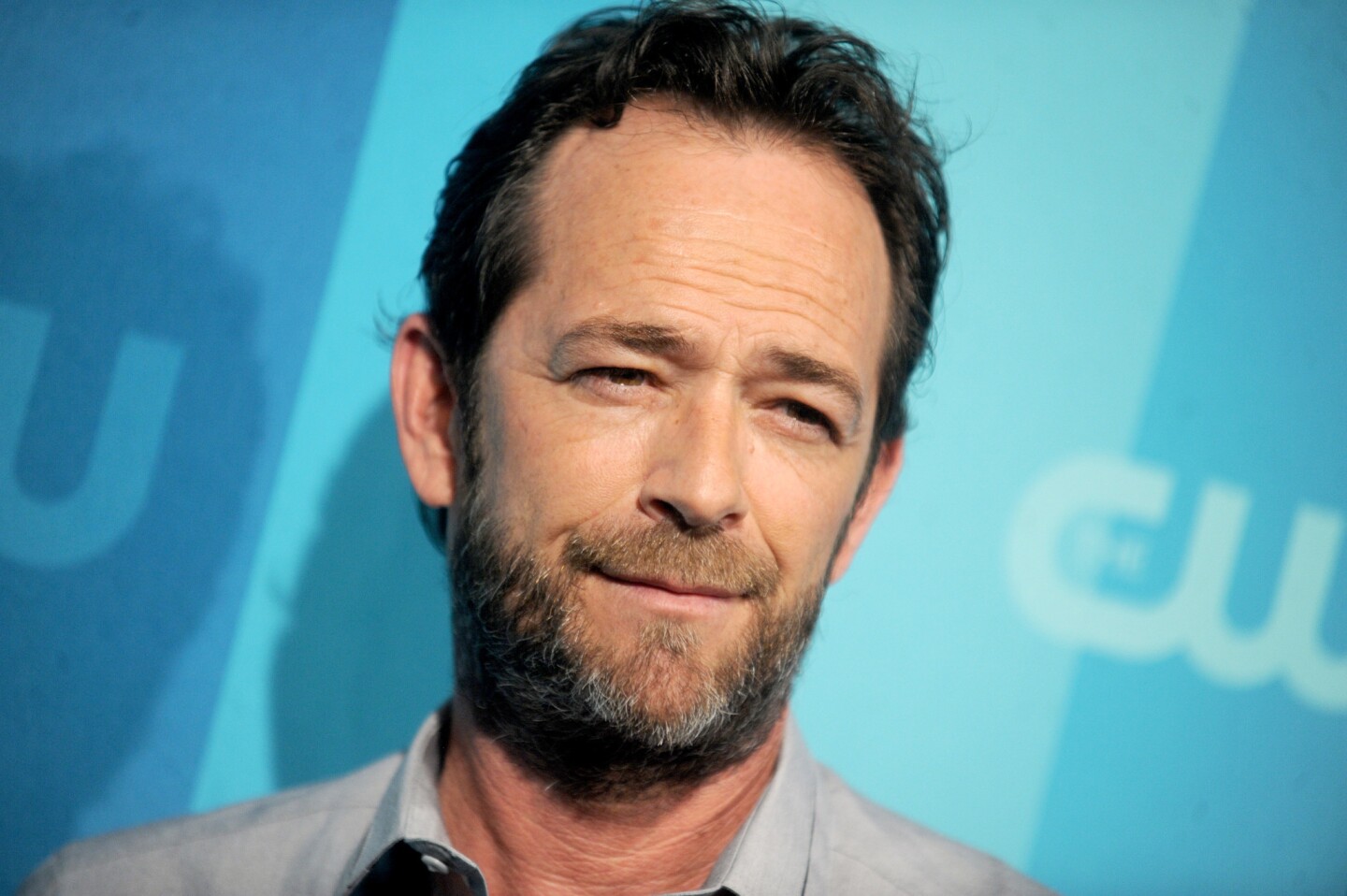 Luke Perry attending the 2017 CW Upfront in New York City on May 18, 2017.
(Van Tine Dennis / ABACA / TNS)
Luke Perry and Shannen Doherty in an undated promotional photo from "Beverly Hills 90210."
(Andrew Semel / Fox)
Luke Perry poses during an interview in New York in 2001.
(Leslie Hassler / AP)
Claudia Schiffer and Luke Perry co-host "The 1995 World Music Awards."
(Craig Sjodin / ABC)
Auctioning off a puppy, Luke Perry plays Santa Claus at the Teddy Bear Ball in 1999.
(Handout art)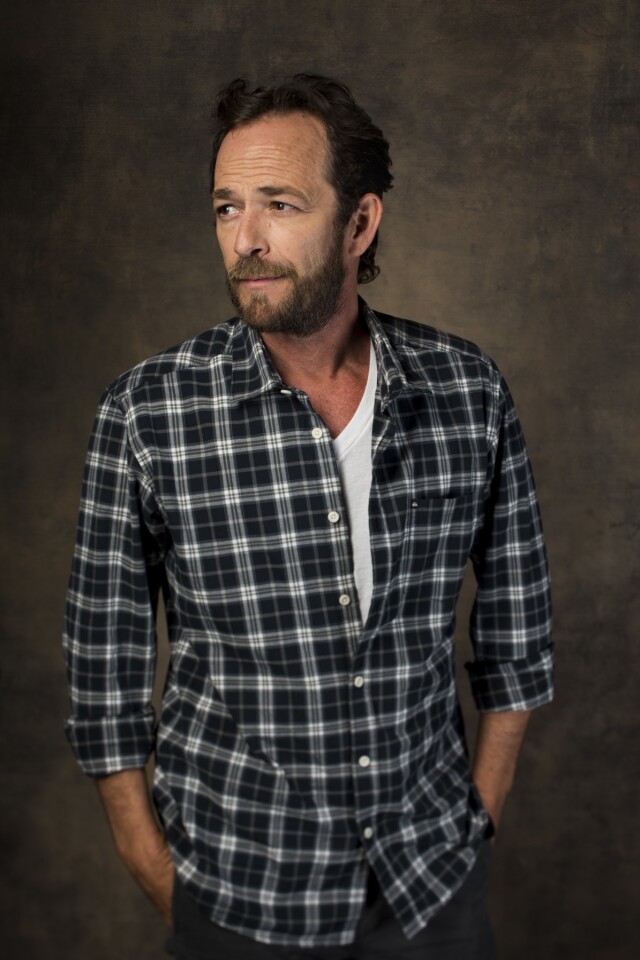 Luke Perry of the CW's "Riverdale," photographed in the L.A. Times Hero Complex photo studio at Comic-Con 2016, in San Diego, July 23, 2016.
(Jay L. Clendenin / Los Angeles Times)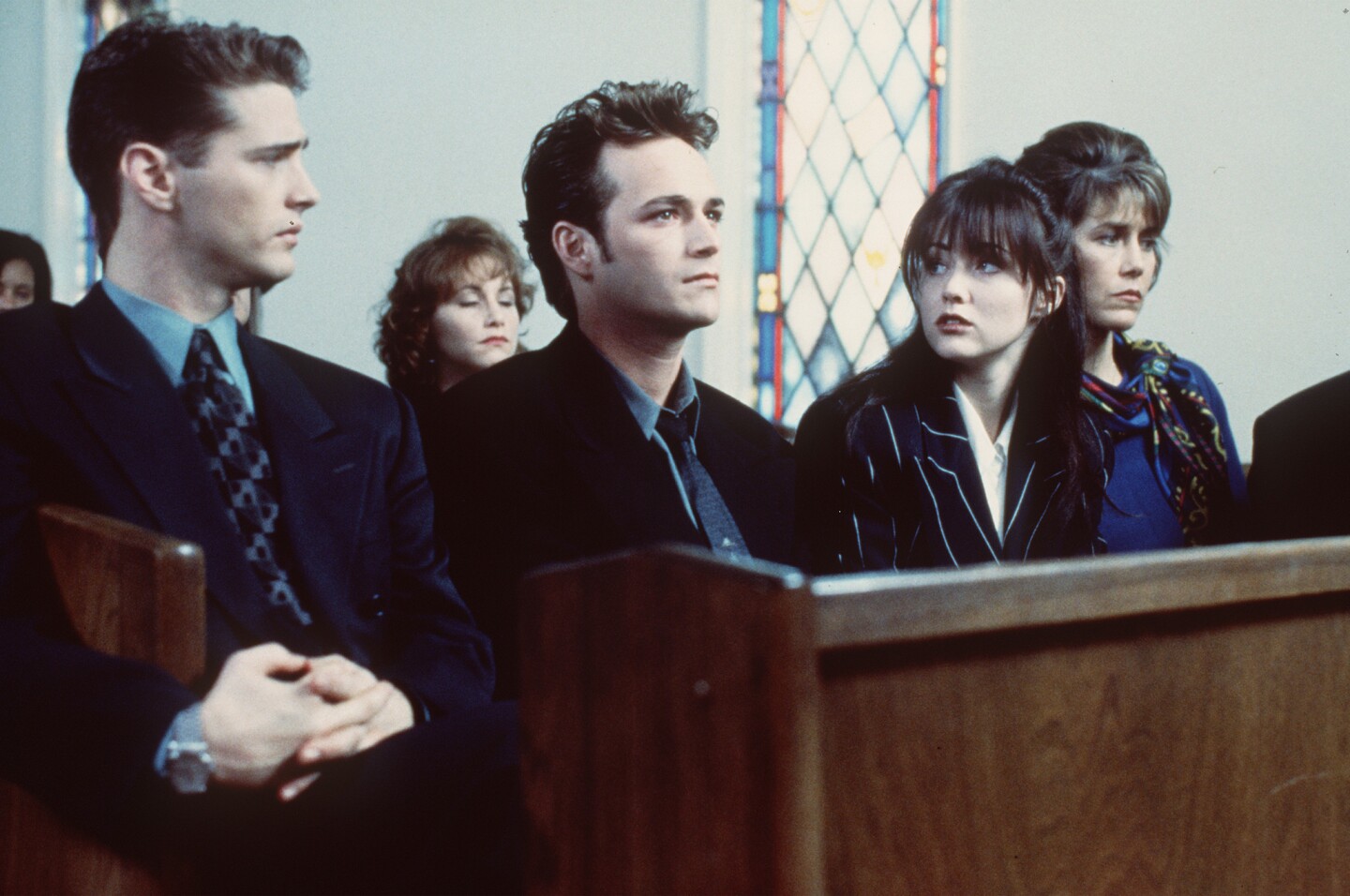 Jason Priestley, left, Luke Perry and Shannen Doherty in an episode of "Beverly Hills 90210."
(Andrew Semel / Fox)
Luke Perry and Alyson Hannigan pose outside the Theatre Royal in London as they start rehearsals for a stage production of 'When Harry Met Sally..." on Jan. 8, 2004.
(Alastair Grant / AP )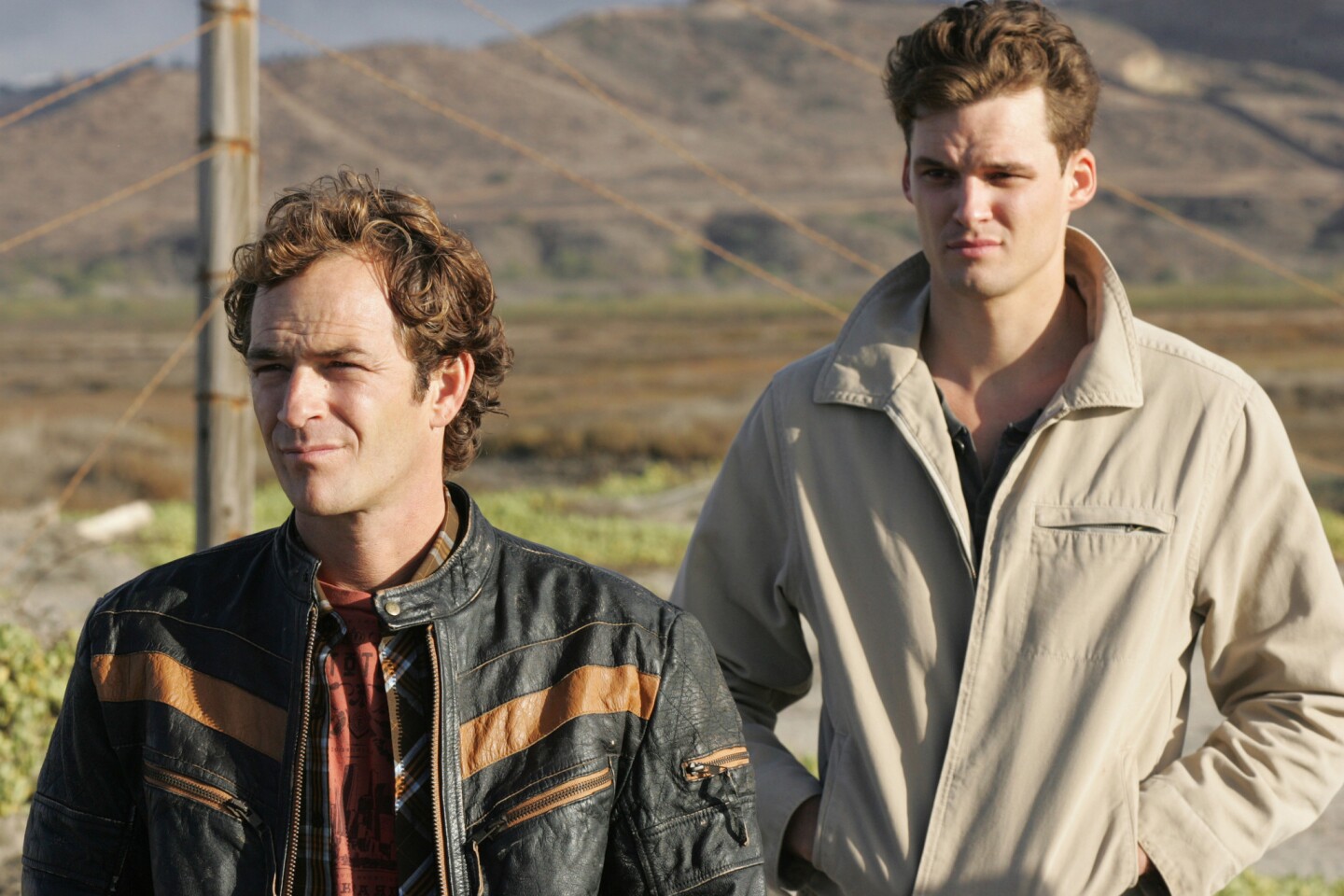 Perry, left, with Austin Nichols on the 2007 HBO series "John From Cincinnati."
(John P. Johnson / HBO)
Luke Perry in the 2008 Hallmark Channel television movie "A Gunfighter's Pledge."
(Hallmark Channel)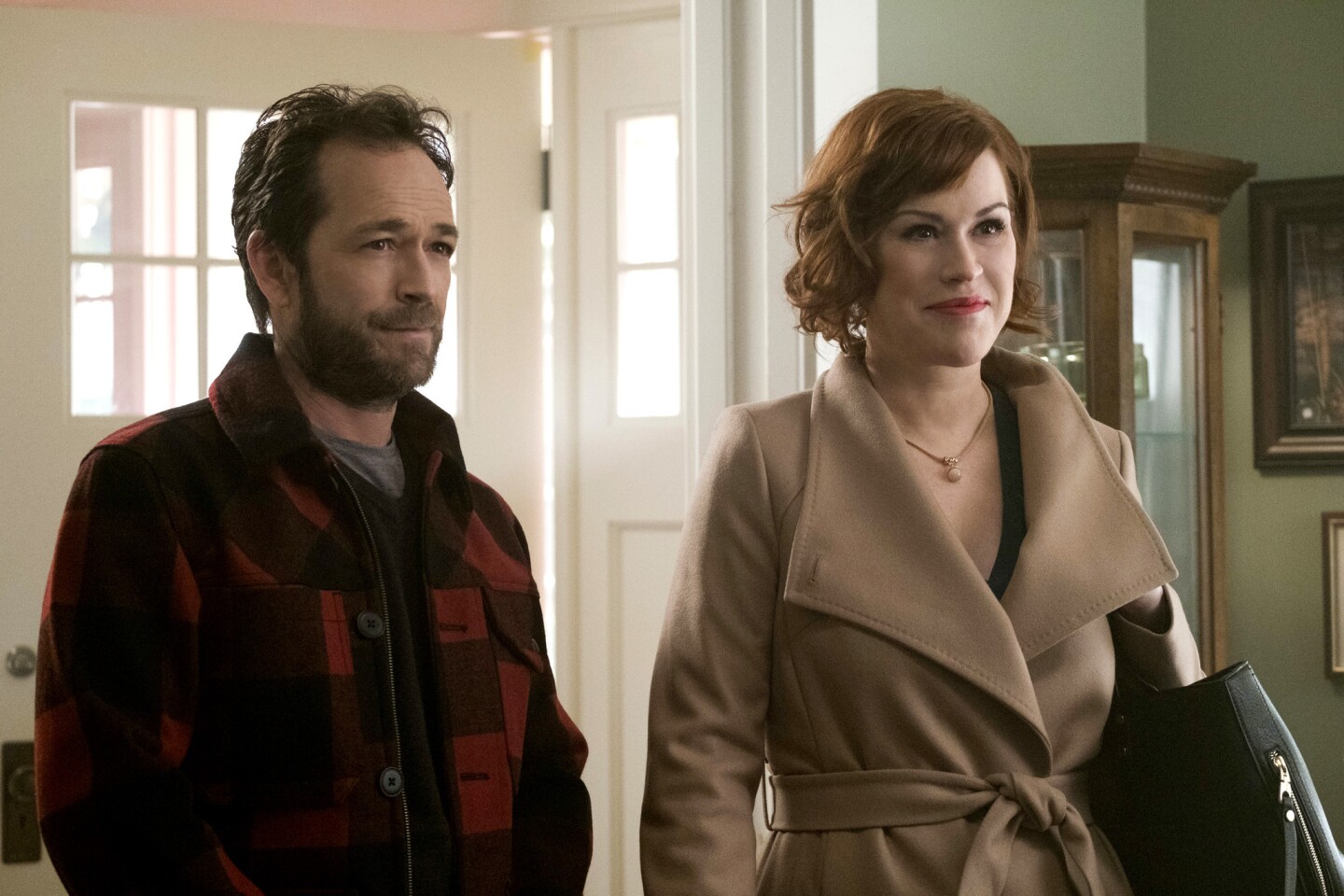 Luke Perry and Molly Ringwald on the CW's "Riverdale."
(Cate Cameron / KTLA)
Luke Perry on "Riverdale" on the CW.
(Dean Buscher / The CW)
In this Aug. 6, 2018, file photo, Luke Perry of the CW series "Riverdale" poses for a portrait during the 2018 Television Critics Assn. summer press tour in Beverly Hills.
(Chris Pizzello / Invision / AP)
Ashleigh Murray from left, Camilia Mendes, Luke Perry, KJ Apa, Madelaine Petsch, Lili Reinhart and Cole Sprouse of the CW's "Riverdale, " photographed in the L.A. Times Hero Complex photo studio at Comic-Con 2016, in San Diego, July 23, 2016.
(Jay L. Clendenin / Los Angeles Times)
Luke Perry attends the 2018 PaleyFest screening of "Riverdale" at the Dolby Theatre in Los Angeles on March 25, 2018.
(Valerie Macon / AFP / Getty Images)
Though Perry originally moved out of the "90210" Zip Code after the show's sixth season, he returned three years later for the show's final two seasons. As the show prepared for its finale, he discussed why it was different the second time around.
On a cellphone, Jason Priestley says this about the media: "If anyone in the media has ever bestowed you with [the name] teen idol, it then gives everybody else in the media license to completely defecate on anything you do thereafter."
He is calling from London, where he is starring in the seemingly defecation-proof, Tony Award-winning play "Side Man." By various accounts, Priestley, who played the good-guy hunk Brandon for seven full seasons, had the roughest time with his "90210" celebrity, with the full-court press of personal appearances in the early days, when Spelling and Fox dispatched their budding stars into the heartland and beyond to stoke the show's fan base.
It seems quaint to recall, in today's era of multimedia convergence, but "90210" fashioned a sense of mania the old-fashioned way--through mall appearances. Locked into five-year deals, the cast wasn't drawing top dollar relative to the show's emerging success; these global hit-and-runs, then, had the added benefit of lining their pockets.
Priestley and Perry, the show's true sex symbols, attempted a more detached pose, staring at fame and all the kooky crap that came with it through a cigarette haze. Today, neither have come full circle on that teen zine chapter in their lives--at least not enough to joke about it openly. They're more prone to oblique rants on the nature of fame versus "the work," as if the tabloid press is still rooting around in their trash for underwear.
Like Priestley, Perry left the show before the bitter end, but unlike Priestley he came back, two seasons ago, after a string of feature films didn't work out as planned.
"Apathy coupled with whatever is a nasty cocktail," he says, asked about doing the show now versus then. "Nobody is walking through anything on camera, that much I am sure of. But you know, it used to be a lot of fun and now it's not as much fun and it still could be. I'm just a little disappointed about that."
Read Brownfield's full story here.
---
The complete guide to home viewing
Get Screen Gab for weekly recommendations, analysis, interviews and irreverent discussion of the TV and streaming movies everyone's talking about.
You may occasionally receive promotional content from the Los Angeles Times.