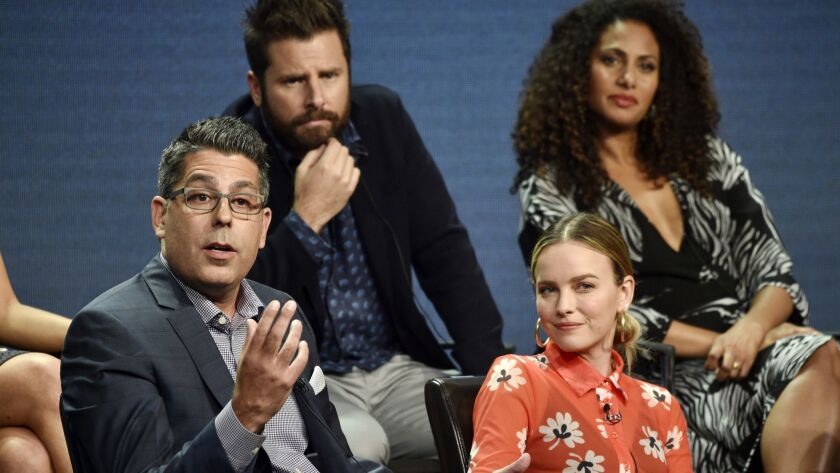 As a show with a premise that revolves around a group of friends grappling with the suicide of one of their own, the new ABC drama "A Million Little Things" heads into the fall TV season in a delicate position.
The recent deaths of fashion designer Kate Spade and globe-trotting chef Anthony Bourdain have reignited discussions on the best practices for news outlets to report on suicide. And Hollywood too has been questioned about the responsibility it bears in its depiction of characters considering — or carrying out — the act (see: "13 Reasons Why").
"A Million Little Things" creator DJ Nash said the high-profile deaths, which happened within a few days of each other this June, prompted him to call ABC Entertainment President Channing Dungey to suggest that they assemble a public service announcement to appear at the end of the pilot episode.
The PSA will feature three of the show's cast members, as well Linkin Park's Mike Shinoda and Chester Bennington's widow, Talinda Ann Bentley. (Bennington died by suicide last July.)
"I think there's absolutely nothing romantic about suicide — it's a real conscious thing in our [writers'] room," Nash said, noting that a few members of the writing staff had first-hand experience with losing a loved one in that manner and that consultants were used.
"We're not romanticizing the story; we're telling it in an authentic way," he said. "If you watch the show, you'll see that these people's lives are changed because of this. I don't think [people] will watch the show and say, 'Oh, I should do that too.' If anything, it's a cautionary tale of what can happen. It is something we take unbelievably seriously."
Nash and the drama's cast, which includes Ron Livingston ("Office Space") and Grace Park ("Hawaii 5-0"), appeared on stage Tuesday at the Television Critics Assn. press tour in Beverly Hills to promote the new series. Some critics have already started to compare it to NBC's breakout, tear-jerker drama "This Is Us."
Nash is quick to note that his idea for this show pre-dates "This Is Us" but doesn't deny the doors the show has opened. He's more apt to welcome comparisons to the 1983 film "The Big Chill," about a group of college friends who reunite at the funeral of one of their members.
"I watched 'The Big Chill' before I should have been allowed to," Nash said. "It really influenced my life." But he pointed out that unlike "The Big Chill," in which everyone went home after the funeral, "we're going to stay and watch the transformation take place."
"A Million Little Things" premieres Sept. 26 on ABC.
Twitter: @villarrealy
---