Alan Cumming's killer 'Instinct' strikes again as he ushers in a new CBS drama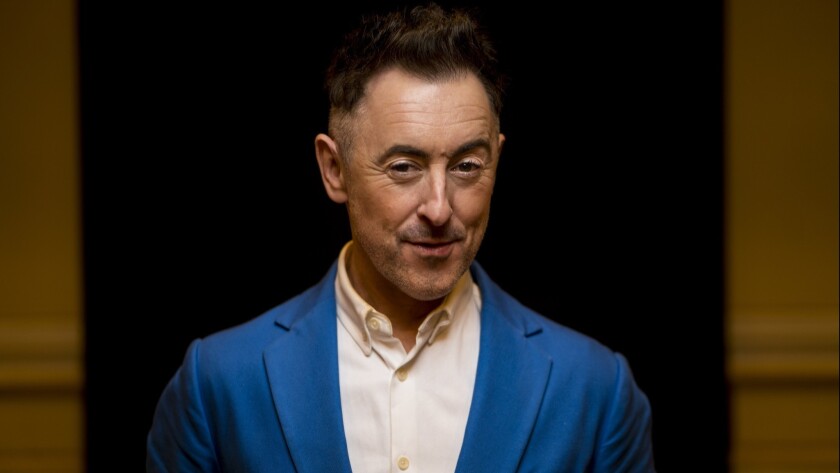 In the new CBS crime procedural "Instinct," Alan Cumming plays Dr. Dylan Reinhart, a former CIA operative and musical savant turned Ivy League professor and bestselling criminal psychopathology expert who rides a motorcycle, wears natty Savile Row suits and eats pizza with a fork and knife.
And, oh yeah, he's married to a man.
"His sexuality is not what the story's about," said Cumming in his rolling Scottish burr, during a recent visit to California attired in a relatively subdued (for him) cornflower blue suit and gray brogues. "It's way down the list of attributes he has, and I like that. But obviously it's good to be newsworthy."
At a time when LGBTQ characters are more visible than ever in much of popular culture, "Instinct," which premieres Sunday, feels like an overdue milestone: it is the first hour-long broadcast drama featuring a gay lead character. The series, adapted from the novel "Murder Games" by James Patterson and Howard Roughan, also represents a major step for CBS, a target of intense criticism for the lack of diversity in its programming.
The drama follows Dylan and NYPD detective Lizzie Needham (Bojana Novakovic) as they hunt for a serial killer. His home life with Andy (Daniel Ings), who quit a career in corporate law to open a bar, is also on display. While their relationship is not the central focus of the show, Cumming takes the responsibility seriously.
"I was very conscious that it was portrayed in a very positive and non-stereotypical or caricatured way," says Cumming, 53, who is an executive producer on "Instinct" and has been married to artist Grant Shaffer since 2012. The couple just finished converting their East Village townhouse, complete with bathrooms matching those at his favorite hotel, the Chateau Marmont. They recently published a children's book, "The Adventures of Honey & Leon," about their dogs.
Cumming adds, "When you think of most gay story lines in mainstream television, they are either pretty drama-fueled and hedonistic, or they're dying or in some perilous situation."
The show's creator Michael Rauch wrote the pilot with the actor, known for his puckish charm, in mind.
Says Rauch, "I knew he could pull off anything and just look incredibly dapper in a tweed suit, and yet at the same time be able to play the layers of someone who is conflicted and feels abnormal for various reasons."
Cumming had a breakthrough role with his Emmy-nominated turn as political operative Eli Gold in "The Good Wife." Initially a quasi-villainous character inspired by then-White House chief of staff Rahm Emanuel, Eli became a fan favorite on the acclaimed legal drama, largely due to Cumming's inherent likability.
But his creative accomplishments go well beyond "The Good Wife." A graduate of the Royal Scottish Academy of Drama and Music in Glasgow, he's played the pansexual emcee in "Cabaret" three different times, starred in "Spice World," and staged a one-man production of "Macbeth" on Broadway, and launched a bawdy line of soap and perfume that plays on his last name.
He's directed an acclaimed movie ("The Anniversary Party"), wrote a novel about a bisexual Londoner ("Tommy's Tale"), a memoir about his painful upbringing ("Not My Father's Son"), and is at work on another book that will recount his experiences moving to America and getting older — an "increasingly topical and hilarious subject," says Cumming.
A gifted, witty raconteur with a flair for slightly provocative anecdotes, Cumming at one point launches into a story about a night out in Glasgow when he and a dozen or so female costars in a production of "The Bacchae" were approached by a "stunning boy" from across the dance floor.
"He came right up to me and said, 'It's Alan, isn't it?' And I went, 'Yesss,'" he recalls. "And he went, 'I think you went to drama school with my parents.' It was like a dagger in my stomach."
Cumming is also politically active. He campaigned on behalf of Scottish independence and is a vocal supporter of refugees and LGBTQ causes. Beginning in May, he'll go on tour with a cabaret show, "Legal Immigrant," about his experiences in his adopted country.
He became a U.S. citizen in 2008, and describes the current political climate as "a scary, scary time," particularly for immigrants and the LGBTQ community: "The very worst feelings of prejudice and anger and violence have been enabled and encouraged by Trump. Even if he goes, that's going to take a generation to wash that away."
The actor, who most recently starred in "Cabaret' on Broadway in 2014-15, says he wishes they were doing the show now, in order to remind people "how important it is to embrace difference and be vigilant about extremism."
Cumming's latest endeavor, a downtown performance space and bar called Club Cumming, grew out of the starry after-parties he threw in his "Cabaret" dressing room. The crowd at Club Cumming, which opened in the fall as he was in production on "Instinct," ranges in age and sexuality, and the offerings are equally eclectic: there's a Tuesday night happy hour/knitting circle, and a monthly dance party inspired by the film "Romy and Michele's High School Reunion."
The club has been a uniquely satisfying creative experience for Cumming because "I've imagined something, and put the word out about how I want it to be, and it's become that."
He recalls one late night when actress Emma Stone showed up with tennis legend Billie Jean King and Paul McCartney. After a few drinks, Stone, who portrayed King in "The Battle of the Sexes" and Cumming wound up onstage performing "Part of Your World" from "The Little Mermaid," accompanied by the former Beatle on the harmonica.
"Things like that happen, that's what I love about it," he says. "The spontaneity."
As first on the call sheet for "Instinct," Cumming was determined to bring a similar joie de vivre to set, playing music and encouraging cast and crew to dance between camera set-ups.
"You'd be amazed at how great that is," he says. At the wrap party, he gave out joints monogrammed with the "Instinct" logo, a fact he volunteers after roughly a half-second of hesitation.
Says Rauch, "Alan has this life spirit that is completely irrepressible. He seems so full of joy and kindness. … It's like, does he need sleep? Because it seems like a cliché, but he wants to make the most out of every minute of the day."
Another goal was providing more vegan options on the catering menu. "My immortal words: salad is not a vegan option," he says. "Teamsters would come up from behind the truck and go" -- he affects a deep, serious tone -- "'Alan, I just want to thank you for the vegan options.' All of these secret vegans came out of the woodwork."
Adjusting to being the lead in a one-hour network drama required some changes. No drinking during the week, for example — a big sacrifice for him.
But Cumming is loath to complain: "I could sit here and tell you how exhausting it is, and how many rewrites I got, how cold it was. But I'm not down a mine. It's a great gig."
See the most-read stories in Entertainment this hour »
'Instinct'
Where: CBS
When: 8 p.m. Sunday
Rated: TV-14-LV (may be unsuitable for children under the age of 14 with advisories for coarse language and violence)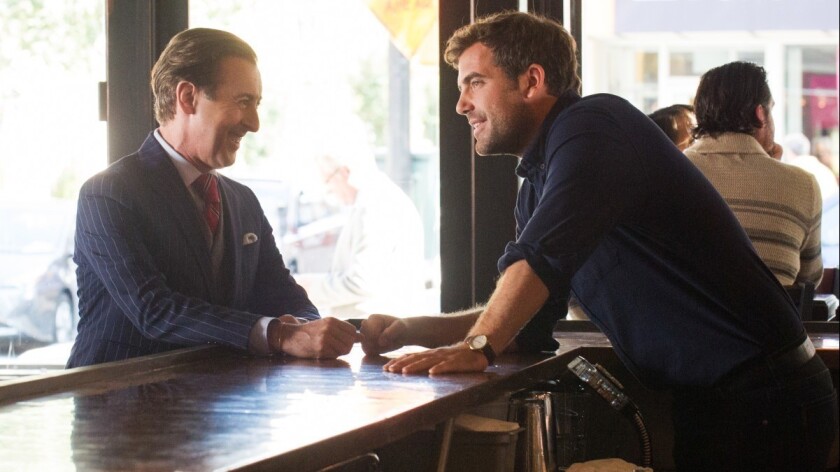 Follow me @MeredithBlake
---
Inside the business of entertainment
The Wide Shot brings you news, analysis and insights on everything from streaming wars to production — and what it all means for the future.
You may occasionally receive promotional content from the Los Angeles Times.