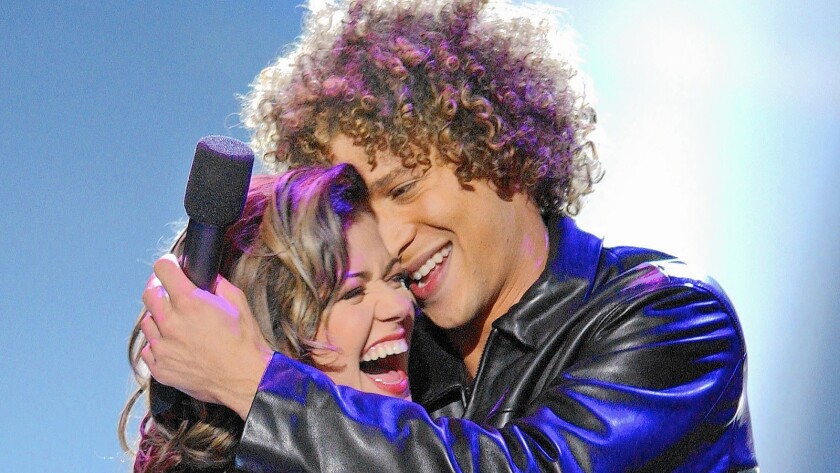 When "American Idol" first landed on the prime-time landscape 14 years ago, the talent series that would blossom into a pop-culture phenomenon was anything but a guaranteed hit.
Early reviews were not kind, with some critics defining the show as a cutthroat version of "Star Search." More attention was paid to the parade of horrible singers that distinguished the first several weeks than to the group of young hopefuls vying for the "Idol" crown.
But out of those shaky early steps, two unknown figures began slowly to emerge — a boy with a flashy mop of curls and a taste for flamboyant, '70s-style shirts, and a bubbly young Texas girl with down-home appeal and a volcanic voice. Armed with distinctive talent, electric charisma and a bit of romantic chemistry, Justin Guarini and Kelly Clarkson became two of the key game-changers that helped propel "American Idol" into the zeitgeist.
As the curtain starts to fall this week on the entertainment sensation in its final season, those long associated with "American Idol" have reflected on the magic of the first season fueled by Clarkson and Guarini.
"Kelly was America's sweetheart, and Justin was the heartthrob, and that was a very potent combination," recalled Charles Boyd, "American Idol" co-executive producer. "They had a chemistry between them that I think set the template."
Guarini, who turned down a role in "The Lion King" on Broadway to compete on "American Idol," wowed judges with his self-assurance. Simon Cowell, the most professional and demanding judge on the panel, immediately declared him a front-runner. Guarini became the soulful dreamboat, performing covers of tunes by Stevie Wonder, Al Green and Michael Jackson that elicited giddy squeals from young girls in the audience. Judge Paula Abdul swooned over the Doylestown, Pa. native on a weekly basis. ("I need to compose myself," she said after his dramatic a capella performance of "Get Here.")
"Justin had an ease and a confidence about him that came from his experience onstage," Boyd said of Guarini.
Clarkson was his opposite — a dark horse with a messy brown updo and boot-cut jeans who barely registered with the judges. But the cocktail waitress from Burleson, Texas eventually morphed into a glamorous dynamo, ditching her homegrown style for a sleek blowout and chunky blond highlights.
Her breakout moment arrived about midway through the competition when, dressed in a fedora and crop top, she belted out a stirring rendition of Carole King's "(You Make Me Feel Like) A Natural Woman" that wowed even the finicky Cowell. America "is known for great singers, and you are one of them," he said.
Throughout the summer-long competition, Clarkson never once landed in the bottom three, and consistently dazzled viewers with her range, convincingly switching from big band to disco to Motown.
Despite her progress, her front-runner status was never assured. However, Clarkson and Guarini survived the final elimination rounds and faced off against each other in the finale. Vegas oddsmakers predicted that Guarini, with his legion of impassioned young female fans ready to speed-dial, would ultimately prevail.
Some 23 million people tuned into the two-hour finale, broadcast live from the Kodak Theatre in Hollywood. Guarini and Clarkson each performed the prefab singles "Before Your Love" and "A Moment Like This," as well as teaming up for a very aptly chosen duet, "It Takes Two."
It became increasingly clear that Clarkson was the favorite. Even Guarini was rooting for her to take the prize, as he recalled in a recent interview.
"When she was singing 'Before Your Love,' I was standing stage right with [executive producer] Nigel Lythgoe, and I said to him, 'If I win this, you're going to have to hire some extra security,'" Guarini recalled. "He looked a little shocked. I said, 'There's going to be a riot.'"
Finally, at 9:52 p.m. Eastern time, Clarkson was crowned the very first "American Idol." She'd won 58% of the nearly 16 million votes cast via phone. Guarini was gracious in defeat, giving Clarkson a kiss on the cheek and declaring, "No one deserves it more than this woman right here."
Clarkson was equally effusive in her praise for the runner-up: "Sexy man, sexy man!" she purred.
Said Boyd: "They both wanted to win, but they were both in it together. The chemistry between them was as important as the chemistry between the judges." Their "chemistry" continued after the cameras stopped rolling — Clarkson and Guarini have both confessed to a brief romance in the early days of the "Idol" phenomenon, and remain friends.
The post-"Idol" whirlwind continued with a 28-city "American Idol" tour and even a movie, "From Justin to Kelly," a sort of latter-day "Beach Blanket Bingo" designed to capitalize on the "Idol" frenzy. However, the film, shot in just six weeks and released in June 2003, was a notorious flop.
"I don't think anyone will accuse us of making the best movie of all time," Guarini recently said with a laugh.
The film's failure did little to hurt Clarkson's career. Along with country superstar Carrie Underwood and Oscar winner Jennifer Hudson, she stands as one of the show's most successful alumni, selling 18 million albums and winning three Grammys.
Guarini has faced a rockier road. He was dropped by RCA after his first album flopped. After spending a few years "in the Hollywood school of hard knocks," as he puts it, he has found a measure of success. He continues to write and record music and has starred in Broadway shows like "Wicked" and "American Idiot" and in commercials for Diet Dr. Pepper.
Competing on "American Idol" is "one of the best decisions I've ever made," Guarini said.
------------
'American Idol: Retrospect'
Where: Fox
When: 8 p.m. Tuesday
Rating: TV-PG (may be unsuitable for young children)
------------
'American Idol: Finalists Perform'
Where: Fox
When: 8 p.m. Wednesday
Rating: TV-PG-DL (may be unsuitable for young children, with advisories for suggestive dialogue and coarse language)
------------
'American Idol: Series Finale'
Where: Fox
When: 8 p.m. Thursday
Rating: TV-PG-DL (may be unsuitable for young children, with advisories for suggestive dialogue and coarse language)
---