Sunday conversation: Anika Noni Rose wants Hollywood to look beyond the color of her skin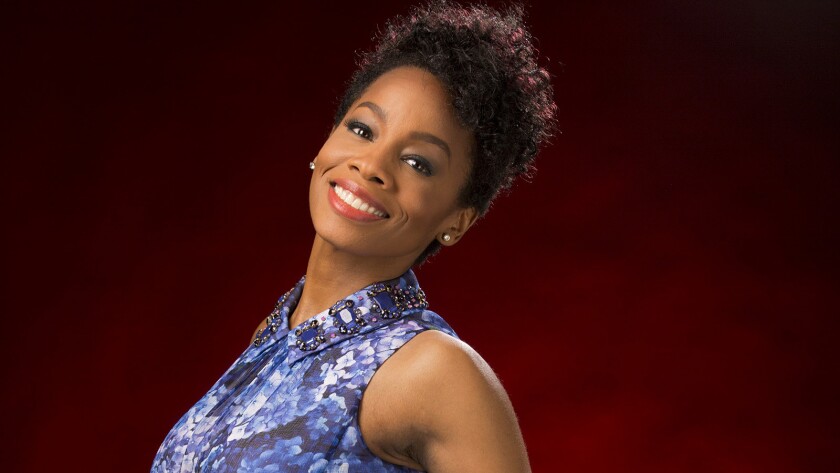 Anika Noni Rose is ready for more. Her career began in theater, and in 2004, she received a Tony Award for her performance in "Caroline, or Change." From there, she seamlessly transitioned to film and TV, where she performed in "Dreamgirls," voiced Disney's first African American princess in the animated film "The Princess and the Frog" and starred in a revival of "Roots," among numerous other roles.
Rose, 44, was recently at the Sundance Film Festival, promoting a new BET series, "The Quad," which premieres Feb. 1. Rose plays Eva Fletcher, president of a fictitious historically black university, who is tasked with saving the school from bankruptcy in between navigating personal struggles. The show explores the rich history of black colleges in the U.S. and the battles that many are facing now. While en route to the airport, Rose talked about the role and her desire for more opportunities as a black actress in Hollywood.
How did you get involved in "The Quad?"
I got a call from [director] Rob Hardy asking me to read the script and telling me that they really wanted me to be part of this. I read it and I was pleased with what they had put on the page. I thought it was something interesting and different. We just went from there.
You attended Florida A&M, a historically black university. Are there any similarities between your college experience and the issues your character must address in the series?
I would guess that as a student, I wasn't so concerned with those issues, but certainly they were around. Our school was never in peril while I was there, so that's a great thing. But we know that the government has been trying to defund HBCUs since [President] Reagan was in office, so it was always something that we were aware of every year. If your school is a state school, you don't know what programs are going to stay, what programs are going to be cut, and whether or not it will be dealt with as respectably as your counterpart schools.
For those who did not attend a historically black college, how do you think they can relate to the show?
I think anybody who went to college at all can relate to the show. There are things that are specific to that experience, but I think even within that specificity is something that people who went to college can deal with. Anybody who was a scholarship child knows what it is like to possibly lose that scholarship and be worried about how are they going to continue paying for school. That situation is not relegated to HBCUs. People being away from home and dealing with grown-up issues for the first time. Anybody who's ever been a fish out of water, I think can connect to that watching this show.
With theater, film and now TV under your belt, do you prefer one outlet over the other?
That's interesting. I like all three. I don't like to get stuck in one or the other. I really like to and I'm thankful to be able to bounce back and forth. I love film because it allows me to travel and take in new cultures, and that's thrilling and exciting to me and fun. It's finite, which is great. Theater is the thing that I'm always going to go back to. I feel like it's the thing that makes you sharper and stronger and better, and so I'll always do that. And I'm doing TV now, so we'll see. This is only the second time I've done series work, so it will be an interesting adventure.
Many of the roles you have taken on are centered on the black experience. That must be what speaks most to you.
No, it's not my intention, it's Hollywood. I think that with some things, of course, I chose because they spoke to me and I do happen to be a black woman. But in Hollywood, people aren't running up to black women about scripts that aren't talking about blackness. I think that whenever I have the opportunity to be doing something that isn't centered around my ethnicity, it would be very, very exciting to do. Unfortunately, I work in a field where it's rare that you find people who are expanded enough to look past what they think your skin is and what that means about who you are.
What else would you like to take on if given the opportunity?
Oh, my God, I'd love to do a romantic comedy. I'd love to do just a plain old comedy that isn't centered around who I am or what the world thinks my skin means. I'd love to be in an action film, like a superhero fantasy-type thing. That's the type of stuff I love. It's just very rare that I get the opportunity to be in that conversation — absolutely, that's would I would love to do. Foreign film is on my mind. If I could have to learn a language to do something, that would just thrill me to no end.
Do you think Hollywood is making steps in the right direction to provide more opportunities to performers of color?
I couldn't say that. I think sometimes we have a couple steps forward and we have five steps backward. Sometimes we have a couple steps forward, and everyone's like "all right, great, we've done that this year." And then people aren't thinking about it. I think it would be lovely if it wasn't something that we had to actively make a choice to do. That if they just cast somebody because of their work and because they're really good at what they do. I would love to be able to step into that state. I hope so, but time will tell.
Where do you find inspiration for your work?
I think I draw inspiration from people. When I'm in New York and I'm walking down the street, everybody I see is some sort of inspiration for what I do. And they fill me. They allow me to create. I'm very thankful for each person that I run into, whether we have a one-on-one connection or they never even notice me looking at them, I'm thankful for all that humanity gives me daily.
---
The complete guide to home viewing
Get Screen Gab for weekly recommendations, analysis, interviews and irreverent discussion of the TV and streaming movies everyone's talking about.
You may occasionally receive promotional content from the Los Angeles Times.