Q&A: Anthony Hemingway talks 'Unsolved' and creating stories 'for the culture'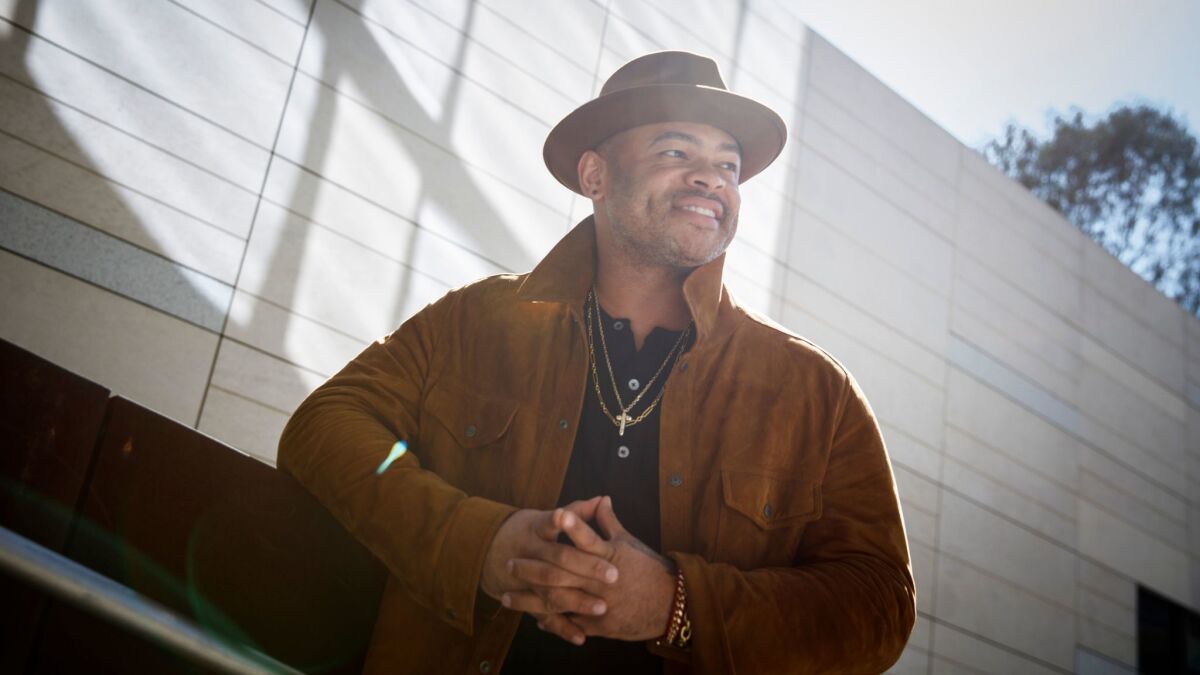 Anthony Hemingway has spent his career searching for stories that have been forgotten or long gone untold.
That curiosity is what compelled the veteran director-producer to explore the Tuskegee Airmen for his film debut, 2012's "Red Tails," and informed him throughout the past decade he's spent helming episodes of series such as "Trème," "The Wire," "Underground" and "The People v. O.J. Simpson."
And it's what has now brought him to "Unsolved: The Murders of Tupac and the Notorious B.I.G."
"Unsolved" is centered around the Shakespearean saga of the east coast/west coast feud that defined hip-hop in the '90s and transformed two of the genre's most promising talents, Tupac Shakur and the Notorious B.I.G., into martyrs when they were gunned down within a span of six months.
Although the fallen rappers have both seen their lives mined for projects on the big and small screens over the past two decades since their slayings, "Unsolved" traces the little-known origin story of their friendship, as well as the aftermath of their deaths and the two investigations that tried, unsuccessfully, to capture their killers.
The 10-part limited series (it premiered Tuesday on USA) is executive produced and largely directed by Hemingway and is just one of the many projects the New York native is currently involved with and developing. Over iced Cubanos the morning after the show's L.A. premiere, the director-producer discussed humanizing rap's most tragic figures, and what drives him as a creator.
Several projects have already tackled Tupac and Biggie and their cold cases. Why did you want to?
Their music was the soundtrack of my childhood. I was influenced by both of them, but it was deeper than that for me. I wanted to know why and what the intention was [of their killings], and I thought there was a connection that reflected the times we are in. And I thought with our current climate and the consciousness of where we are, we needed to see two black men on screen actually supporting each other, loving each other — being friends. That is an image I was really happy to present.
"Unsolved" arrives not even a year after the Tupac biopic "All Eyez on Me." Was there any hesitation to move forward considering the lackluster reception that film received?
The human thing is to make associations. We knew we were in the wake of "All Eyez on Me" and [a few] documentaries. To be transparent, we got to see what worked and what didn't. With stories like "Unsolved," there is an importance to the culture, and knowing that enabled me to really stand firm behind what the story needed to be.
What did you learn from your experience on "Red Tails" that has guided your career in TV?
"Red Tails" was a master class. It was a journey that broke me and rebuilt me. At the end of the day, I'm extremely proud of it and thankful for the opportunity to share with the world who those heroes [were]. I can spend all day [talking about] the issues that led to its breakdown. But the story was told — it just wasn't fully shared with the world through the process it went through. Because of it, I learned how to better protect these stories and to be even more confident and stronger in knowing how to fight for them.
"Unsolved," like "People v. O.J.," is based on extensive research of high-profile, divisive murder cases. Where do you start?
The interesting thing is, it was like turning a page. We forget that the deaths of Tupac and B.I.G. really were on the heels of the O.J. trial and the riots, so that really informed so much. The research is always overwhelming. I tend to gravitate to writers who have a background in journalism, because they understand how to really tap into someone's humanity and get to the truth. But it's really about doing the work and making sure everyone involved is in sync. O.J. was at the beginning of the [appetite] for reality T.V. People were becoming celebrities, and everyone wrote a book, so there were so many firsthand or first-person points of view that were available. On "Unsolved," we brought in so many people who lived it and were contemporaries with them, friends with them and shared a lot of great insight from every angle.
What was the biggest challenge your team had to navigate in doing this?
The music. Right out the gate, we were denied by both estates. But it didn't stop us. Of course, the desire is there to have it 'til the fat lady sings. But regardless, if we don't get any, it doesn't hurt the story. It would have elevated it, but I don't think we lost anything by not having it because we still respected the era, the sound, the music and even what influenced them.
Why do you think it was a 'no'?
I think it's about timing. The show was mapped out before we approached them. They have plans themselves to do stuff, so I understand to a degree them wanting to save [music] for themselves. But whoever knows really? Honestly, we really wanted to have music but we really wanted to just pay respect and be sensitive about it.
What TV shows are you watching now?
If I have room to watch anything other than "Black Panther?" "The Chi," "Power" — that's my baby, I did the pilot and I'm waiting for it to come back — "Narcos" is one that I love and I just binged all of "Chewing Gum." It's a challenge for me to watch anything because developing material, reading and working consume most of my time — and then of course, I'm trying to have a life.
What are you developing next?
I'm prepping a pilot for CBS right now called "Murder." It's "Law and Order" meets "CSI"," but it's so different because it's really a character study. I'm still developing "Bros." with Ben Jones for HBO and working on a film called "Work Horses" about college athletes and the NCAA.
For more music news follow me on Twitter:@GerrickKennedy
---
Get our L.A. Goes Out newsletter, with the week's best events, to help you explore and experience our city.
You may occasionally receive promotional content from the Los Angeles Times.