Fans to the rescue: The Aquabats crowdfund a revival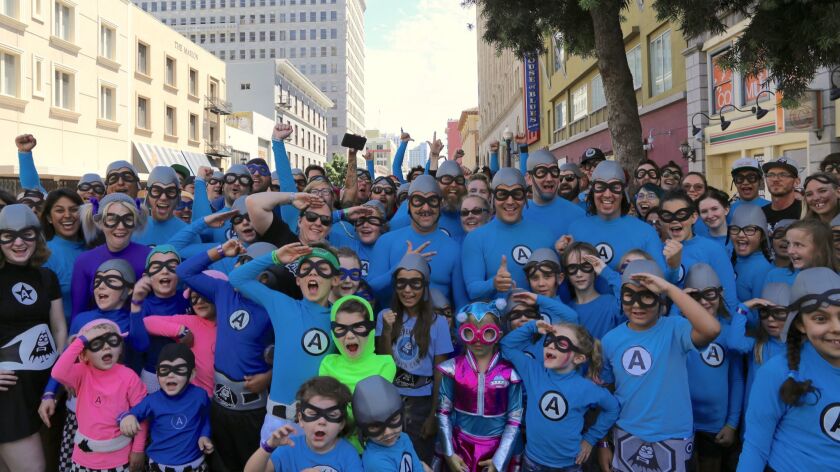 Television Critic
In 2012, the Aquabats, a theatrical pop-punk-new-wave-ska-surf-what-have-you band that came out of Orange County in the 1990s, turned themselves into children's television. "The Aquabats! Super Show!," which aired for two seasons on the itself short-lived Hub (a cable channel owned by the toymaker Hasbro), transformed the band's superhero-themed stage show, in which masked band members in matching blue uniforms would fight friends in monster suits, into a pop-culturally allusive mix of "The Monkees" and "The Mighty Morphin Power Rangers," at its most Japanese. It was smart and stupid with equal intention, and I loved it very much.
"We would go out and play shows and there would be all these kids and families there that didn't even know we were a band," said Aquabat co-founder Christian Jacobs, a.k.a. the MC Bat Commander, in a recent phone conversation that also included fundraising consultant Ivan Askwith, previously instrumental in campaigns to bring back "Veronica Mars," "Reading Rainbow" and "Mystery Science Theater 3000." "They thought they were coming to like a 'Disney on Ice' thing or something. So meeting all these families that discovered the Aquabats through TV really turned up the urgency of us trying to get the show back."
The Aquabats — who will perform Saturday at the El Rey Theatre, with special guests to include Puddles the Clown (of Puddles Pity Party) and Thomas Lennon (of "The Odd Couple") singing Smiths songs -- launched a Kickstarter campaign at the beginning of August to make a new episode, or episodes of "Super Show!" That drive, with an initial goal of $1.1 million, did raise more than $600,000, but less than a week before the original Sept. 1 deadline (indeed, minutes after I had made a pledge), the campaign was taken down and replaced immediately by a less quixotic one.
As the new campaign met its first goal within 30 minutes and its first stretch goal in four hours, it was the right move; the money already raised will fund the first new Aquabats album since 2011 and six new serial mini-episodes, along the lines of several made to promote the funding campaign. Featuring Jack Black as the Wizard of Hollywood, with cameos from Patton Oswalt, "Weird Al" Yankovic, Kate Micucci, Thomas Lennon, Felicia Day, Triumph the Insult Comic Dog and the band Imagine Dragons, among others, they comprise a metafictional metaphorical recounting of the campaign itself. With super-villains and a beach party.
"To play shows on weekends occasionally has been doable," said Jacobs, "but it's like Eaglebones [Ian Fowles] says in one of the mini-episodes, 'It's part time, all the time.' The TV show was the last time we were doing the Aquabats full time, but in between seasons, it was really tough for the guys to go back to their jobs -- like, Crash [Chad Larson], he's an electrician, he would have to leave a company to do the show and then when the season was up couldn't find another company that would hire him. It's been long enough that everyone pretty much has solid jobs; all the guys have families now. But we all want to do this – that's why we're putting it back in the hands of the fans: 'Hey, guys, as much as we can raise together, that's as much as we can give.'"
Askwith had gotten less involved with crowdfunding when Jacobs reached out to him, but went to see the band perform. "I saw how happy it made people, twentysomething punk kids with crazy dyed hair and piercings having a good time right next to parents who had their kids on their shoulders, with little girls with painted-on fake mustaches, and everybody was having the time of their life. It was like nothing I had ever seen before."
He noted that even had the first campaign been successful, "it would let us make one new episode – in some ways that doesn't really change the situation the Aquabats are in, it just kind of postpones it." It became clear that the fans regarded the mini-episodes not as "disposable stuff for the campaign," but quality new Aquabats content, "and we realized that for the same amount of money that would let us make one big episode we could potentially do 20 of these little episodes – and that's 20 times the guys get to check back in with their fans and interact and give them something new, instead of one."
Besides, said Jacobs, who also co-created the gently surrealist Nick Jr. kids' show "Yo Gabba Gabba!," "It's fun to do a serialization thing, to ramp up to a weekly cliffhanger, which is what we've been doing with the Kickstarter videos. All the stuff my kids are watching, it's all short form, things that are three to 10 minutes, tops. We were getting all this great feedback on these videos, and even our record producer is like, 'This is the funniest stuff you've ever done.' And we're like, 'What? Really? What about the show?' We'd love to get the show back and do the full-length version, but if the worst thing is we have to do the short-form episodes, we'll take it. That's a fancy problem.
"Superheroes are such a big deal now," Jacobs continued. "If you had told me when I was a kid there was going to be an 'Avengers: Infinity War' movie, the sixth-grade me would have laughed and gone, 'I wish!' It's really weird to see that this culty, nerdy thing has become the most giant thing in the world, and it's also interesting to see it shifting now. People are starting to realize, like, 'Hey, it is kind of ridiculous.' There is a place for comedic, low-budget superheroes that are, I don't want to say the anti-Marvel movies, but like the punk-rock version. We're the punk-rock superheroes that get to pay homage and make fun of it at the same time. And fortunately we have a 25-year jump on everybody else."
ALSO:
Aquabats are living out their fantasy as heroes
Return of the Aquabats, Interview II: The Q&A
Aquabats band together with fans to try to get show's second season on TV
Follow Robert Lloyd on Twitter @LATimesTVLloyd
---
Inside the business of entertainment
The Wide Shot brings you news, analysis and insights on everything from streaming wars to production — and what it all means for the future.
You may occasionally receive promotional content from the Los Angeles Times.