Review: 'The Assassination of Gianni Versace: American Crime Story' is a painful and pointed look back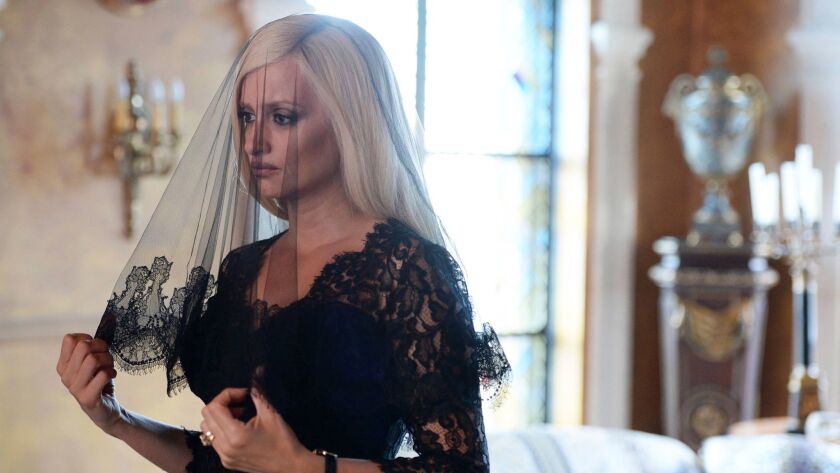 Television Critic
"The Assassination of Gianni Versace" and "The People v O.J. Simpson" have much in common: Both series are part of FX's "American Crime Story" anthology, both are scripted dramas that revisit 1990s celebrity crimes, and both are the work of mastermind Ryan Murphy.
Yet the Versace story, which premieres Wednesday, is a markedly different viewing experience from its award-winning predecessor.
There are no Marcia Clarks or Johnnie Cochrans in the Versace story, no bloody glove, no white Bronco. In short, the new series doesn't coax audiences in with the familiar, dipped in decade-centric nostalgia.
Details surrounding the Italian fashion designer's 1997 murder by serial killer Andrew Cunanan weren't burned into the American psyche like those of the double homicide in the Simpson trial. "Versace" sets out to make viewers care about a case most of them will barely remember. This is the show's greatest challenge and its sharpest point.
Versace's demise didn't hit the same personal or political nerve with the American public or the media, largely because Cunanan was a male escort and the majority of his victims were gay. While the murder made for salacious "Hard Copy" headlines, even as a victim Versace didn't elicit the same kind of love as accused murderer Simpson. And here that disparity is painfully present across all nine episodes.
After the initial tabloid intrigue, his killing was largely considered a gay on gay crime. And in the wake of an AIDS epidemic, the inference was that these were risky men leading risky lifestyles, dabbling in the avoidable. Ignorance and bigotry allowed much of America to emotionally divorce itself from the crime.
The series attempts to recast Versace's "assassination" at age 50 from a fading headline to a human tragedy, and for the most part succeeds.
In a painful scene after Versace (Édgar Ramírez) is found dying on the front steps of his South Beach mansion, his significant other, Antonio D'Amico (Ricky Martin), is grilled by a detective who can't quite grasp what kind of partner D'Amico is ("business?"). And, if they were romantically involved, why were they bringing other men home from clubs? It's D'Amico who ends up being interrogated about his lifestyle rather than possible suspects.
Penélope Cruz is stone-cold perfect as Versace's muse and sister, the hardened Donatella, and Darren Criss is chillingly convincing as the psychopathic Cunanan.
The downside here is that this series, based on actual events and inspired by Maureen Orth's book "Vulgar Favors: Andrew Cunanan and the Largest Failed Manhunt in U.S. History," is sometimes too dark and brutal in its re-creation of the murders.
The very nature of the crimes, sadistic and premeditated, makes this series far more grim than "The People v O.J. Simpson." It demands that viewers pay attention to homicides that went largely unnoticed until Versace's, and it's a lot to ask. The victims include Cunanan's ex-lover and Chicago tycoon Lee Miglin.
Like many of Murphy's projects, cultural context is half the story here. The same America that gave rise to celebrated designer Versace also fostered the monstrous Cunanan.
The series encapsulates that dichotomy and the societal and systemic prejudices that link them.
Homophobia, in essence, allowed Cunanan to kill his way from San Diego to the East Coast with relative ease. Police who'd been persecuting the gay community weren't ready to protect it, and Cunanan's surviving victims were reticent to speak up for fear of being ostracized or worse.
The second installment of the "American Crime Story" anthology lends these victims the respect they deserve. It's up to viewers to decide whether they're willing to explore the pain and injustice just beneath the tabloid headlines.
'The Assassination of Gianni Versace: American Crime Story'
Where: FX
When: 10 p.m. Wednesday
Rating: TV-MA-LV (may be unsuitable for children younger than 17, with advisories for coarse language and violence)
---------------------
---
The complete guide to home viewing
Get Screen Gab for weekly recommendations, analysis, interviews and irreverent discussion of the TV and streaming movies everyone's talking about.
You may occasionally receive promotional content from the Los Angeles Times.