Bill Cosby's third act: A guilty verdict for sexual assault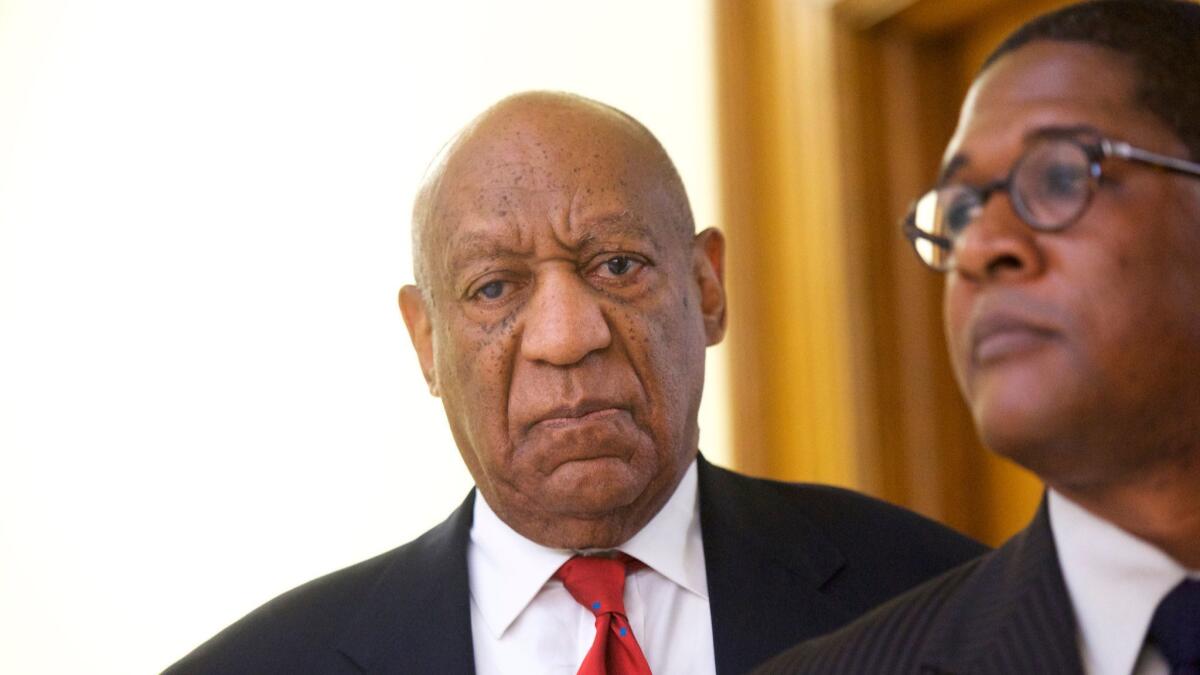 Television Critic
Bill Cosby remained stoic as a jury on Thursday pronounced him guilty on multiple charges of sexual assault. But it was apparent to many in the courtroom, and the millions who tuned in to the aftermath of the trial on television, that they were witnessing a watershed moment.
Cosby, 80, became one of the first in a line of powerful, famous men shamed out of their careers and the public eye when an unprecedented number of women came forward alleging sexual abuse, and now, he was the first to be found guilty of such crimes in a court of law.
The surprising outcome of the retrial in Pennsylvania offered hope for women who've become symbols of the growing #MeToo movement, yet who still struggle to have their cases heard by a judge and jury.
"Women are believed, and not only on hashtag MeToo, but in a court of law where they were under oath, where they testified truthfully, where they were attacked, where they were smeared, where they were denigrated, where there were attempts to discredit them," said Gloria Allred, the attorney for several of Cosby's accusers, as she stood on the steps of the Norristown, Pa., courthouse following the verdict. "And after all is said and done, women were finally believed."
Bill Cosby: A 50-year chronicle of accusations and accomplishments »
For shamed celebrities like Cosby who'd been plotting comebacks, assuming they'd never be challenged by a higher authority than Facebook, Twitter or the court of public opinion, it had to be a day of reckoning. And perhaps a wake-up call for those powerful entertainers who'd victimized women and were contemplating a move back to the spotlight, feeling that their moment of exile was coming to an end.
As recently as last week, Louis C.K. was reportedly contemplating his return to comedy, and former "Today" show prince Matt Lauer was "testing the waters" for a comeback. Publisher Tina Brown was quoted as saying fired PBS talk-show host Charlie Rose was considering starring in a #MeToo atonement series, where he would interview other men accused of sexual misconduct.
If those fallen-from-grace figures thought it would be easy to win their careers back by doing what they've always done — take charge and seize control of the narrative, the Cosby verdict changed all that, possibly for good, or at least the rest of their viable showbiz years.
The testimony of five women, all of whom accused the iconic entertainer of horrific acts of sexual abuse, drove the narrative and convinced a jury — not television executives, a studio audience or talent agents — that Cosby, America's favorite TV dad, was also a criminal.
The women wept and hugged as the guilty verdicts were read. One of his accusers, Lili Bernard, later declared, "I feel like I'm dreaming ... can you pinch me?… I feel like my faith in humanity is restored."
Cosby, who walked in the courthouse leaning on his cane, walked out waving it, with nothing left to lose. He'd reportedly stayed mostly silent during the verdict until the district attorney asked the judge to revoke Cosby's bail because he owned a private jet, making him a flight risk. Cosby then stood up and yelled, "He doesn't own a private jet, asshole!"
The bizarre outburst came from a fallen star who may have finally realized he was no longer facing a forgiving audience, but a criminal record and possibly life behind bars.
The legacy of his pioneering career is all but shattered. Even digital network Bounce TV, the last venue to continue airing episodes of the groundbreaking "The Cosby Show," announced that "effective immediately, [we're] removing 'The Cosby Show' from our schedule."
READ MORE: The entertainment industry reacts to Bill Cosby guilty verdict »
His fellow offenders also have this sobering thought to chew on: We haven't even gone to trial over exiled film producer Harvey Weinstein yet, and 80 women have come forward with allegations against him.
Thursday's verdict was in favor of former Temple University basketball staffer Andrea Constand, 45, who charged that Cosby drugged and assaulted her in 2004 at his home outside Philadelphia. She's one of approximately 60 women who came forward against the comedian in recent years, with allegations dating to the 1960s. But Constand's is the first case to render guilty verdicts.
The disgraced performer, who broke racial boundaries over the last half-century and became America's favorite dad as "The Cosby Show's" Cliff Huxtable, was not handcuffed or led directly to holding cell. He was escorted through the courthouse halls by a handler who guided the near-blind senior out of the courtroom. It was a tragic end for a pioneer who changed the mainstream, white perception of black characters on TV.
The news of the Cosby verdict broke cable news' unbreakable cycle of Capitol Hill chaos — Environmental Protection Agency chief Scott Pruitt's congressional hearings, White House physician Rear Adm. Ronny Jackson's withdrawal from his nomination to head the Veterans Affairs Department, and President Trump "fixer" Michael Cohen flipping back and forth atop various frying pans.
Some commentators expressed surprise, assuming, like the last trial, that the jury would be hung and Cosby acquitted.
They obviously miscalculated the power and the urgency of the #MeToo moment. And if the verdict didn't deliver a clear message to Lauer, Rose, Louis C.K. and others who have been shunned from the spotlight, they should also consider this recent episode.
Last January, Cosby, thinking he might soon be a free man on the comeback path, performed in a small Philadelphia venue, the LaRose Jazz Club, to a friendly audience.
He called an 11-year-old boy onstage during the set, capitalizing on another part of his life that brought him a more positive type of notoriety. Cosby asked the boy if he knew who he was.
"You used to be a comedian?" the boy said.
"I used to be a comedian?" Cosby joked. "You can sit down now."
lorraine.ali@latimes.com
Get our L.A. Goes Out newsletter, with the week's best events, to help you explore and experience our city.
You may occasionally receive promotional content from the Los Angeles Times.