ABC's 'black-ish' gets its 'Hamilton' groove on in season premiere that celebrates Juneteenth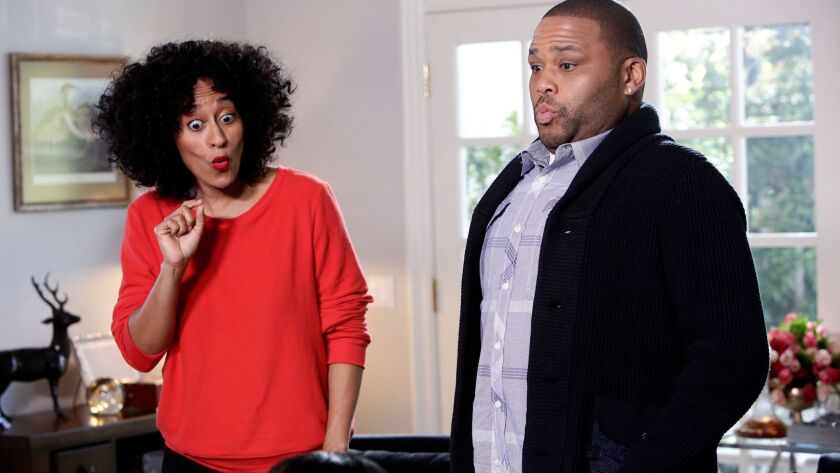 ABC's "black-ish," the acclaimed family comedy about an upper-middle class African-American family living in a predominantly white neighborhood, has taken on more than its share of provocative topics, including a debate over the "N-word," police brutality and President Trump.
The fourth season premiere, which will air Tuesday, Oct. 3, at 9 p.m. — a new day and time for the series— continues in that edgy direction, using music to take a shot at the holiday celebrating Christopher Columbus while also saluting Juneteenth, the June 19 celebration commemorating the end of slavery in the United States.
Kenya Barris, the creator of "black-ish," said the episode was largely influenced by his affection for the blockbuster hip-hop musical "Hamilton."
"I've seen 'Hamilton' a ton of times," Barris said in an interview. "The thing that got me about it is the idea of a historically contextual piece that speaks to what an American story is. That's what 'black-ish' is. It's a contemporary piece that speaks to the texture of what America is."
In the episode, the Johnson family attend a school play featuring their young twins Jack and Diane (Miles Brown and Marsai Martin) that celebrates Columbus Day. Dre (Anthony Anderson) is dismayed over the inaccuracies regarding the historical context of the holiday.
Feeling there are not enough black holidays, Dre enlists singer Aloe Blacc (guest starring as himself) at his job as an ad executive to help him create a catchy song to raise awareness for a holiday worth celebrating: Juneteenth.
Barris said the episode was inspired by a conversation he had with his teenage son over the summer.
"He was talking to me about Columbus and said, 'Dad, you know Columbus never actually set foot in North America?' " said Barris "I looked at him and said, 'I think you're mistaken, son.' I thought he had just read the books wrong. But I started researching it, and I was blown away. Not only did Columbus not step foot in North America, he wasn't the person who discovered the world wasn't flat. His name wasn't even really Christopher Columbus."
He added, "All these things we had been told in a false way. Why is it that we have a holiday for this guy? I started thinking about Juneteenth, being an American and acknowledging that slavery happened. There's never been one person prosecuted for slavery in the history of the country. So we never got a reset button. It was like, 'OK, it's over.' "So morally, we understand that slavery was wrong as a country, but there was no criminality put to it."
Putting a musical spin on the Juneteenth celebration is in keeping with the "black-ish" tradition of making a controversial issue accessible to a mainstream audience. Barris has always been focused on having the show be a bridge to understanding.
"The idea of honoring the end of slavery gives us something that brings us together as a country," he said.
Twitter:@GeBraxton
---
From the Emmys to the Oscars.
Get our revamped Envelope newsletter, sent twice a week, for exclusive awards season coverage, behind-the-scenes insights and columnist Glenn Whipp's commentary.
You may occasionally receive promotional content from the Los Angeles Times.