Review: HBO's 'Serial' follow-up shows 'The Case Against Adnan Syed' is far from over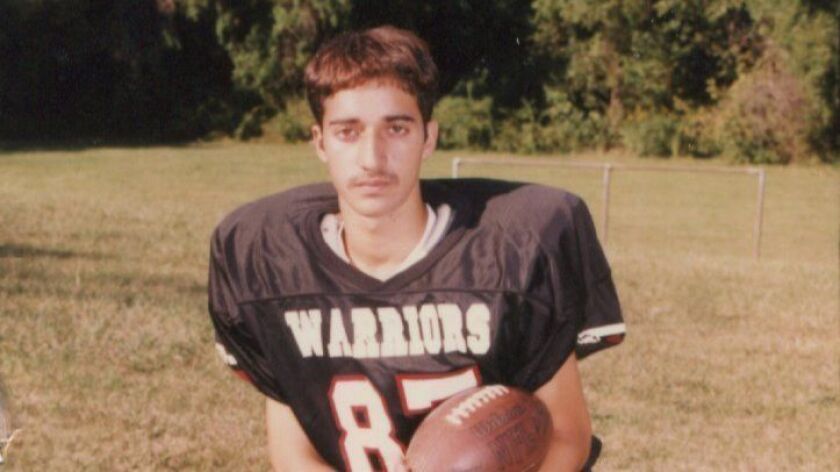 Television Critic
From Amazon's "Lorena" to HBO's "Leaving Neverland," more and more crime docuseries are doing what law enforcement, the courts and the news media often can't — revisiting and dissecting cases through the freedom of filmmaking and giving new voice to victims.
In some instances, these small-screen productions have brought a semblance of long-overdue justice. Singer R. Kelly was arrested after Lifetime's series "Surviving R. Kelly" generated a national conversation about his alleged predatory behavior toward underage girls and why it had not been more forcefully investigated for decades. He's denied all the claims.
With this in mind, HBO's "The Case Against Adnan Syed" couldn't have come at a better time. The four-part series, which premieres Sunday, dissects the same case featured in the blockbuster podcast "Serial": the 1999 murder of Hae Min Lee by her ex-boyfriend Adnan Syed. The 2014 podcast turned the story into a cultural obsession, causing new scrutiny on the case, and Syed's conviction was overturned in 2016. On Friday, Maryland's highest court reinstated his life sentence. Cue the social media outrage, and just in time for audiences to immerse themselves in the fraught and tragic story around her homicide.
There's plenty of overlap with the podcast in this densely packed production by documentarian Amy Berg ("Deliver Us From Evil," "Janis Little Girl Blue"), but it expands upon the "Serial" narrative with new revelations and deeper dives into the past. It painstakingly scrutinizes the evidence, timelines and testimony surrounding the murder of the Baltimore County high school senior.
The daughter of Korean immigrants, Lee was a beloved star athlete who fell for the Pakistani American Syed, a high school prom prince and straight-A student. The two kept their relationship a secret from his devout Muslim family, but the rest of the school described them as the perfect couple. She was murdered shortly after they broke up. Classmate Jay Wildes directly implicated Syed, who was found guilty in 2000 and sentenced to life in prison.
"The Case Against Adnan Syed" advances the narrative for TV, from a true-crime whodunit to a journey through misunderstood immigrant communities, the dramatic highs and lows of young love, a compromised police investigation and, if we follow this show's lead, a wrongful conviction. And make no mistake, the title of this production should be "The Case for Adnan Syed's Innocence."
Like Netflix's "Making a Murderer," this series is poised to inspire a wave of advocacy on Syed's behalf, which is problematic given that we see only what the show's creators want us to see. The HBO series does, however, feel more balanced than many of its predecessors.
The first episode is largely dedicated to Lee, and though her family declined to participate in the making of the doc, her presence is felt throughout the series. Her diary entries about falling in and out of love with Syed populate the first episode. They're brought to life through narration and augmented with animated flourishes. "We have to keep things secret," she writes of her relationship, "but it's okay cause love conquers all."
Lee's peers also speak about their memories of her. The footage is striking: They're all close to 40 now, while Lee forever remains 18 in photos.
The series take its time establishing who she was, and the deep loss felt by her community after her murder. Otherwise, things move fast. Avid listeners of "Serial" may find that even they have to pay close attention in order to keep up.
The series is an intensive mix of interviews from investigators, family, peers and attorneys, plus footage from the 2000 trial and new findings. The producers hired a private investigation firm, and its findings, along with lots of new revelations, make Episode 3 a thrilling and infuriating look at the justice system. Syed's 2016 motion to appeal due to the surfacing of new evidence is included here as well.
The impact that "Serial" had in drawing attention to the case is a central theme. Many of the original witnesses who testified in court, and whose lives have been intertwined with the case, tell the filmmakers that they learned details about the murder from the podcast that they never knew, and it changed their perspective. Those who weren't driven underground by the attention became more involved in the defense, or prosecution, of Syed. And in some cases, they even switched sides, especially as new information has come out about questionable practices in the police investigation.
In one particularly moving moment, Syed's brother is approached by an expert witness who was given incomplete information about Syed's cellphone location the day of the murder. His testimony was critical in convicting Syed. But the expert has since recanted, saying the information was wrong. "I'm sorry, it's because of me your brother is in jail," the man says in tears. The family reassures him it wasn't his fault.
Viewers will come to their own conclusions, but one thing is for sure. This case isn't over yet, be it in the Maryland halls of justice or the public court of true crime TV.
---
Inside the business of entertainment
The Wide Shot brings you news, analysis and insights on everything from streaming wars to production — and what it all means for the future.
You may occasionally receive promotional content from the Los Angeles Times.