George Clooney resisted the call to make Hulu's 'Catch-22.' Why he changed his mind
Reporting from New York —
George Clooney read "Catch-22" in high school 40 years ago. Kyle Chandler thinks he watched the movie, directed by Mike Nichols, with his parents when he was a kid. Christopher Abbott might have read the Cliff Notes as a teenager but isn't sure; he was stoned a lot back then.
Even if you didn't read "Catch-22" in school, it might feel like you absorbed it through osmosis. The title of Joseph Heller's novel has entered the lexicon as a term to describe any sort of inescapable paradox. Since its publication in 1961, readers — especially angsty young, male ones — have found a kindred spirit in protagonist John Yossarian, a bombardier desperate to complete an ever-increasing number of missions over Italy in the waning days of World War II.
But with its nonlinear narrative, bitingly satirical tone and an unfortunate misogynistic streak, it's also tricky source material — as Nichols discovered when his film had the misfortune of coming out months after Robert Altman's similarly themed "M*A*S*H." (A CBS pilot starring Richard Dreyfuss also fizzled in 1973.)
So it's little wonder that when George Clooney was approached about a series adaptation, his response was "Absolutely not. There's no version of it I want to do," he recalled recently. But after reading the scripts by Luke Davies and David Michôd, he changed his mind.
"They figured out a way to unlock the storytelling," said Clooney, who was joined by his co-stars, Chandler and Abbott, for a lively conversation about the joys and challenges of making the six-part series, which begins streaming Friday on Hulu. The network has a solid track record for shepherding big, complex literary properties to the big screen, including "The Handmaid's Tale" and "The Looming Tower."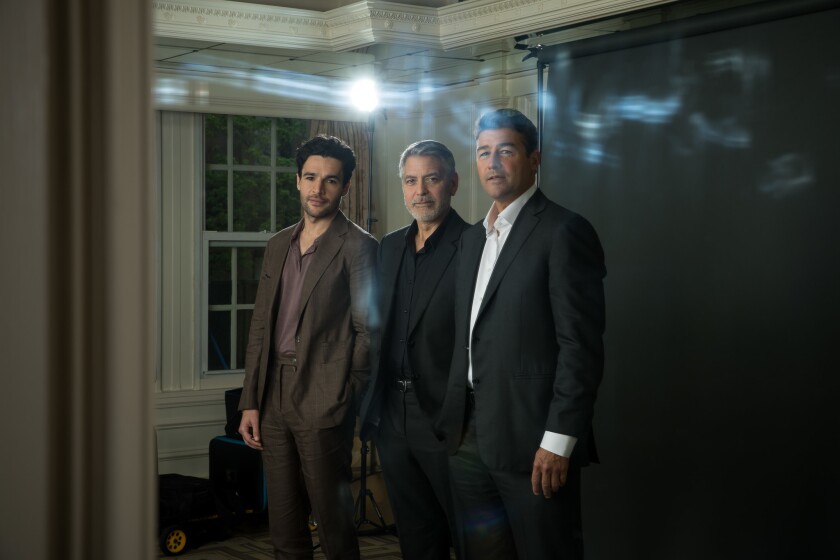 ALSO: Why Joseph Heller's 'Catch-22' is a relevant antiwar satire in the age of Trump »
Clooney came on board as an actor, executive producer and director, with initial plans to direct all six episodes and star as Col. Cathcart, a commanding officer who makes Yossarian's life hell by repeatedly raising the number of bombing missions the young captain has to complete before he can go home.
But plans shifted. Clooney eventually decided to share directing duties with Grant Heslov, his longtime producing partner, and Ellen Kuras, a groundbreaking cinematographer ("Eternal Sunshine of the Spotless Mind") who has moved into directing television. And Clooney opted to downgrade to a smaller part, Lt. Scheisskopf, a parade-obsessed cuckold whose name translated from German is a profanity beginning with "sh" and ending in "head."
"I thought it was a part I could play," Clooney noted wryly. "I was made for that part."
Casting the right actors was essential to nail the absurd yet gravely serious tone.
Chandler, an Emmy winner for his performance as the unshakably decent Coach Eric Taylor in "Friday Night Lights," was cast against type as the bloviating, constantly red-in-the-face Cathcart, who risks the lives of his men to get promoted. (Clooney likens Chandler to Jimmy Stewart.)
"He's a loud fellow," says Chandler, who is decidedly not. "The guys are there for one purpose and that is to accomplish his missions. That's how he's going to get noticed by the higher-ups, and, by God, that's the way to make general. He'll do anything to be in the newspaper. This guy's not too far off from who I am, to be quite honest."
Then there was the matter of finding an actor who could bring to life the book's protagonist, Yossarian, a character who can easily be seen as a courageous truth-teller or a craven coward — or both.
"I've always just kind of seen him as someone who has an incredible lust for life," says Abbott.
"His own life, specifically," Clooney chimes in.
"He's not someone who's afraid to die," Abbott continued. "He's just afraid of how and who gets to take it from him. Right? He'd be more than happy dying at a party with his friends and his loved ones around, but he doesn't want to die at the hands of this insane, bureaucratic system."
Abbott, best known for playing Marnie's beleaguered boyfriend Charlie in "Girls," was nervous to audition because he knew he wanted the part. In a genial effort to lighten the mood, Clooney greeted him wearing a leather helmet from his box-office flop "Leatherheads." "I thought, all right," Abbott says, "this is going to be interesting."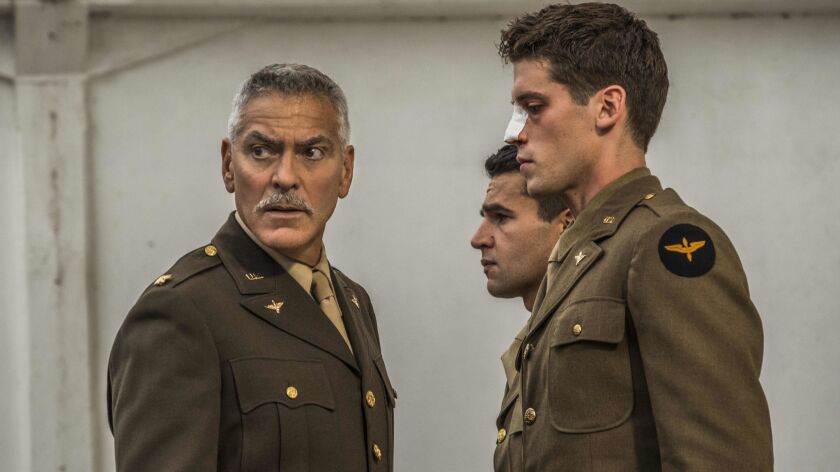 Clooney also has a "Batman & Robin" poster hanging in his office because "You never learn anything from success. You learn a lot of things from flops." He says his approach was inspired by an early-career audition for the sitcom "Mr. Sunshine," produced by Henry Winkler.
"Henry said, 'Listen, you're not going to get the part. You're just wrong for it; but you're terrific. You're going to do great. Don't worry about it.' And I walked home, and I called my agent, and he goes, 'What happened?' And I say, 'I didn't get the job.' And he said, 'Why are you so happy?' And I said, 'Henry Winkler told me I'm going to be all right.' So I remember what it's like to go on a big audition with your heart on your sleeve."
A consolation call, of course, wasn't necessary with Abbott. The actor was "perfect" for playing Yossarian, "a character that you could not root for, if you're not careful," said Clooney, likening him to Sam Rockwell. "In 'Confessions of a Dangerous Mind,' [Rockwell] plays a guy [Chuck Barris] who cheats on Drew Barrymore. In 'The Green Mile,' he spits on Tom Hanks and you still like him. And Chris has that ability. I don't know what that is. I can't identify it; if I could, I would try steal it."
Another creative priority was improving on Heller's portrayal of women. Kuras was brought in, in part, to ensure a woman was involved in key creative decisions. A character in the novel known only as "Nately's whore" has an actual name, while the character Nurse Duckett, played by Clooney's cousin Tessa Ferrer, is the most upstanding character in the series rather than a gold digger eager to marry a doctor, as she is in the book.
"I'm really glad that the way we deal with [women] is completely different than the book. Because that would feel very dated, to say the least," said Clooney, who credits the changes to writers Davies (the Oscar-nominated poet, novelist and screenwriter known for "Lion" and "Candy") and Michod (the director, actor and screenwriter known for "Animal Kingdom" and Netflix's "War Machine").
The series filmed for four months in Italy, primarily on the island of Sardinia. Despite the scenic location, it was a challenging shoot "unlike anything I've ever done," Clooney said. "It's sort of the Andy Hardy thing: Let's put on a show. It required everybody to say, "Let's do it."
Chandler credits Clooney with creating an environment "where everyone was equal and everyone felt comfortable. He has a very good way of lifting people up."
Directing duties were shared, but Clooney established the show's visuals "because it can't be directed by three different people, with three different points of view." He opted for a grainy look and a constantly moving camera that would conjure documentaries like "The World at War" and "make it feel like how we remember it, as opposed to sort of how even it really was."
There was a "real camaraderie" among the three directors on set. Because scenes from multiple episodes were often filmed on the same day, they had to tag-team. "There are three director's chairs, and a monitor, and we're all sitting there. And it's, 'OK, Grant, you're up.' 'OK, Ellen, your turn.' And you had this great responsibility. You can't take too long, screwing around with your scene, because you're screwing everybody else over on their scenes on that day too."
The shoot also included a few weeks on set at the celebrated Cinecittà studios in Rome, once home to such giants of Italian cinema as Federico Fellini. The space was steeped in history that Clooney is hoping to preserve.
"A gentleman came to me and said, 'Can I show you something?' And took me into a locked room that was Fellini's office. Covered in cobwebs, hundreds of hand-drawn storyboards, that he drew. All of them just piled up in stacks, canisters of the outtakes of films that he's done, props from 'La Dolce Vita,' letters, all of it's just sitting there. He goes, 'I don't know what to do with all this.' I said, 'Well, this should be in a museum.' Are you kidding?"
Among the challenges for Abbott — whose increasingly desperate character eventually shuns his uniform in protest — was having to be naked for a good portion of the production. Because the series was filmed out of sequence like a movie, Abbott says he was naked "at least once a week" throughout the shoot. "At a certain point, your deliriousness kicks in, and you're just going to go for it. Whatever."
"You were lucky though. There were very few cold days," said Clooney, whose well-honed ability to spot paparazzi came in handy when they were filming one day on a seemingly empty beach on the Mediterranean. "He's taking all of his clothes off, and he's standing there naked. Full frontal. And it feels like it's just us. And I was like, 'Cover up, buddy, because there's a guy with a long lens right there.' "
Kidding aside, Clooney believes the story will resonate in the present climate. "I never feel like it's a bad time to talk about the absurdity of war, the absurdity of old men making decisions and young people dying because of them. I think we all feel that that's a timeless theme."
See the most-read stories in Entertainment this hour »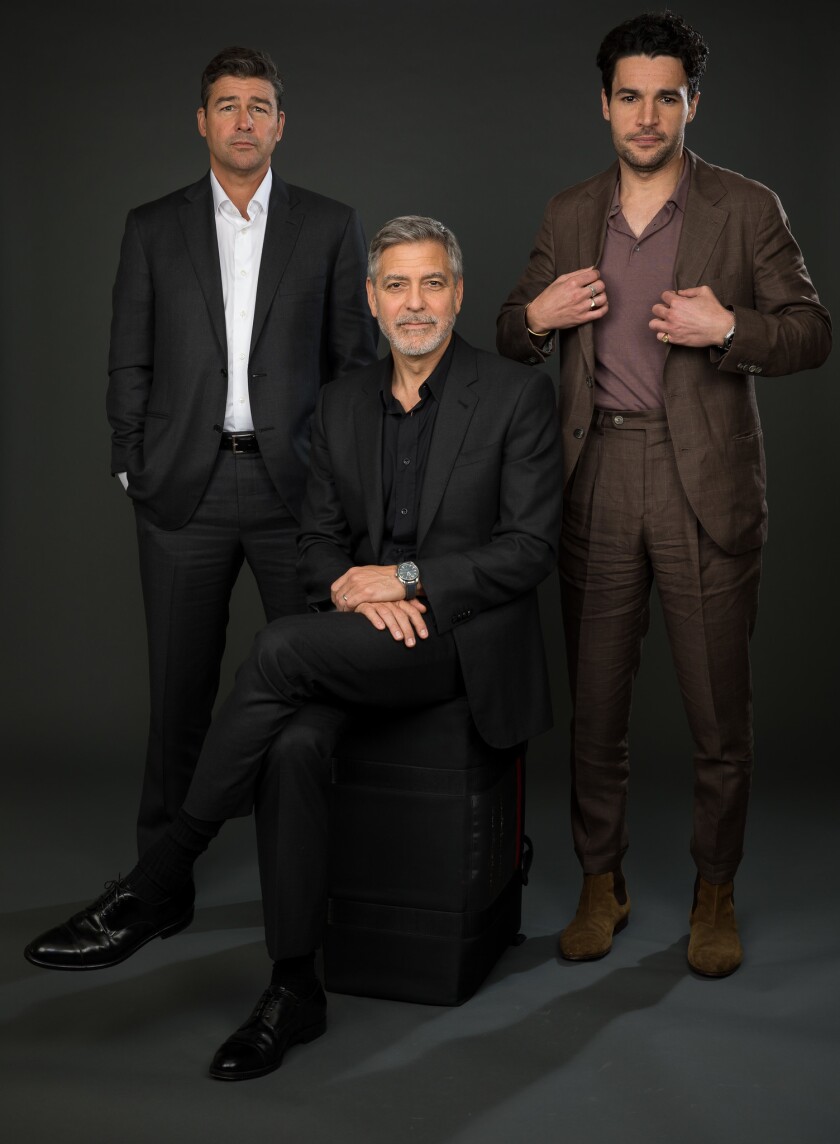 Follow me @MeredithBlake
---
The complete guide to home viewing
Get Screen Gab for everything about the TV shows and streaming movies everyone's talking about.
You may occasionally receive promotional content from the Los Angeles Times.