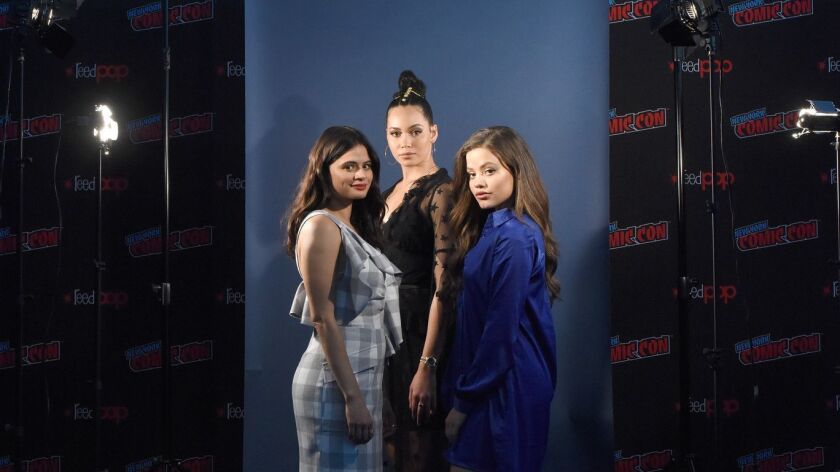 Reporting from Vancouver —
On a drizzly morning in late September, Sarah Jeffery — one-third of the sisterhood at the center of the CW's mildly controversial "Charmed" reboot — is passing her phone around to her cast mates during a break in production of an upcoming episode.
There's exciting news on the screen: a photo of New York's bustling Times Square, where the area's usual billboard razzle-dazzle now includes a jumbo promotional image of the show among its ranks.
"People have been sending me pictures of our billboards in every city," says the 22-year-old Jeffery, whose credits include "Wayward Pines" and "Shades of Blue." "It's like, what is happening? I saw one from a distance recently and I squealed. But Times Square — are you kidding me?"
"Oh my God, this is such a moment," says costar Melonie Diaz ("Fruitvale Station"), leaning in to stretch her fingers across the phone's screen to zoom in.
It's a welcome feel-good moment in what has otherwise been an unnerving lead-up to the launch of the show. When it was announced that the CW was putting "Charmed," a young adult drama about sisters who discover they are witches, through television's busy reboot machine, a spell wasn't exactly cast.
Some fans of the original series — a cult favorite that starred Alyssa Milano, Holly Marie Combs, Shannen Doherty and later Rose McGowan, and ran from 1998 to 2006 on the WB — scoffed at the idea. And some members of the original cast were vocal with their dismay or reservations about a reboot.
"I'm not going to lie, it kind of bummed me out a little bit," says Diaz, 34, who was jammed with her cast mates on a leather couch of an apartment rented for this day of filming. "You want people to be in support of what you do. But at the same time, there are people who are really, really, really excited about our show and it would be a disservice to them if we don't lean into that.
"And it's like … there's a lot of things happening right now and I just want to be as positive as possible and enjoy these moments of seeing our billboard in Times Square and working hard," she adds. "So, yeah, it is what it is."
"There's always going to be negative noise," adds fellow cast member Madeleine Mantock, 28. "You just have to tune it out … it's been a bit of a bonding experience for us."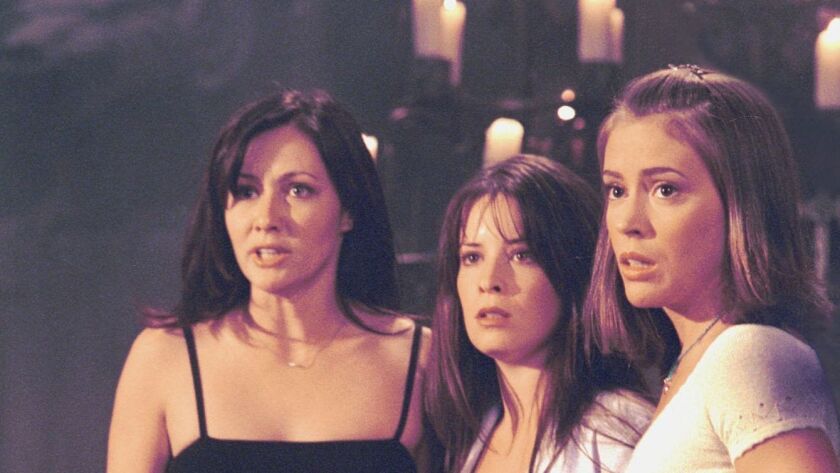 I'm not going to lie, it kind of bummed me out a little bit.
"Charmed" star Melonie Diaz, on the backlash surrounding the reboot
Whether "Charmed" 2.0 can charm its naysayers is one of those questions that likely won't ever have one answer. But viewers can at least decide for themselves when the show premieres Sunday, 20 years after the original.
It's yet another reboot of a fan-favorite TV series to test whether audiences still have an appetite for comfort food reheated — or, in this case, remade — years later. No stranger to bringing back popular titles (see: "90210" and "Melrose Place"), the CW has more riding on the success of "Charmed."
The network, often the underdog in the broadcast hierarchy, is expanding its prime-time schedule by opening up shop on Sunday nights this fall for the first time in nearly a decade. And it's counting on the name recognition of "Charmed" — whose cult following has grown since it went off the air thanks to a heavy rotation in syndication and its availability on Netflix — to help the network establish itself on the competitive night. (The CW's returning series, "Supergirl," has also been enlisted to assist.)
"We felt for the night we needed a show that had some brand equity," says CW President Mark Pedowitz by phone. "'Charmed' has a lot of brand equity. That said, this [version] is different. There are elements of it that are very much the same, but it is a different storytelling."
We had been a little naive in thinking that we were in a post-misogynist world.
Jessica O'Toole, an executive producer behind the "Charmed" reboot
The new iteration from the writer-producer team of Jennie Snyder Urman, Jessica O'Toole and Amy Rardin (who have all worked together on "Jane the Virgin") shares a similar conceit of three sisters who learn they're witches and must protect the world from supernatural demons.
But here, the show's original "Charmed Ones" are replaced with a multiracial trio: Jeffery and Diaz are the Vera sisters (named Maggie and Mel, respectively), while Mantock ("The Tomorrow People") plays their eldest half-sister, Macy Vaughn.
"It felt like women of color were going to be the women who had more interesting stories in our current climate, frankly," O'Toole says. As the show unfolds, the goal is to incorporate the characters' cultures into the storytelling in a way that's "specific to who they are in an organic way."
There are other differences too. There are no spells with rhyming couplets; not all the sisters' powers are the same as in the original; and the show ditches its San Francisco surroundings for a fictional Michigan college town — to name a few.
It's also a different premise than what was originally envisioned when producers were considering introducing "Charmed" to a new generation. The writers and producers were contemplating a prequel that would be set in the '70s and explore the link between the women's rights movement and witchcraft.
Then the 2016 election happened.
"After the election," Snyder Urman says, "all the things that we wanted to say about witchcraft and the place of women in society and the way that things are ... it felt like we had to move that into the present, because it felt like it was something vital that we were struggling with now."
Or as O'Toole describes it: "We had been a little naive in thinking that we were in a post-misogynist world."
And in this time when women are banding together and showing solidarity — as many did recently, gathering for demonstrations in support of Christine Blasey Ford when she testified before the Senate Judiciary Committee over sexual assault allegations against then-Supreme Court nominee (now Justice) Brett Kavanaugh — and when the term "witch hunt" has been used to describe the so-called injustice of men caught up in the #MeToo movement, a show about sisterhood feels all the more vital, the producers say.
"What we really liked about the original 'Charmed' is that it was showing female relationships where women were't tripping and fighting with each other all the time," Rardin says. "These were, and are, three women not competing over men. That wasn't, and isn't, where the conflict comes from."
The pilot episode, for example, seems ripped from the headlines with the sisters fighting a predator who is a demon in supernatural form — and a serial harasser in human form.
"That's one of the reasons I wanted to do the show," Diaz says. "This is a platform. I think we have a really great opportunity here to inspire young women. I hope we do a good job."
Though the new series is leaning in to having a social conscience, its stars are careful to stress it won't leave viewers rolling their eyes. "It should be cathartic," says Mantock. "We're not trying to bash you over the head with a handbook on how to be a good human in this day and age."
They would, however, like to win over viewers of the original.
"I think it's wonderful to be able to do a show that already has such a passionate fan base," Jeffery says. "It's an addition to something that was already so wonderful. We're not trying to take away from the original in any way.
"I just want to make them proud."
Cast members of the new "Charmed" discuss inclusivity and how social issues are woven into the show's storylines.
Twitter: @villarrealy
---