'Bodega Boys' Desus & Mero make the leap to Showtime in a new late-night show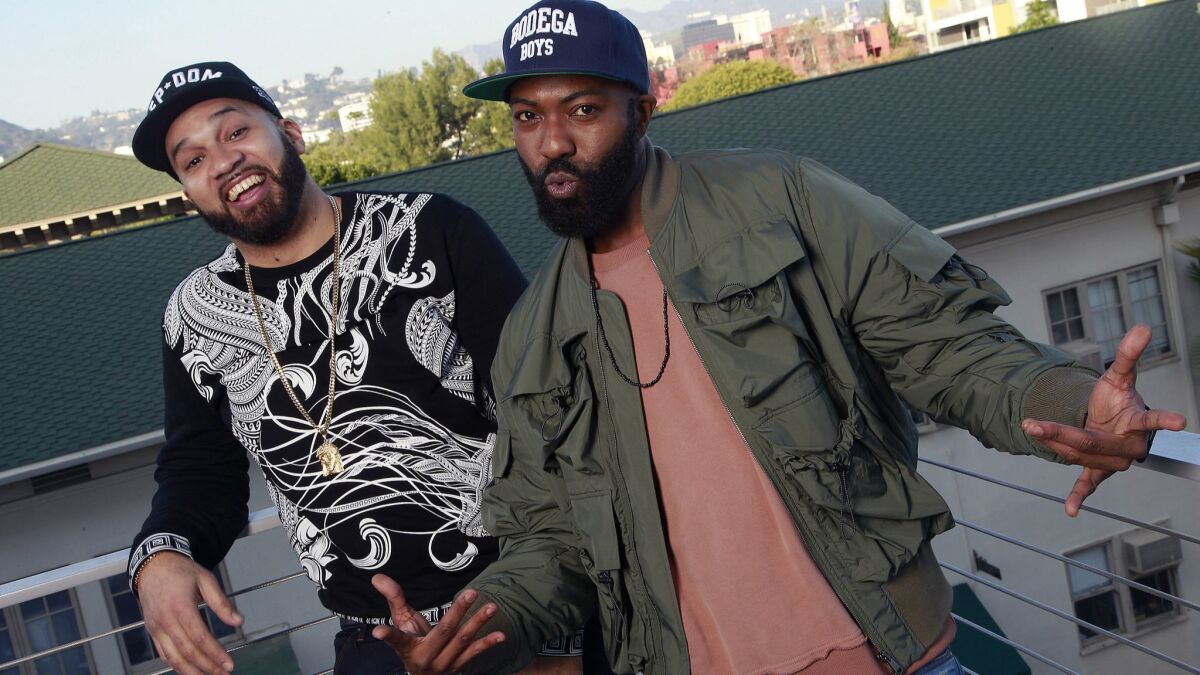 Podcast favorites turned cable late-night hosts known as Desus Nice and the Kid Mero had just sat down for a freewheeling lunch in Pasadena last month when a New York City emergency started blowing up on their phones.
Desus and Mero are two high school acquaintances who first gained fame in 2013 from the Complex podcast "Desus vs. Mero" that grew into their ongoing "Bodega Boys" podcast. That in turn became a nightly talk show on Viceland and, starting this week, a self-titled series on Showtime. The Bronx natives Desus (Daniel Baker) and Mero (Joel Martinez) are also stars on Twitter.
But all talk of their burgeoning media careers were put on hold when suddenly their beloved New York Knicks were lighting up the social media circuit.
"Kristaps [Porzingis] is trending? That's never a good thing," says Desus, who checked his phone to see the duo were being alerted about the Knicks' star power forward. "You know he's injury-prone, he hasn't played in awhile ... I'm going to go into my room and cry."
After riffing on a few absurdly grim Knicks memories — there are a lot of them — Desus reads Porzingis has been traded, which sends both through stages of grief. "Don't tell Desus and Mero," Desus reads among his Twitter replies, "they're on the West Coast, they're not going to see this yet." As they laugh, this leads to some back and forth about imagining a Bodega Boys bat signal.
"A big Timberland boot with a sad face on it," Desus says.
"A crying Timberland boot, like the Michael Jordan meme," a grinning Mero offers.
This, in a comically tragic nutshell, is how Showtime's new "Desus & Mero" will work. News happens and, with a lightning-quick mix of natural rapport, improvisation and the ever-roiling stew of modern pop and Internet culture, a new, distinctively New York take on late-night comedy follows.
"We have waited a long time to enter the talk-show space, and we were only going to do it if we felt like we had the next big thing," Showtime President and CEO David Nevins said when the series was announced last year. "Desus and Mero feel like exactly that."
For Desus and Mero, the move to Showtime also marked a similar jump to a bigger contender. "Desus & Mero" was a breakout hit at Viceland, which has struggled overall in the ratings. Consequently, the duo found themselves run ragged by the show's daily schedule and a lean production staff. At Showtime, they have encountered a different world.
"You know how sometimes you feel kind of like circus monkeys?" Desus asks. "They're just like 'dance, dance, dance.' You never get that with Showtime. If we don't want to do something we don't have to do it. We have full creative control."
"And it could be something that's like 90% done and we're just like ehh, we're not feeling this," says Mero. "That level of creative freedom is like ..." and he makes a stunned face.
"It was cool, we made a lot of shows on Viceland but from that experience we learned how to make TV," Desus explains.
As a result, the new show also finds them raising their game. For the first time, Desus and Mero will have writers, who include former staff members of "Last Week Tonight With John Oliver," "The Late Show With Stephen Colbert" and "Saturday Night Live."
And instead of grinding through a daily schedule on Viceland, the show will be recorded live-to-tape each week to maintain their usual timely flair — not that they now find themselves with time on their hands. With the daring, pointed comedy of "Chappelle's Show" and MTV2's eccentric "Wonder Showzen" as their touchstones, Desus and Mero will also expand into field pieces and sketches.
"That's like the dopest thing about this incarnation of our show," Mero says. "It's like we'll sit in the room with the writers and it's just like a riffing session. We'll start talking to each other, they'll chime in, and sketch — boom."
"We got that Showtime travel budget," Desus adds. "It's funny because ... we were supposed to do something that would take place in Georgia, and in my head I'm like OK they're going to rent a green screen in Bushwick and they're like no, you're going to Georgia. Oh, that's different."
"It's the old show on PEDs," Mero offers.
"Why you bringing A-Rod into this?" counters Desus.
With sports just scratching the surface of how granular Desus and Mero can get with their New York references, the question has come up whether their perspective — which includes being rare people of color on late-night TV with Desus' Jamaican American background and Mero's Dominican roots — will play in middle America. For them, this has never been a concern.
"We have so many fans that are outside New York who are like, we just love the energy you bring," Desus says. "It's just like, 'you guys are you, and we like watching you guys.'"
"And Google is your friend," Mero encourages. "So if we make some obscure Bronx reference they're like, 'What is Bay Plaza Shopping Center?' Enter. Cool!"
And for as specific as Desus and Mero's references can be, their comic philosophy is one of inclusion. You could see the big tent in action at road shows that included San Francisco's comedy-tilted Clusterfest last year, which saw the duo pack the city's Bill Graham Civic Auditorium for a late afternoon show.
"We love the live shows because we're millennials, and millennials love two things: avocado toast and instant gratification," Desus says. "It feels like a family kind of thing. Our comedy should never feel like we're onstage talking to you."
"We're all having a conversation," Mero adds.
Just as in their Viceland days, free-flowing interview segments will also follow the duo to Showtime with guests from music and politics that are scheduled to include John Legend, Vince Staples, Sen. Kirsten Gillibrand and, though they demanded a pinky-sworn vow of secrecy last month, a recently revealed series-opening chat with their local congresswoman, Rep. Alexandria Ocasio-Cortez.
"She loves us," Desus says, "Girl from the Bronx — actually, if you listen to Fox News she's from Westchester."
While politics has become a key currency on the late-night circuit, Desus and Mero aim to come at the topic in a different way. On their podcast this has included repurposing Trump's pronunciation of "Antifa" into the Champs' 1958 classic "Tequila" and using the influence of Nas' 1994 album "Illmatic" on hip-hop to contrast Al Qaeda with Islamic State.
"We're like the little palate cleanser, after a long day at work you don't want to see more bad news," Desus says.
"Especially if you work in an office and you have a TV in the corner and it's just on cable news," Mero adds, which leads the duo to riff about watching too much MSNBC (host Chris Hayes is another friend of the show).
"I love Rachel Maddow, but yesterday she had a thing on where Russia could hack the power grid and turn off the heat," Desus remembers. "They're like 'Yeah, everyone in Fargo will die.' And everyone is Fargo is like 'Why we telling them?'" he adds with a laugh. In a flash, the two of them are on another roll.
"Shhh, I love that movie," Mero says quickly.
"Put 'em in a woodchipper," Desus counters.
"Shout-out to William H. Macy," Mero adds. "Showtime member!"
'Desus & Mero'
Where: Showtime
When: 11 p.m. Thursday
Rating: TV-MA (may be unsuitable for children under the age of 17)
Follow me over here @chrisbarton.
Get our L.A. Goes Out newsletter, with the week's best events, to help you explore and experience our city.
You may occasionally receive promotional content from the Los Angeles Times.