Benedict Cumberbatch had a very English reaction to news of his sixth Emmy nomination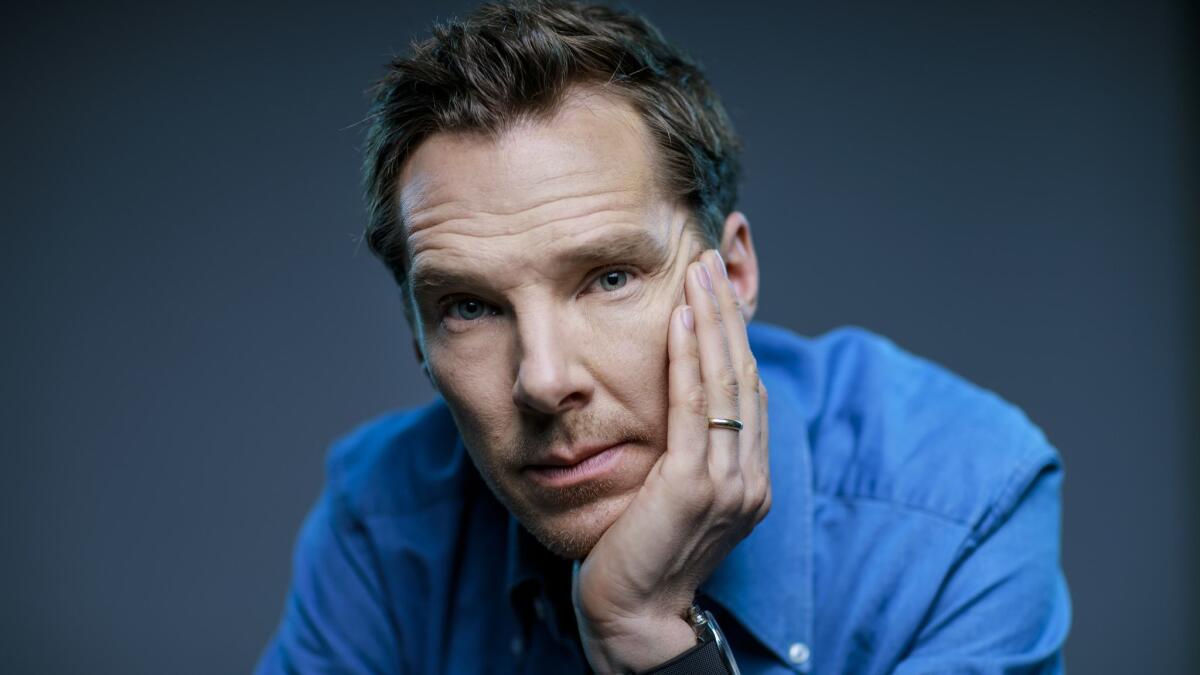 Benedict Cumberbatch received his sixth Emmy nomination as actor in a limited series for his portrayal of the titular character in Showtime's pitch-black dramedy "Patrick Melrose." The show, about an Englishman struggling with rampant addiction rooted in memories of sexual abuse at the hands of his father, is based on a series of autobiographical books by Edward St. Aubyn. The show is as searing as it is hilarious — a heady mixture that attracted Cumberbatch from the start. The actor is currently in London working on another project and says he completely forgot it was Emmy nominations day.
Where were you when you got the good news?
I was in a car going home from East London where we're doing some filming for a show about Brexit, and my phone just blew. I thought, 'Whoa, what's going on here, is there a malfunction?' But then I saw, 'Congratulations, huge love,' and what not, and that's how I found out. It was quite lovely.
Did you expect the honor?
If your ambition grows beyond getting the part and doing it well, you're in a lot of trouble as an actor. You don't hold your breath for things like this — you do the work and you move on. I'm really happy about this because it means the project has another life with more focus on it. And that is really the reward of this because we're so proud to be associated with these extraordinary masterpieces [the books]. We all came to give them new life and new shape and a new audience. So being at the right age and place in my career to play this role with a killer cast and superb direction — for all of us in every department — we came to this project feeling that was reward enough. It's an embarrassment of riches, to use that phrase, but we're not going to be embarrassed, we'll enjoy it and have a great night.
This is your sixth Emmy nomination and you are now tied with Laurence Olivier for the second most ever nominations in the limited series category. Is that an insane feeling?
It's amazing. I don't know what to say about that really. That's something to put on your gravestone. I don't know — yeah, I'm speechless. That's my very English reaction to that. Maybe I should try other categories? Art direction?
2018 Emmy nominations: The complete coverage »
Given the dark material, viewers might find themselves laughing at times that seem inappropriate. Was adding this comic, almost absurd touch to such dark material intentional?
The rich truth of life is that joy and sorrow, happiness and despair, don't live in separate corridors and never meet — whether it's getting the giggles at a funeral or finding something amusing in the worst possible situation and being wry. It's necessary and true and it's what makes this material have a universal appeal. He lives in a very white, privileged, elite section of society, but addiction doesn't just manifest on one social rung—this isn't unique to just one part of society. So you should feel awkward [like] "I'm laughing at somebody who looks like they're about to die on drugs, and then I'm having something wrenched out of me and I've taken a 180-degree turn into pathos." I'm always taken by brutal offerings that go to the extremes. It's all there in the books.
Patrick Melrose is such a complex character. How did you go about owning him?
That's one of the great draws to the material — you get to do those sharp turns and that's a challenge. You don't feel you're beating one rhythm, and you can afford nuance. It works, and you sort of hold your hand over your mouth and laugh at the same time, and I think it pulls you in as well. He'd be very difficult company in real life, but when you realize the core of pain that it comes from, and when you see how charming and witty he can be, it's a marvel. That's kind of what turns him into a hero because he shifts from being a victim into being a survivor at the end of the story, and that's a very potent theme in our time. As a child, he managed to speak truth to power.
What was the most challenging thing about playing a character who is so far down the rabbit hole with substance abuse?
The physicality. It was very important to me that it wasn't just one energy— that all the substances had their moments of screen time. But you see the struggle with the abuse of his cocktail of drugs in the first episode and later, sobriety being this dull, dead patch with him being haunted by fractured memories because he has yet to admit what happened. It is hard to be in a place that's quite dull — to accept that and play that and change the tempo. It affected everything from vocalization to physical movement. I also had conversations with [St. Aubyn] about what he remembered and witnessed in others. Things would be described to me and I would play-act it, and fit it into my body, and manifest it. In a way it comes with a health warning because it's pretty full-on despite the comedy in hiding. The two communities I was most keen to validate in my performance were those who suffered child abuse and those who suffered addiction. That head space [of trying to imagine being sexually abused] was the hardest. Being high or recovering and having delirium tremors — I had to sprain every muscle in my neck — but that was an easier place to go than putting oneself in the position of imagining that horror. And when you know you're playing a veiled alter ego of the writer … I can't speak highly enough about him as a human being and an extraordinarily gifted writer … it's very upsetting.
Was it hard to end the show? Or does it feel good to wrap a limited series and move on without worrying about a Season 2?
It was hard. Although it leaves on a profoundly inspirational act of quiet heroism and it feels complete. By the end of his mother's funeral and wake in Episode 5, that's a complete character arc. But I was sad to say goodbye to him. I spent deliriously, wonderful, terrifying, joyful, shocked hours with him in the pages of the book, and with him as a person. So for me, that doesn't stop. He's a friend for life. I'm the lucky guy who gets to continue my friendship with the source of Patrick Melrose.
Get our L.A. Goes Out newsletter, with the week's best events, to help you explore and experience our city.
You may occasionally receive promotional content from the Los Angeles Times.