Emmy Awards signal a new age of diversity on TV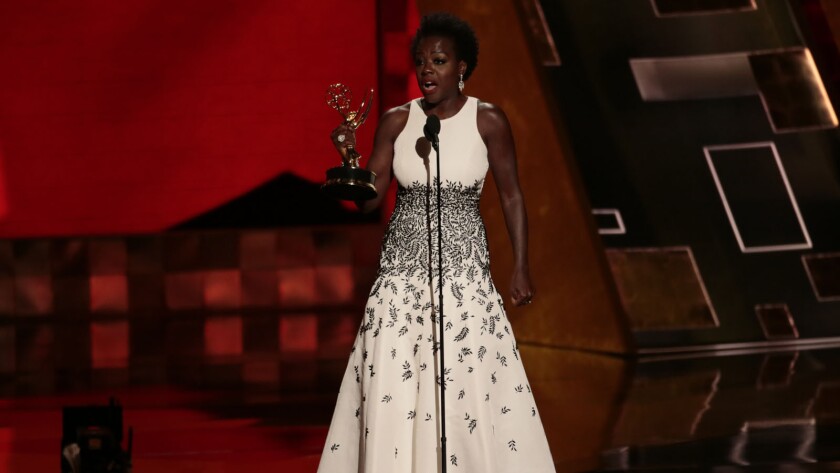 Sunday's Emmy Awards came with a theme: TV's new age — hectic and sometimes revolutionary — is here.
Major awards went to "Transparent," a comedy from Amazon Studios about a transgender dad, with the director and lead actor using their wins to hail the trans community. It was the first time a streaming show had won in the comedy's director and best actor categories. Viola Davis, star of ABC's "How to Get Away With Murder," made history as the first African American to win the prize for best actress in a drama series.
"The only thing that separates women of color from anyone else is opportunity," Davis, who quoted Harriet Tubman in her acceptance speech, said onstage at the 67th Primetime Emmy Awards in downtown Los Angeles. "You cannot win an Emmy for roles that are simply not there."
See the most-read stories in Entertainment this hour >>
Opening up television to programming made by and for people other than white men was a dominant note during the show.
"The more I direct, the more I recognize that directing is kind of litigating for the way I see the world," "Transparent" creator Jill Soloway told reporters backstage. "Straight white men have had their hands on protagonism and the camera for far too long.... We need more queer people, more trans people, more people of color, more women behind the camera."
Emmy history was made in other ways too.
"Game of Thrones" — HBO's sexy and gory fantasy epic — won a record 12 Emmys, including eight in technical categories at last week's Creative Arts Emmys. That's the most ever for any show in a single year, easily besting the previous mark of nine set by NBC's "The West Wing" in 2000.
In taking home the best drama award, "Game of Thrones" ran against conventional wisdom that Emmy voters disdain fantasy programming. HBO dominated the night, with top wins for its political comedy "Veep" and the limited series "Olive Kitteridge."
FULL COVERAGE: Emmys 2015
Jon Hamm, the "Mad Men" star who had gone Emmy-less despite 15 prior nominations in a host of categories, earned a standing ovation from the crowd at the Microsoft Theater for finally winning in his signature role as tortured 1960s ad man Don Draper. "Mad Men" ended its seven-season run this year.
"There has been a mistake, clearly," Hamm joked to the crowd. "It's incredible and impossible for me personally to be standing here."
"Trainwreck" star Amy Schumer, who was barely known outside the entertainment industry less than two years ago, capped her breakout year with her first Emmy, for Comedy Central's variety sketch show "Inside Amy Schumer."
For the second time, NBC's singing contest "The Voice" triumphed in the reality competition category over CBS' "The Amazing Race," which usually dominates the category.
"Sorry, 'Amazing Race,' this is our year," "Voice" executive producer Mark Burnett quipped onstage.
Emmy voters even threw a curve by honoring HBO's political satire "Veep" as best comedy. The show — starring Julia Louis-Dreyfus as a harried vice president who becomes an unlikely commander in chief — had been nominated three times previously in the category without winning.
PHOTOS: Emmys 2015 Top nominees and winners | Red carpet | Show highlights
Louis-Dreyfus, who earlier in the night picked up her fourth Emmy for her role as Selina Meyer, drew a big laugh with a reference to the real-life race for the White House in 2016: "What a great honor it must be for you to honor me tonight," she said during her speech. "Oh, that was Donald Trump. It's getting trickier and trickier to satirize this stuff."
As the former costar of "Seinfeld," Louis-Dreyfus was among the few award winners on Sunday with lengthy Emmy histories. More were like Uzo Aduba, who picked up her second Emmy for her work on Netflix's dark prison comedy "Orange Is the New Black" — relative newcomers who have found success as the exploding number of TV shows has opened up new opportunities.
Amazon, Netflix and Hulu have made major inroads with original programming, putting additional pressure on the traditional networks. In fact, the explosive growth of original programming made a ripe target for satire by Emmy host Andy Samberg, star of Fox's cop spoof "Brooklyn Nine-Nine."
In a taped comedy bit that opened the show, Samberg played a man so flustered by his inability to keep up with dinner-party chatter about the latest TV series that he retires to an underground "TV viewing bunker" for a year. He emerges, long-bearded but thrilled at getting caught up on all the shows — until he realizes he left out ABC's mystery "Castle."
There was a serious point behind the joke, of course. The immense number of choices gave Emmy voters the opportunity to honor the new and adventurous — and they took it. Even when a winner was familiar, the choice often came with a twist or special footnote.
Allison Janney, for example, is well-known to Emmy watchers — she won her first award 15 years ago for "The West Wing." On Sunday, she took her second straight Emmy for the title role in the CBS sitcom "Mom."
VIDEO: Watch Viola Davis, Lady Gaga and others arrive (and sweat) on the red carpet
Comedy Central's "The Daily Show With Jon Stewart" signed off for good in early August. On Sunday, the show won for comedy variety series and also for writing and directing.
Stewart, who has been off TV since the show ended, called retirement a "barren wasteland" and encouraged those still on TV to not let go of the camera. "Thank you so much — you will never have to see me again," he joked to the crowd.
This year, though, the Emmys were about how much there is to watch — and how all that choice is changing what people watch.
Backstage, "Transparent" star Jeffrey Tambor celebrated his win by telling reporters: "It represents what Amazon has done, what the transgender community is doing and what our show is about," he said. "We are the little engine that could. I hope more people watch and get to experience this revolution."
MORE:
'Game of Thrones' ' Emmy is a win for dragons
Watch Andy Samberg's opening musical bit at the Emmys
Jackie Collins overlooked in Emmys 'In Memoriam' tribute
---
Inside the business of entertainment
The Wide Shot brings you news, analysis and insights on everything from streaming wars to production — and what it all means for the future.
You may occasionally receive promotional content from the Los Angeles Times.