Female showrunners gather to discuss representation in the writers' room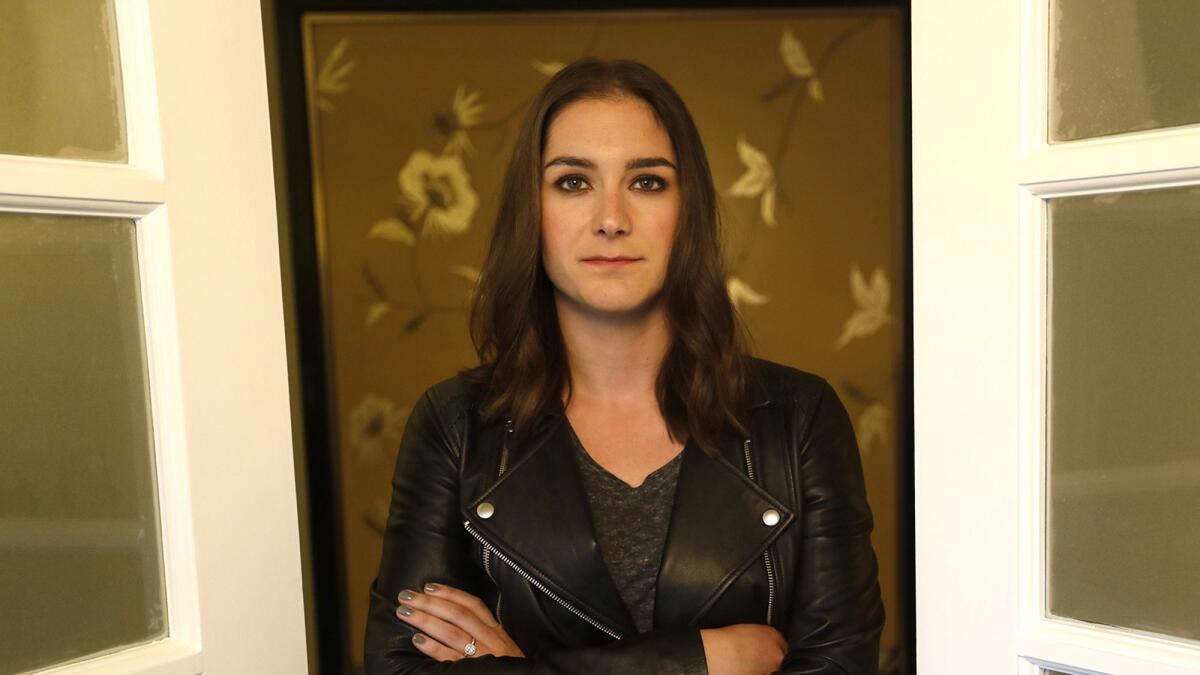 Women of all ages and races crowded into the communal area of Twitter's Santa Monica offices Wednesday night for "An Evening With Female Showrunners," a pair of panel discussions hosted by Liz Hannah, screenwriter of "The Post."
Created in response to the Variety-sponsored "Night in the Writers' Room," a panel last week with 11 male writers and only one female, the event featured back-to-back discussions with more than 20 female showrunners who had been assembled on social media by Hannah.
Hannah was overjoyed by the response. "I think all of us feel like the last week has been a really positive experience that came out of something that was a little infuriating," she said during the second panel. "It took 24 hours to get all of these women to say yes. So it's not hard to get this amount of showrunners that are women in a room."
A handful of men were there among the large crowd of female mentees, assistants and staff writers of the speakers. The event was closed to the public but live streamed on Twitter.
"I should preface by saying I know a lot of nice men," Laeta Kalogridis ("Altered Carbon") said to huge laughs from the audience. "Some of my best friends are men."
Conversation revolved around the importance of an inclusive writers' room, the effect of the #MeToo movement and the intersectionality of race and gender.
"I think there's a danger in white men writing our stories," said Gloria Calderón Kellett ("One Day at a Time"), adding that if men are "mostly creating the content and creating the language that we as women use, they can't help but see us through their eyes."
The Cuban American writer and producer spoke about bearing the pressure of speaking for all women in rooms where they're underrepresented, along with the expectation that she be the unofficial voice of people of color.
"Really, representation is about an invisible group of people — women included, certainly minorities included, disabled included — that don't see themselves represented," she said. "That creates an invisibility. You feel unseen, and then that trickles into policy… but that's a whole other discussion."
"Even though I'm a woman and I feel sometimes 'other,' I feel sometimes I'm white before I'm a woman," admitted Lauren Iungerich. As the head of Netflix's "On My Block," a dramedy about four kids of color, she said she'd had to check her "white privilege" by seeking out diverse writers for the most authentic portrayal possible.
"I took a different approach that I didn't want to be seen at all," she said.
The panelists also brainstormed action plans for achieving parity. Gabrielle Stanton ("The Flash") imagined a day when white male voices would become the minority rather than the majority.
"Let's be pragmatic — this is a numbers game," she said. "The more of us that are running these shows, that are starring in these shows, that are making decisions about who gets hired on these shows, that's how we're going to make change."
The #MeToo and Time's Up movements were also hot topics, particularly the lack of real, lasting solutions being presented, the downplaying of nonsexual abuses and the use of nondisclosure agreements as a tool to "punish victims and protect perpetrators," said Iungerich.
"We started with the sexual trauma in our business, but we have not even begun to talk about the emotional trauma and how it is so pervasive," she said. "I'm looking around and saying, 'When are the stories going to come out about these emotional terrorists that are hijacking the creative space in a lot of places?'"
"People are kind of doing the most least," added Samantha Corbin Miller ("ER"). "It's kind of like, 'OK, great. SAG is going to put a little rider in their contracts saying, "Don't take a meeting in a hotel room" so now we're good.'
"But I think what it comes down to is this idea of this entrenched institutionalized power imbalance and people who get off, for lack of a better word, by aggrandizing themselves on other people's backs."
Other participants on the panels included Amy Berg ("Counterpart"), Dee Harris-Lawrence ("Unsolved"), , Corey Nickerson ("black-ish"), Beth Schwartz ("Arrow"), Moira Walley-Beckett ("Breaking Bad"), Monica Breen ("Agents of S.H.I.E.L.D."), Aïda Croal ("Jessica Jones"), Alex Cunningham ("Dirty John"), Lauren Hissrich ("The Defenders," "Daredevil"), Keto Shimizu ("Legends of Tomorrow"), Veena Sud ("Seven Seconds") and Jennie Urman ("Jane the Virgin").
All the panelists railed against the way women are commonly underwritten in scripts as "the girl next door," "pretty but she doesn't even know it" and "so hot that you can't even get her."
Said Sera Gamble ("Supernatural"): "I would see myself in characters that weren't usually the main character. I think about the girl army out there, and I just don't think it's fair that they're considered also the audience rather than the default."
Get our L.A. Goes Out newsletter, with the week's best events, to help you explore and experience our city.
You may occasionally receive promotional content from the Los Angeles Times.