After 'Bates Motel,' Freddie Highmore is riding high on the breakout hit of the season with 'The Good Doctor'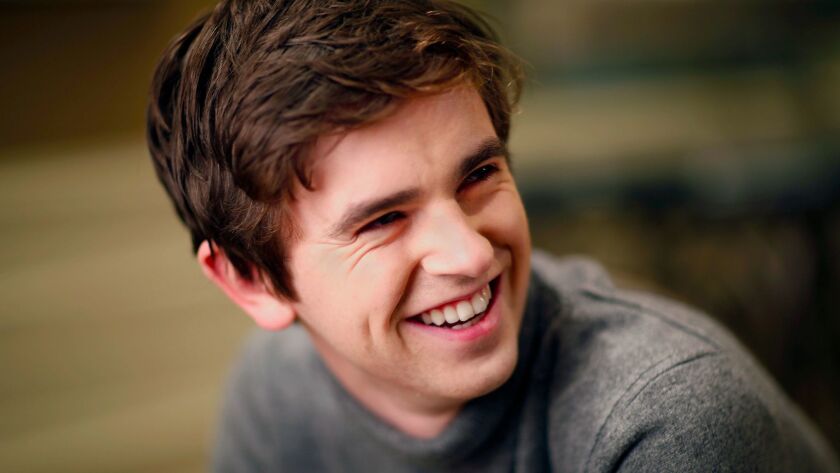 He doesn't play a guy named Jack. And there is no epic mystery surrounding his character's death like a certain freshman TV hit of last season because, well, his alter ego is very much alive. Even without all the trappings of "This Is Us," Freddie Highmore has TV viewers hooked on the big new hit of this season.
Highmore is the face of "The Good Doctor," playing Dr. Shaun Murphy, a young surgeon with autism and savant syndrome, in the ABC feel-good medical drama.
"Shaun is a very interesting, compelling central character who happens to be autistic," says showrunner and executive producer David Shore ("House"). "It's part of what makes him interesting, but it's not just that."
Finding someone who could inhabit the role and come across as genuine was key if viewers, as well as the autistic community, were going to embrace it. Shore had known of Highmore, but it wasn't until ABC and Sony Pictures Television, which produces the show, suggested the actor that things fell into place.
"To see Freddie in action is truly a sight," Shore says by phone. "The first couple of days we were shooting the pilot, he was in almost every scene but had virtually no dialogue. It wasn't until day 3 that he finally speaks. It was amazing to see. So much happens in those eyes and in that face. He communicates so much and not in the traditional ways."
Viewers of the series, which is based on a 2013 Korean drama of the same name, are in agreement. From its start, the drama drew attention. Its premiere scrubbed in 11.22 million viewers and a 2.2 rating in the adults ages 18-to-49 demographic. And its impressive streak has held steady, with "The Good Doctor" ranking as the most-watched drama of the season, overpowering such heavyweights as CBS' "NCIS" and NBC's "This Is Us."
The series returns from its winter break on Monday. We spoke to the 25-year-old English actor about headlining the season's breakout hit and finding his way into the character.
Have you had time to step back and take in that you are the star of this season's breakout hit?
We were in a little bubble in Vancouver. I only sort of became aware of the way in which the show has become popular and successful more widely on these little trips away from that bubble, but most of the time we're huddled away.
You had initially been hesitant about signing on for the role — why?
I think there was something that seemed implausible about "The Good Doctor" coming along so quickly after "Bates Motel" that had me momentarily hesitate because it felt like I wouldn't have been as lucky. It was three days after we finished, and that somehow I would finish one great show that I've had a great time on and this other one would magically appear — it seemed like there had to be some trick to it.
And it's wrapping your head around the responsibility that came with this character and the commitment that it requires, and making sure that you only take it on if you're prepared to put in all of the work behind something. I think that goes for all characters, but perhaps for Shaun in particular. He needed to be portrayed in a very careful, thoughtful way. And three days was a very brief turnaround to take stock of my ability.
The most-read Entertainment stories this hour »
Though there may be some common denominators, there's so much diversity to the autistic experience—
We were aware from the beginning that it was about telling Shaun's individual story, and that as a starting point, needed to come the recognition that we could never have Shaun be representative of everyone who has autism.
So we've been building on his own idiosyncrasies and his quirks as a person that aren't really defined by autism, which we've tried to develop over time as the season's gone on so far — his sense of humor ... and also his quest for a sense of independence and of not being entirely sure what that means for him, but knowing that he wants to have a greater control over his life.
We could never have Shaun be representative of everyone who has autism.

Freddie Highmore, star of "The Good Doctor"
You went from playing a character who kills people to one who saves people. While very different, both are very internal characters. How was it finding those nuances?
Yes, I think both of them have internal struggles that don't necessarily manifest themselves in the same way. I think that's part of the fun and challenge in playing Shaun, to work on those nuances and quieter moments. So much of what is important in the story we're telling about Shaun isn't necessarily the words that come out of his mouth, but what he's feeling inside.
I think the misconception often of people who have autism is that they're somehow devoid of emotion, or don't have as broad a range of emotions as neurotypical people do. That's not true, but I think what is true in the case of Shaun, is that they come across to others in an unusual way, that we may not have been exposed to previously in our personal lives. So it's both allowing the audience in on that journey, with Shaun, and being on his side, and knowing what he's feeling deep down and being able to form some sort of connection to him.
Shaun, in some ways, has grown over the course of the show. But the fact is that he will always have autism. Which is entirely different to Norman, where there was always this hope that he would somehow overcome his serial killer tendencies or could fundamentally change who he was, or the things that made him different and stand out.
Was there a particular source in doing research for the role that was really helpful to you in building the character?
One documentary that I loved from before we started filming the pilot was "Autism in Love," that David and I watched a couple of times each and exchanged ideas about. I think what was great about that documentary was its emphasis on love, on moments of connection, on emotion, and the biggest almost fulfilling, or all-consuming emotion that maybe people ever feel. I think the way in which that documentary was able to shake up people's misguided misconceptions of the lives of people on the spectrum, that was something that we wanted to emulate with "The Good Doctor."
With the fall finale, we see that Shaun was resistant to seeing a therapist, and he lashes out at his main support system, Dr. Aaron Glassman (Richard Schiff). What can we expect when the show returns?
When we see him in the next episode, I think it's the beginning of a resetting in him. It's another episode where he continues to learn more about himself and about what he wants from life. I think it's something that we all struggle with at all ages. It's not just Shaun because he has autism and is young, that he's grappling with this idea of not being sure what's important to him, what his priorities are, what's the point of what he's doing. I think those questions are explored.
Rating: TV-14 (may be unsuitable for children under the age of 14)
Twitter: @villarrealy
---
From the Emmys to the Oscars.
Get our revamped Envelope newsletter, sent twice a week, for exclusive awards season coverage, behind-the-scenes insights and columnist Glenn Whipp's commentary.
You may occasionally receive promotional content from the Los Angeles Times.