Appreciation: Garry Marshall, endlessly hip, delivered mainstream comedy with an offbeat edge
Garry Marshall has worn many hats during his career: actor, writer, producer, director and even playwright. Here are some highlights from Marshall's various stints.
(Mel Melcon / Los Angeles Times)
In "The Twilight of the Golds," Marshall plays Walter Gold, the father of a woman who discovers through prenatal genetic testing that her child (like her brother) will most likely be born gay. Faye Dunaway plays Walter's wife Phyllis.
(Anne Fishbein / Handout)
Marshall inside the Falcon Theater in Burbank, which opened in 1997. Marshall built the venue with his daughter Kathleen and uses the stage as a creative space to launch independent productions and collaborations with friends and emerging talent.
(Iris Schneider / Los Angeles Times)
Marshall reworked his popular TV series "Happy Days" into a musical that debuted at his Falcon Theater in 2006. Here Marshall works with actor Joey McIntyre, who played "The Fonz."
(Lawrence K. Ho / Los Angeles Times)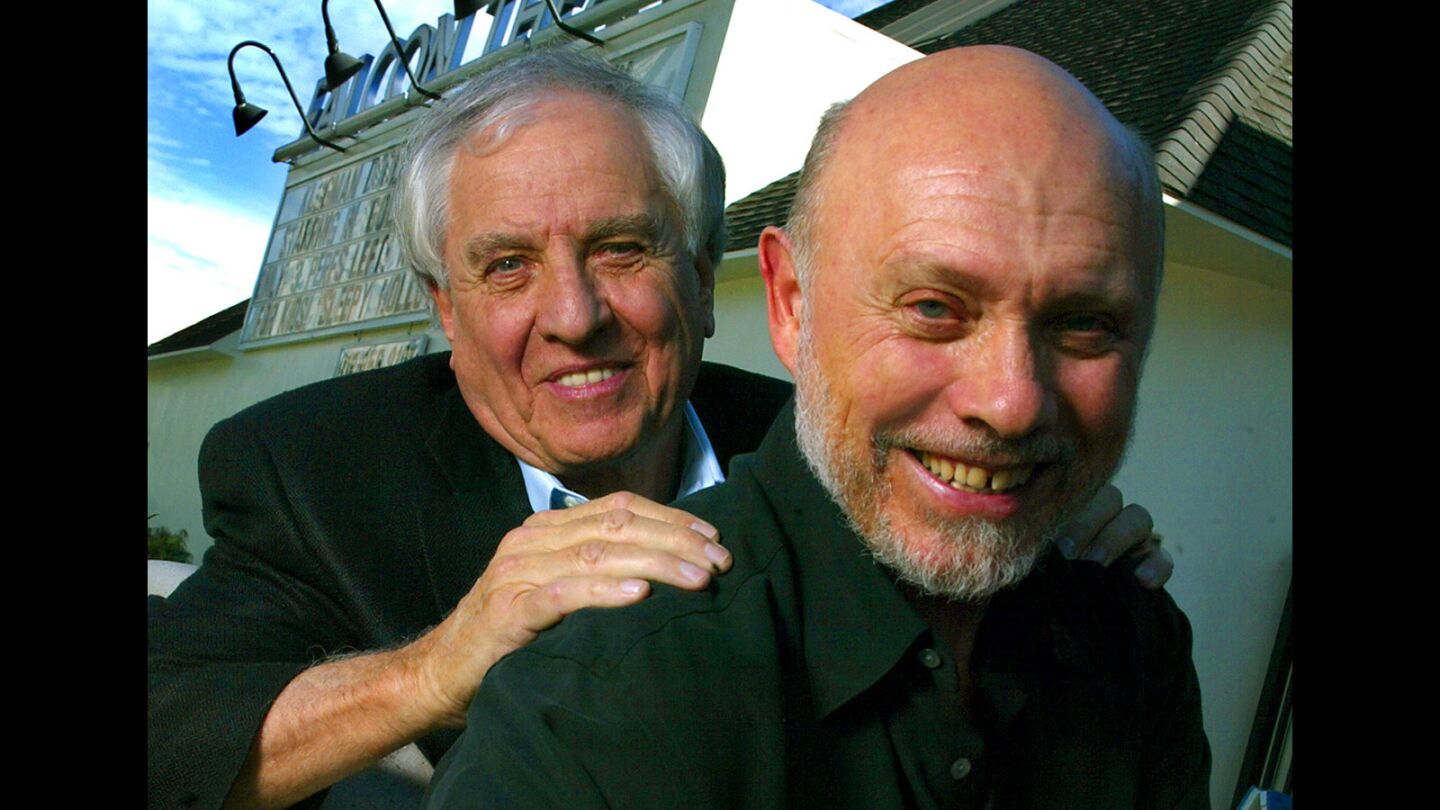 Marshall and actor Hector Elizondo's friendship dates back to the 1980s. Elizondo has appeared in all of the films Marshall has directed, starting with 1982's "Young Doctors in Love."
(Ken Hively / Los Angeles Times)
The Writers Guild of America awarded Marshall the 2014 Laurel Award for TV writing achievement.
(Gary Friedman / Los Angeles Times)
Marshall with actors Yvette Nicole Brown, Thomas Lennon, Matthew Perry and Wendell Pierce onstage during "The Odd Couple" panel as part of the CBS/Showtime 2015 Winter Television Critics Assn. press tour. Marshall serves as the executive consultant to the remake.
(Frederick M. Brown / Getty Images)
Garry Marshall wore many hats in movies and television over the last 60 years, as a writer, director, producer and actor. His successes were as mainstream as they come: "Happy Days," and its hit spinoffs "Laverne & Shirley," "Mork & Mindy" and "Joanie Loves Chachi," on TV; big-screen hits like "Pretty Woman," "Beaches" and "The Princess Diaries." His last film before his death Tuesday at 81, "Mother's Day," the third in a holiday-themed trilogy, was released in April.
But there was something spiky and offbeat about his work too, and especially about his person. Years in Hollywood notwithstanding, he came off as an Italian American — technically an Italian-German-English-Scottish-American — from the Bronx his whole life. He was a class act with ragged edges.

For the record:
5:26 a.m. Nov. 27, 2022An earlier version of this post said that Garry Marshall played a talent agent in the film "Soapdish." He played the head of daytime programming in the film.
See the most-read stories in Entertainment this hour »
Like many of his generation, and the generation just before, he came up writing for comics and then for television. It was a crew whose members included Mel Brooks and Neil Simon, whose play "The Odd Couple" Marshall and his frequent writing partner Jerry Belson would one day convert into a successful sitcom. He was a trained craftsman willing to break the rules. He knew how to build a chair right, and also how to build in a chair in a way that though wrong might still hold a person up. (And break, if desired, at just the right moment.)
In New York, Marshall worked for nightclub comedians Joey Bishop and Phil Foster and for the Jack Paar-era "Tonight Show." In Hollywood, partnered with Belson, he wrote for the Thunderbird of family-workplace sitcoms, "The Dick Van Dyke Show" — creator Carl Reiner's son Rob would marry Marshall's sister Penny Marshall — the sharp, sophisticated "The Danny Thomas Show" and Lucille Ball's post-Desi "The Lucy Show." Ball's brand of slapstick farce would exert a huge influence on "Laverne & Shirley," in which Penny Marshall was a costar.
An actor who made his living as a director, producer and writer, he often portrayed figures of (sometimes exasperated) authority, a man in charge.
— Robert Lloyd
While its commercial success did help set new styles, there was nothing particularly groundbreaking about Marshall's work; indeed, much of it moved forward by looking back, to the romantic film comedies of his youth, to older TV shows. "Happy Days" and "Laverne & Shirley" are not only set in some sort of impression of the 1950s, but, with a little late '70s-early '80s sauciness, they work themselves in old-fashioned ways. They are human comedies — almost always comedies — that are easy to see yourself in.
"In the education of the American public, I am recess," he told Larry King in April, appearing on King's show to promote "Mother's Day."
At the same time, there was something effortlessly, endlessly hip about the man himself. He showcased and was showcased by a wide range of comic talent. Lenny and Squiggy, "Laverne & Shirley's" two stooges, were played by Michael McKean and David L. Lander, from the underground comedy group the Credibility Gap; "Mork & Mindy" unleashed the frenzy that was Robin Williams onto the world, and also made a home for Williams' oddball mentor Jonathan Winters.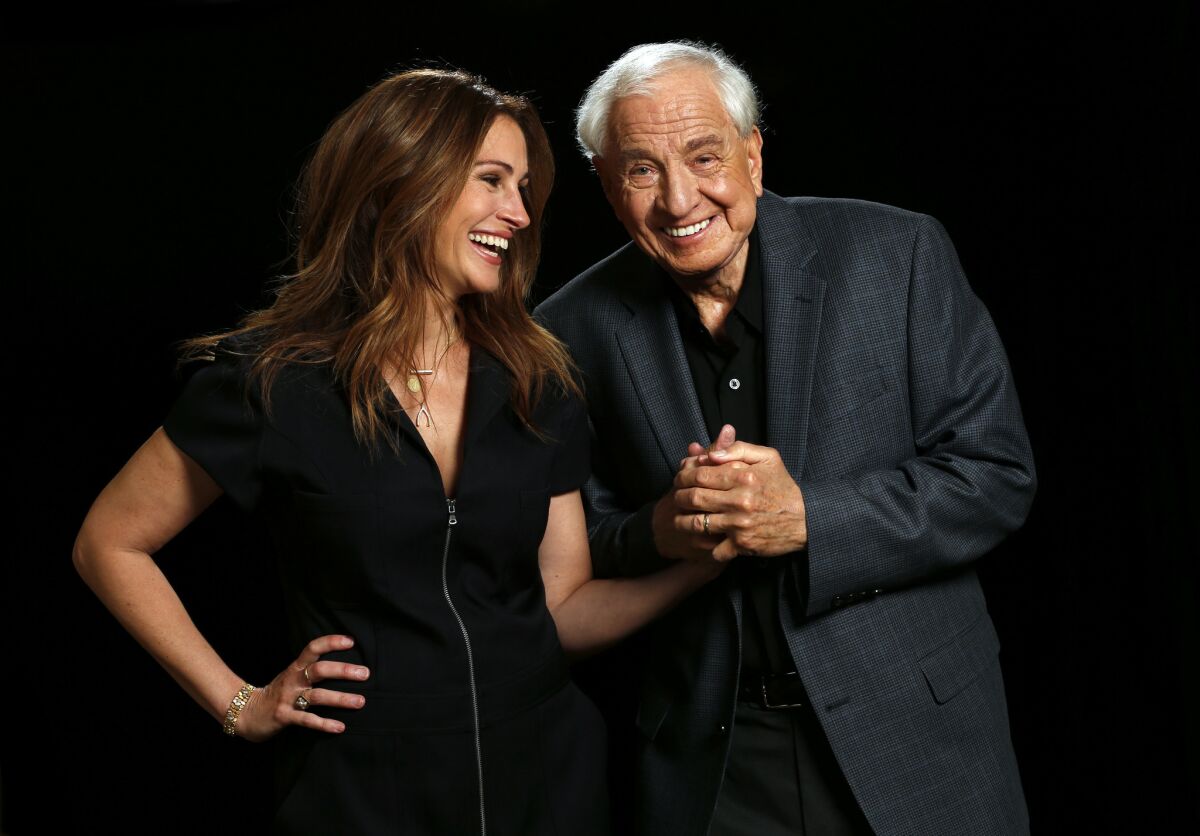 As an actor, he appeared not only on "Two and a Half Men" and "Hot in Cleveland" but also on the less conventional "The Sarah Silverman Program," "Louie" and "BoJack Horseman." Not surprisingly for an actor who otherwise made his living as a director, producer and writer, he often portrayed figures of (sometimes exasperated) authority, a man in charge — a network head on many episodes of "Murphy Brown," a daytime programming chief in the film "Soapdish," a ball club owner in Penny Marshall's "A League of Their Own," a memorable casino manager in Albert Brooks' "Lost in America," a masterpiece of partnering in which Marshall gets laughs by playing the straight man.
He appeared this year as Matt Perry's — that is, Oscar Madison's — father on CBS' reboot of his original "Odd Couple," on which he was also a consultant.
Talking about his appearance on the new series with King, he half-jokingly said, "Look at this circle of life."
On Twitter @LATimesTVLloyd
ALSO
Hollywood remembers Garry Marshall: 'He had a heart of the purest gold'
Julia Roberts and Garry Marshall continue their one-movie-per-decade streak with 'Mother's Day'
'Odd Couple' veteran Garry Marshall lends hand to CBS reboot
---
Get our L.A. Goes Out newsletter, with the week's best events, to help you explore and experience our city.
You may occasionally receive promotional content from the Los Angeles Times.