Gayle King explains R. Kelly outburst and jabs at Fox News' Jesse Watters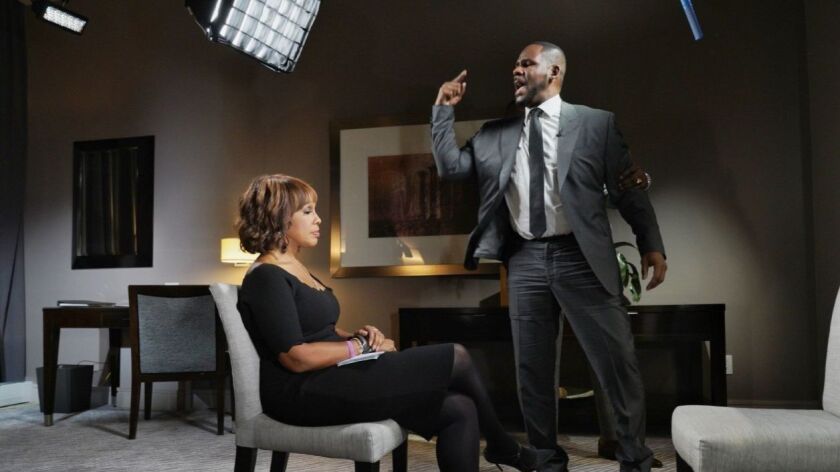 Gayle King broke down exactly what was going through her mind when she interviewed a heated R. Kelly this week for "CBS This Morning" and witnessed a series of outbursts from the embattled R&B star.
The co-anchor, appearing on Stephen Colbert's "The Late Show" on Thursday, said she had to keep calm so she could continue the interview, a moment eternalized in a viral image featuring Kelly shouting while King sits composed.
"When I see Robert getting really upset and he stands out of his seat, my initial reaction is, please don't leave, please don't leave, please don't leave…we've seen him storm out of interviews before," she told Colbert.
"So I thought if I just sit there quietly looking at him, he would know I'm not going anywhere and I'll just wait for [him] to finish whatever this is and then [he'll] sit right back down in his seat," King added. "And he did that."
Despite the "menacing" photo of his outburst, King said she was not afraid for her safety, only that Kelly might accidentally hurt her because he was flailing so much.
"If you could see the thought bubble, it would have been 'ruh-roh,' please sit back down. You're looking a little crazy. Please sit back down," she said.
Amid reports that CBS is trying to make a new contract with her, King was lauded this week for keeping a cool head and remaining assertive during the sit-down. She drew praise from fellow journalists and other celebrities, including her best friend Oprah Winfrey and singer Elton John.
But King did take issue with erroneous praise from Fox News. The network's Jesse Watters gave her props but mistook her for ABC's Robin Roberts, a fellow black journalist whose interview last month with "Empire" actor Jussie Smollett was reevaluated after an investigation of his case went sideways.
Watters' co-anchor, Dana Perino, corrected him on air and Watters apologized, but King later emailed Perino, whom she doesn't know, to thank her while getting in a jab at Watters.
"It was a great compliment, but thank you for letting him know that we're two different people," she wrote Perino, "and could you let the rest of your colleagues know that all black people do not look alike. Could you please just share that?"
CBS has been rolling out segments from King's conversation with Kelly all week and will broadcast "The Gayle King Interview With R. Kelly," a one-hour, prime-time special featuring interviews with the singer, his girlfriends and their parents, on Friday at 8 p.m.
A clip featuring the girls' parents aired on "CBS This Morning" on Friday. Watch it below.
Follow me: @NardineSaad
---
Get our daily Entertainment newsletter
Get the day's top stories on Hollywood, film, television, music, arts, culture and more.
You may occasionally receive promotional content from the Los Angeles Times.