R. Kelly cries and denies abuse allegations in explosive Gayle King interview
An impassioned R. Kelly broke down into tears during an explosive interview with CBS' Gayle King that aired on Wednesday. The R&B singer denied sexual abuse allegations against him and asked people to stop judging him based on his past.
It was Kelly's first interview since he was arrested in Chicago on 10 sexual abuse charges last month and pleaded not guilty. As King pressed him about allegations that he held women against their will, Kelly grew more exasperated and shrill, telling her that it would be stupid and that the women were lying.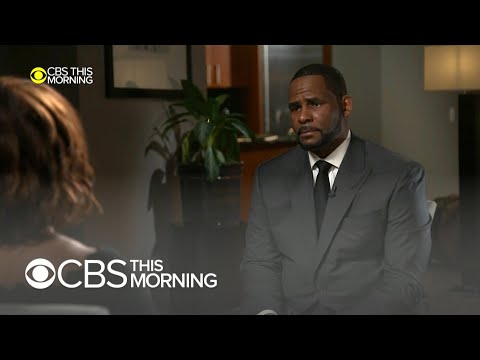 "I have been assassinated. I have been buried alive. But I'm alive," the 52-year-old said.
Kelly then turned directly to the camera to mount his defense.
"That's stupid! Use your common sense. Forget the blogs, forget how you feel about me. Hate me if you want to, love me if you want. But just use your common sense," he added.
"How stupid would it be for me, with my crazy past and what I've been through — 'Oh, right now I just think I need to be a monster and hold girls against their will, chain them up in my basement, and don't let them eat, don't let them out, unless they need some shoes down the street from their uncle!'"
R. Kelly surrenders on 10 counts of sexual abuse »
Kelly was upset with the power of social media and that people were drilling into his past, particularly his 2002 child pornography case for which he stood trial and was acquitted in 2008. Speaking to that point, he said, "You can't double-jeopardy me like that."
"Stop it. You don't quit playing. Quit playing. I didn't do this stuff! This is not me! I'm fighting for my ... life!" he shouted, before standing up. "Y'all killing me with this …! I gave you 30 years of my career! Thirty years of my career! And y'all trying to kill me? You killing me, man! This is not about music! I'm trying to have a relationship with my kids! And I can't do it! Y'all just don't want to believe the truth! You don't want to believe it."
I'm not Lucifer. I'm a man. I make mistakes, but I'm not a devil, and by no means am I a monster.
— R. Kelly
Kelly had a few outbursts during the 80-minute interview, but eventually regained his composure, King later said. After calming down, Kelly said that he grew emotional because this was his first time being able to address the allegations against him. (He also discussed being an abuse survivor.)
The scrutiny of the Grammy winner has mounted over the last few months, in part because of Lifetime's "Surviving R. Kelly" docu-series that chronicled the stories of numerous women, including his ex-wife and former tour manager, saying that Kelly sexually abused them.
"If you really look at that documentary, which I'm sure you have," he said, "everybody says something bad about me. Nobody said nothin' good…. They was describing Lucifer. I'm not Lucifer. I'm a man. I make mistakes, but I'm not a devil, and by no means am I a monster."
King was largely praised online for keeping a cool head and firm line of questioning during the dramatic sit-down. More of the interview will air Friday.
Meanwhile, celebrity attorney Michael Avenatti, who represents some family members of Kelly's alleged victims, criticized the singer with a series of tweets before and after the interview aired.
"R. Kelly does NOT deny sexually assaulting underage girls," Avenatti wrote on Tuesday night when a clip was posted online. "In fact, his answer demonstrates his guilt. He fails to understand that it doesn't matter 'how long ago' it happened. And he also has no clue as to how 'double jeopardy' works."
Avenatti also shared a statement from Alice and Angelo Clary, the parents of Azriel Clary, whom they believe is trapped in a sex cult run by Kelly.
"It is pathetic and disgusting that R Kelly has manipulated these young girls and lied to them about their families. It has been his modus operandi for decades and part of his abuse," Avenatti tweeted. "This is not about money. It is about truth and justice."
Twitter: @NardineSaad
Get our L.A. Goes Out newsletter, with the week's best events, to help you explore and experience our city.
You may occasionally receive promotional content from the Los Angeles Times.