Two-time Oscar winner Hilary Swank returns to TV in FX's 'Trust'
The question makes two-time Oscar winner Hilary Swank blush.
"You were fired from 'Beverly Hills, 90210'?"
Wait, wait. Let her explain. About 20 years ago, Swank joined Fox's popular young adult drama that had already made mega-celebrities of its cast members, including Luke Perry and Shannen Doherty. She played cash-strapped single mom Carly Reynolds, the love interest to perpetually immature Steve Sanders (Ian Ziering).
But roughly half-way into her first season — the show's eighth — she got called in for a meeting by producers.
"They were like, 'Look, it's not working," Swank recalls on a recent afternoon. "And I couldn't move. I was like, 'What's not working? Me? Am I bad? I'm not working because I'm bad?'"
It turns out that fans had written in saying they preferred Steve unattached. "I … yeah," Swank says, still finding it hard to put her befuddlement into words.
What happened next, of course, is a crowning example of everything happening for a reason. The hurt over her unceremonious firing evaporated a few months later when she was cast in "Boys Don't Cry" as real-life transgender man Brandon Teena who was raped and murdered in 1993. The 1999 film earned her a lead actress Oscar, launching a career that included a second lead actress Oscar in 2004 for "Million Dollar Baby," making her "90210's most decorated veteran — even if her film résumé has been uneven.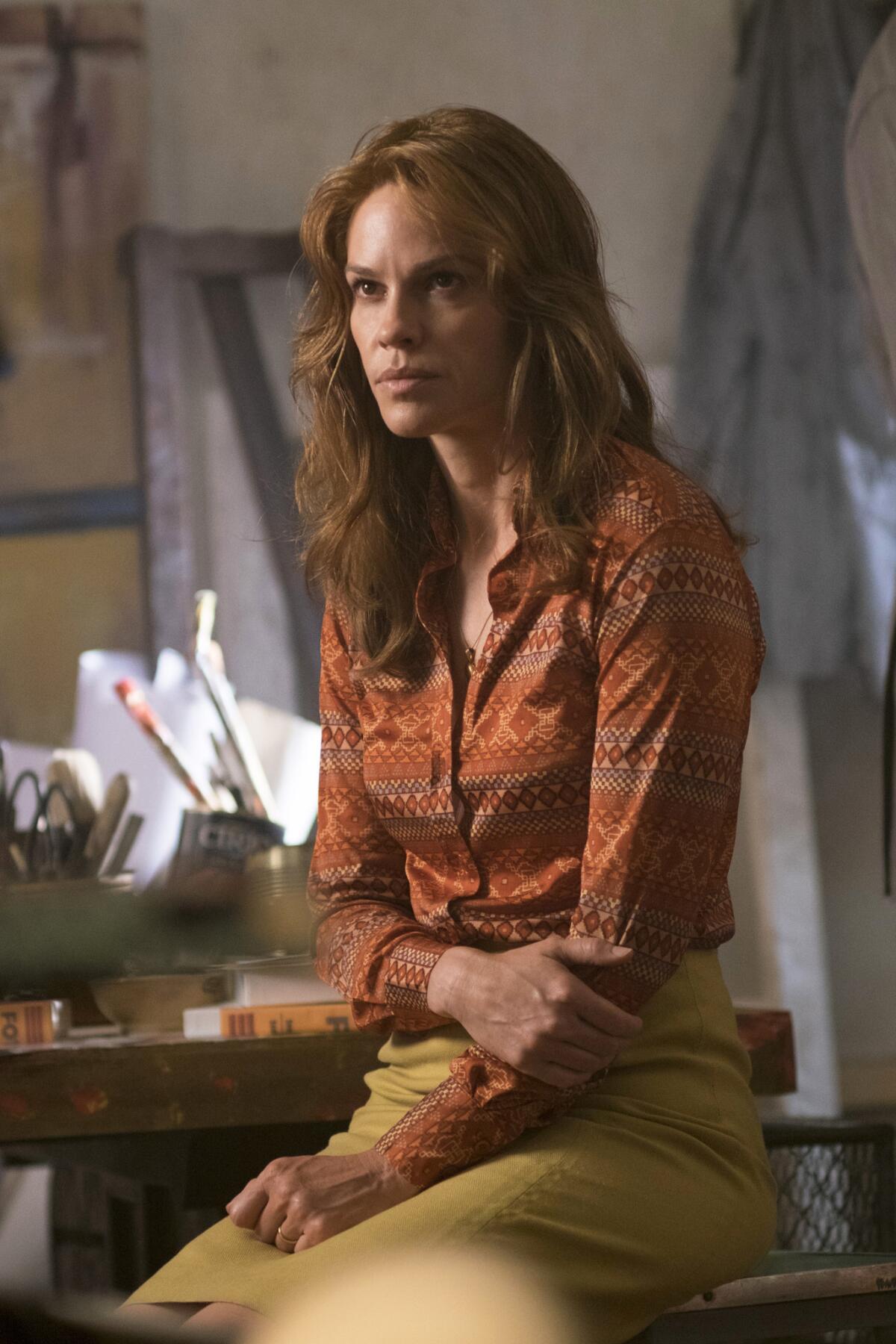 Now, she's making her return to the small screen with FX's limited series "Trust," which focuses on the true story of the Getty family dynasty.
Created by Simon Beaufoy ("Slumdog Millionaire"), the 10-episode first season, which premiered last week, follows the bizarre 1970s kidnapping in Italy of billionaire scion John Paul Getty III (Harris Dickinson) and the refusal of his oil tycoon grandfather J. Paul Getty (Donald Sutherland) to pay the multimillion dollar ransom.
Swank is introduced in the second episode, airing Sunday, as Gail Getty, the mother of the heir and the broke outsider to the wealthy family who is relentless in her pursuit to get her son back.
Tucked in a corner nook on the main floor of a West Beverly Hills hotel, Swank speaks with compassion when dissecting Gail's situation. Just discussing the role gives her goose bumps, — she holds up her arms to prove it.
"I don't have children of my own," Swank says, "but to have your child kidnapped — and to not know their well being from one second to the next — I don't think there could be anything worse...and I think a mother almost takes the responsibility upon themselves, like, what did I do to raise a child who could get in this type of situation? I should have done better. I could have done better. If only I had done this or done that, this wouldn't have happened."
Gail Getty was married to John Paul Getty II, a drug addict with whom she had four kids and later divorced. Living a simple but content life in comparison, she nevertheless struggled to keep tabs on her rebellious eldest son. Swank portrays her as the kind of mom who unquestioningly reaches for her wallet to give what small amount she has when her son says he owes people money. As the season progresses, Gail's doggedness intensifies.
"Trust" chronicles the same events as last December's film "All The Money in the World," which was caught up in its own headlines after disgraced actor Kevin Spacey, who originally starred as the oil tycoon, was removed from the completed film following allegations of sexual misconduct. New scenes were filmed with Christopher Plummer playing J. Paul Getty.
Swank, who has not seen the film, says those involved with "Trust" were aware of the movie.
"When people said, 'Oh, is that weird that there's this film out there? Are you competing?' — I'm just like, 'Not really.' I think it's exciting. It shows that it's a story worth exploring," she says.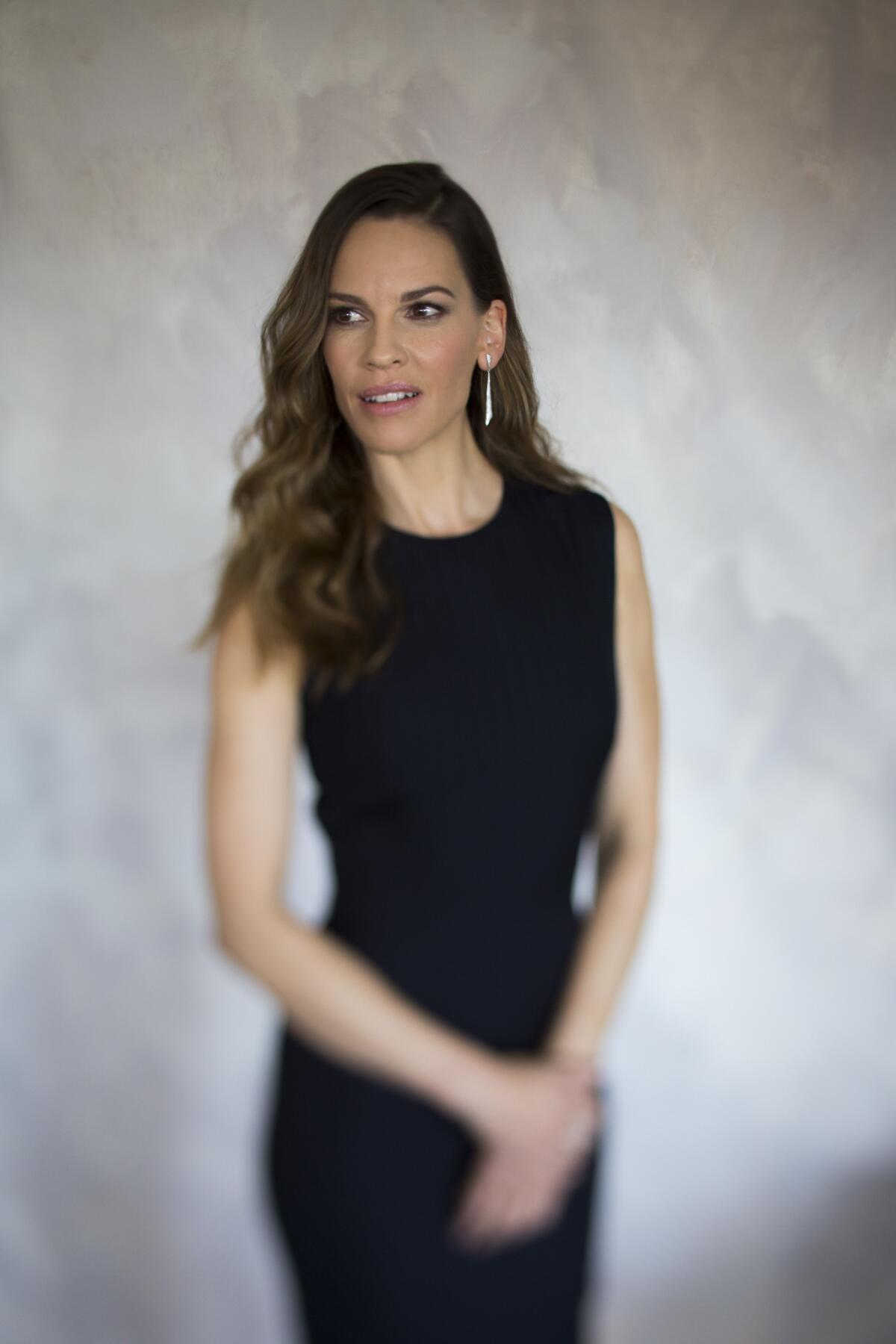 The lesson I got from it was how to be still … and to be OK with being still.

— Actress Hilary Swank
Beaufoy describes Swank as the sort of "mercurial" actress who could bring depth to the one person outside the Getty family that manages to hold it all together.
"Emotions kind of go across her face like clouds across the sky," he says by telephone. "They're incredibly subtle, but you can read them without her saying anything. She studied a lot of the news clips of Gail Getty and how Gail managed to keep her poise, keep herself emotionally together in order to carry on. Hilary played her with a huge amount of dignity and had to suppress a lot of her natural empathy to play this wonderful mother, the only person fighting for her child's release."
Producer Danny Boyle ("Slumdog Millionaire," "Trainspotting"), who directs the first three episodes, sums up Swank's prowess in the role: "She won two Oscars. That doesn't happen if you don't know what the hell you're doing as an actor," he says by phone. "Winning one, maybe you don't know what you're doing. But not with two."

For Swank, who had a modest upbringing growing up in a mobile home in the Pacific Northwest, her immersion in the project sparked a deep fascination with psychological aspects of living a life of that kind of opulence.
"To think, this billionaire made so much interest on the money he had in the bank in a day that he couldn't even count it," she says. "And his fear of losing it ... it's a fascinating breakdown of a person."
"Trust" serves as a stop in a comeback tour of sorts for Swank, who put her film career on pause three years ago to take care of her father, Stephen, who had undergone a lung transplant. It was a decision, she says, that didn't require thought: "It's just what I had to do."

The time away, she says, brought about deep reflection on matters of life, or rather, what matters in life.
"It brought up things for myself that I needed to work on — a lot of it was just being able to sit down," says Swank. "I'm a Leo. I'm a fire sign. I'm go, go, go, go. So, for me, the lesson I got from it was how to be still … and to be OK with being still."
Not that she was too literal about it. In that time, the actress and producer nurtured her creativity in other ways: She launched a line of athleisure clothing, "Mission Statement" (The Mantra Pant is her go-to for flights) and spent time working on her animal charity, the Hilaroo Foundation.
It wasn't until recently, confident that her dad could get around on his own, that she considered returning to acting.
In addition to "Trust," she's appeared in a string of smaller roles and lower-profile indie films ("Logan Lucky" and "55 Steps") in recent months.

She won two Oscars. That doesn't happen if you don't know what the hell you're doing as an actor.

— Danny Boyle, producer-director on FX's "Trust"
Her return to television, in some ways, had been something she could link back to Oscar winning director Alejandro G. Iñárritu ("The Revenant," "Birdman or (The Unexpected Virtue of Ignorance"). Prior to her Hollywood sabbatical, she had been tapped to star in the auteur's drama "One Percent," about a family's struggle to hold onto their farm, for Starz.
Even though the project seems to have fallen by the wayside, she said the director "opened my eyes to all the different walks of life that were on television," she says. "And I started recognizing independent film was really being taken over by studios and so they weren't taking the risks anymore. The risks were being taken on television."
Still, Boyle and Beaufoy, aware of Swank's career break, were skeptical they could persuade her to join the cast of "Trust." Only the first three scripts had been written when she was approached — of those, Gail is in two and is a character on the fringes of the story.
"We didn't think we would be able to get her," Beaufoy says. ""We didn't have enough for her to do in the first few episodes. And that didn't bother her. She wasn't asking, 'How many lines do I have?'"
Swank says it was the energy in Boyle's voice, when he first called her to discuss the project, that piqued her interest.
"He's like a dog — and I mean that in a the best way; I'm a dog lover," Swank says. "But he wants to plays. He wants to get in there. And you could hear his excitement about what they were trying to do. And I wanted to be a part of it."
So how was it to come back after all these years?
"Wildly different," she says with a smirk. "I loved it so much. I had been been thinking TV wouldn't be my medium, only because the thought of playing a character over 10 years would be a little claustrophobic, but this was perfect. I am in eight episodes."
And she didn't get fired.
Twitter: @villarrealy
Get our L.A. Goes Out newsletter, with the week's best events, to help you explore and experience our city.
You may occasionally receive promotional content from the Los Angeles Times.