Review: 'How to Get Away With Murder' keeps spotlight on Viola Davis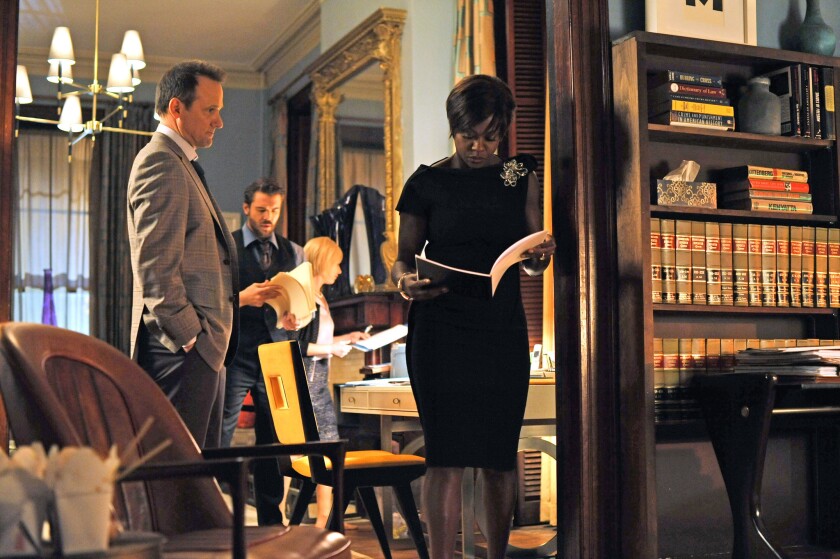 Los Angeles Times Television Critic
Many things have changed about television lately, but murder still makes the world go 'round.
An astonishing variety of characters, environments and scenarios can be wrapped around the sturdy framework of a crime/legal procedural and coaxed into bloom. In ABC's "How to Get Away With Murder," which premieres Thursday, it's the high-anxiety bubble of law school, previously best captured in the 1973 film "The Paper Chase."
Here, as there, a smart but callow youth finds himself in the lecture hall, and general thrall, of a charismatically dictatorial teacher whose words and actions force him to examine all manner of things, including his own personal integrity.
In "The Paper Chase," the legendary John Houseman gave life to a law professor who is both character and cataclysmic event. In "How to Get Away With Murder," the role is equally formidable, as is the woman who inhabits it. From the moment she comes on-screen, Viola Davis makes Professor Annalise Keating one of those gorgeously enigmatic characters who could either be the ultimate truth teller or great deceiver.
Either way, you, like her students, hang on her every word.
Which may not include instructions for Wes Gibbins (Alfred Enoch) to take this dime, call his mother and tell her that "there is serious doubt about your becoming a lawyer," but Annalise quickly makes it clear that her Criminology 101 is The Class, the one in which students will either learn how to practice law or die trying.
For at least five of her students, however, there appears to be a third alternative: C. Both of the above. The show opens with a quintet of young men and women attempting to dispose of a body on the night of homecoming. They are arguing in legalistic terms, so it is not surprising that when the action flashes back, it is to the first day of Keating's class.
With admirable economy and keep-up-people pace, creator Peter Nowalk reveals both the imperial nature of his lead and quick sketches of the five students from the opening scene. In addition to nice-guy Wes, there's Michaela (Aja Naomi King), who wants to be just like Annalise; Connor (Jack Falahee), who will go to any lengths to win; Laurel (Karla Souza), quietly hanging on to her ideals; and Asher (Matt McGorry), entitled and connected.
As Annalise quickly explains, she teaches through doing. Her class will mirror the cases she is trying as a high-wire, high-profile defense attorney, and the four students who show the most promise will work in her office.
Wes joins the obvious picks when he stumbles upon some after-hours information about his prof, completing one of those teams of people who would never ordinarily become a team. Presumably, early episodes at least will work backward and forward, explaining exactly how the five came to be disposing of a body while featuring various cases that Annalise is handling and peeling back the layers of all the characters, especially Annalise.
Lurking around the background of the pilot is also the shadow of a missing student, whom/ Wes' new neighbor Rebecca (Katie Findlay) clearly knows something about.
Produced by Shonda Rhimes — who, in case you somehow missed the news, now owns ABC on Thursday night ("How to Get Away With Murder" airs after "Grey's Anatomy" and "Scandal") — "Murder" follows the character-drama-with-charismatic-lead meets high-stakes procedural crossbreeding techniques of shows such as "House" and "The Good Wife." Then it adds an additional injection of campus crime. Which the creators are clearly hoping offers the crossover appeal of youth and nostalgia — the last time many of us spent any TV time on a college campus was "Felicity."
While the show has certain Rhimes' accents — a strong female lead, a large and diverse ensemble, a willingness to pile on complications — it is very different from any of the series she has written. Annalise wears neither a white hat nor her heart on her sleeve; she keeps her own counsel, as do most of the characters in the pilot, as does, indeed, the show itself. The first episode sets many things in motion while revealing little in terms of tone or intent.
Not that it matters much because all eyes are on Davis, Tony winner and Oscar nominee. Magnetic and intimidating, Davis creates an implacable surface beneath which shimmers all manner of fleet and startled emotions. Desire and fear, certainty, self-doubt and resolve are conjured in an instant with the angle of a glance, the lowering of an eyelid and then released as if they were never there.
Annalise Keating seems more than capable of being both Sherlock and Moriarty. Backward, in heels.
-----------------
'How to Get Away With Murder'
Where: ABC
When: 10 p.m. Thursday
Rating: TV-14-DLS (may be unsuitable for children under the age of 14 with advisories for suggestive dialogue, coarse language and sex)
---
Get our daily Entertainment newsletter
Get the day's top stories on Hollywood, film, television, music, arts, culture and more.
You may occasionally receive promotional content from the Los Angeles Times.