Review: Issa Rae is still young, gifted and complicated in HBO's 'Insecure'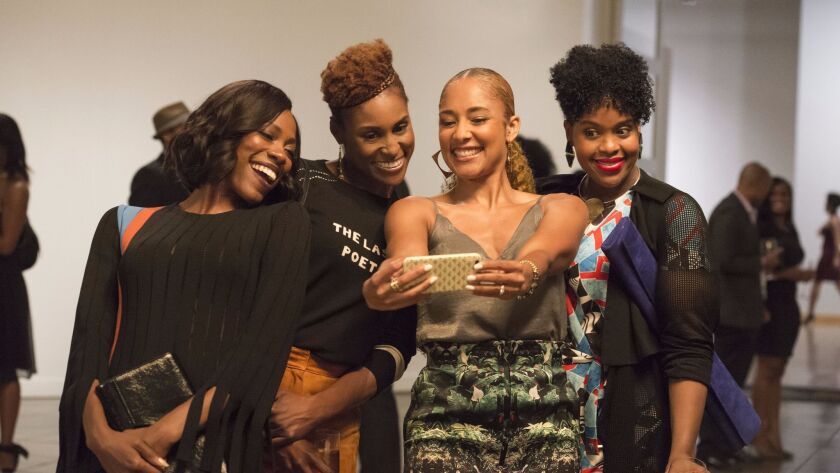 Television Critic
"Insecure" continues to live up to its title in its second season, in which the newly single Issa Dee (played by co-creator and executive producer Issa Rae) is subjected to the ultimate litmus test of self-confidence – the dating scene.
The fictional Issa cheated on her longtime boyfriend Lawrence (Jay Ellis) last season; he moved out, and she's trying to get him back. But because nothing is ever that clear-cut in Issa's world, she's also going through the motions of moving on.
That means trolling dating sites to find a replacement, while incessantly checking her phone for an "I forgive you" text from Lawrence.
"Insecure," which returns to HBO on Sunday, once again nails what it means to face the age of 30 and see all your unrealistic expectations blow up in your face like so much birthday confetti.
Bitingly candid and funny, the 30-minute comedy-drama stemmed from Rae's YouTube series "Awkward Black Girl." The HBO series came about when she teamed up with writer and comedian Larry Wilmore, the former "Daily Show" correspondent, talk-show host and executive producer of ABC's "black-ish."
Season 2 finds Rae and company just as wonderfully messy and entertaining as they were when we first met them back in 2016.
Rae's on-screen Issa is still big on giving herself those pep talks in front of her bedroom and bathroom mirrors. In one instance, when she's trying to lure Lawrence back to the apartment with the excuse that he needs to pick up a jury summons , she acts out various potential scenarios: "Here's your jury duty," she says, waving the envelope seductively and gyrating like a stripper. "And here's your jury booty."
Then there's her inner monologue, often in the form of freestyle raps, that materializes when she's on a bad date. "I'm a liar, sweetie," she raps. " … You probably shouldn't trust me or I'll hurt your feelings boo."
When she and Lawrence finally connect, her best friend Molly (Yvonne Orji) presses her for more details.
"Who initiated the sex?" asks Molly.
"Him, basically," says Issa.
"Have you all spoken since?"
"Yeah. No. It's unclear," mumbles Issa.
"[Issa], you a Magic 8 ball? What does that mean?" says Molly.
The cast here works together so well. Uber-focused attorney Molly, whom Issa refers to as her thin "body goal," is an overachiever who finds fault in just about every aspect of the world around her because it's not as it "should be." Molly even complains about the perfect dream date (played by Sterling K. Brown) because she should have felt something more.
Molly is the flip side to the easily distracted Issa. Their relationship, which is not always smooth and at times puts them in conflict, is one of many factors that makes "Insecure" so exceptional.
After all, how often is it that TV or film delivers not one but several black female characters who are as strong as they are susceptible, as driven as they are apprehensive, as cocky as they are unsure?
If you answered "rarely," give yourself a fist pump.
Which is another reason why "Insecure" still feels so fresh.
While similar-themed shows about twentysomething friends in the city such as "Master of None" and "Girls" take place in Manhattan, "Insecure" is all Los Angeles: swingers diner on Beverly Boulevard, plain stucco apartment buildings in Inglewood with aspirational names like "The Dunes" or "The Malibu," overpriced beer at Bristol Farms in South Pasadena (or was it the Westside?).
"Insecure's" L.A., unlike the L.A. in "Entourage," is a recognizable one: it's the home of trendy nightclubs and neglected public schools. Overpriced rooftop restaurants and hole-in-the-wall Ethiopian cafes. The insufferable hipsters who work at Internet start-ups, the minimum-wage workers who clock in each day for their shift at Best Buy.
And its other small details that make "Insecure" so funny. "Do Math, Not Meth" reads a sign on the high school library wall where Issa is trying to get students interested in her enrichment program.
She works for the charity We Got Y'All, which offers opportunities for underprivileged kids except that most everyone who works there is white, unlike the population they serve.
So Issa becomes the de facto go-to for all black questions such as: Is Baldwin Hills the black Beverly Hills? She curses them out in daydream scenarios, but in reality lets it slide as her resentment builds.
What's frustrating for her is hilarious for us. And thankfully, Season 2 is brimming with obstacle after obstacle for Issa to traverse on the awkward and bumpy journey into her 30s.
'Insecure'
Where: HBO
When: 10:30 p.m. Sunday
Rating: TV-MA (may be unsuitable for children under the age of 17)
---
Inside the business of entertainment
The Wide Shot brings you news, analysis and insights on everything from streaming wars to production — and what it all means for the future.
You may occasionally receive promotional content from the Los Angeles Times.