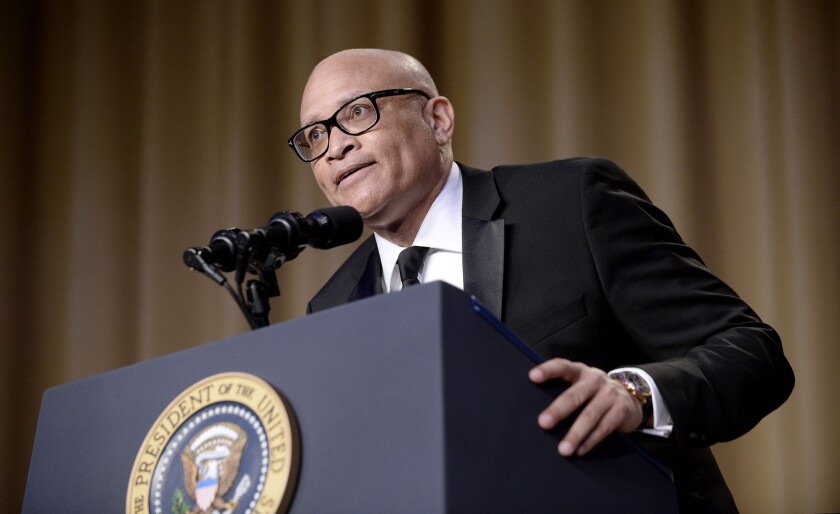 Larry Wilmore succeeded in offending much of the media elite (but especially Wolf Blitzer) with his barbed remarks at Saturday's White House Correspondents' Assn. dinner. In a highly polarizing set that was either tone-deaf or just brutally honest, depending on one's perspective, the host of "The Nightly Show" mercilessly skewered politicians and media personalities alike.
And while some of his most blistering material was aimed at President Obama, who cringed at pointed jokes about drone warfare and Guantanamo Bay, Wilmore also ended on a heartfelt, albeit controversial, note of admiration for the country's first African American president. "Yo, Barry. You did it," he said, referring to Obama using a variation of the N-word.
More so than his many of his jokes about Ted Cruz and the Zodiac Killer, it was Wilmore's use of the word that had much of the Internet up in arms.
Monday on "The Nightly Show," Wilmore addressed his critics, particularly former CNN host and "professional Beyonce hater" Piers Morgan, who wrote a column in the Daily Mail arguing that Obama deserved better than such "vile" language.
"Are you saying I called the president [the N-word]?" Wilmore asked incredulously. "OK, that's horrible. I would never do that."
The comedian, who is also an executive producer of the ABC sitcom "black-ish," which devoted an entire episode this season to the use of the N-word, suggested there is a subtle but important difference between what he said and what Morgan thinks he said.
The N-word "is what white people use to denigrate, demean and dehumanize black people," Wilmore argued.
Meanwhile, the colloquialism he used -- ending with an "a" rather than an "er" -- "is a term of endearment some black people use between each other to take back that power," he said. "Piers, you did not properly conjugate that slur. Very important."
The entire segment, which (duh) includes frequent mentions of a variation on the N-word, is posted at Comedy Central.
MORE:
Did #WHCD roaster Larry Wilmore run into the Oscar-host paradox?
Larry Wilmore's calling Obama the 'N-word' was in 'bad taste'
Obama's got jokes: A look back at the president's best punch lines
Obama drops the mic at his last White House Correspondents' Dinner as president
This documentarian is fighting back against gay culture's 'No Fats, No Femmes' mantra
Angry while female: Why it matters that Beyonce, Kelly Ripa and Samantha Bee won't hide their outrage
---