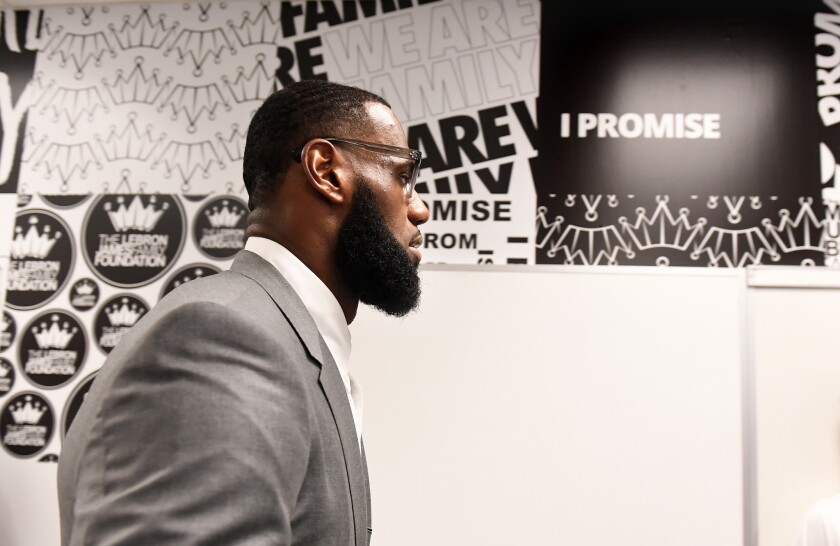 LeBron James, who can now add "Donald Trump target" to his already busy career as one of the NBA's top stars, is getting busier off the court.
The new Los Angeles Lakers star will executive produce Showtime's new documentary series, "Shut Up and Dribble," alongside Maverick Carter and Gotham Chopra.
The three-part series, which premieres in October, will chronicle the cultural and political evolution of NBA players and promises "a powerful inside look at the changing role of athletes in our fraught cultural and political environment," Showtime announced Monday at the Television Critics Assn. summer press tour.
The announcement comes just a few days after James and Trump escalated their public feud. James, who just opened a state-of-the-art, tuition-free school in his home state of Ohio, has long been critical of Trump and his comments on race, which he repeated during a Friday interview with CNN anchor Don Lemon. Trump lashed out on Twitter at both men, insulting their intelligence. (It is unclear if that event will make it into the docuseries.)
Chopra, who helmed the documentary series "Tom vs. Time" and "Kobe Bryant's Muse," will direct the Showtime project, which drew its name from conservative pundit Laura Ingraham's dismissive remarks about basketball players in February when James and players from the Golden State Warriors declined a potential invitation to the White House after the 2018 NBA Finals.
"The controversy serves as a prologue to the series as it chronicles the modern history of the NBA and its players, starting with the 1976 merger of the freewheeling ABA and the more conventional NBA of today," Showtime executives said in a statement. "The league soon became an incubator for many of its top athletes to grow their brands beyond the court, becoming powerful players in commerce and fashion and transcending the game to become cultural icons."
That evolution will be charted through the experience of basketball players who have helped bring about social change and made their own statements in the current political climate.
"If being a star athlete is inherently a political experience, 'Shut Up and Dribble' tells that complex and dramatic story from the past to the present and from the inside out," David Nevins, president and chief executive of Showtime Networks Inc. said in a statement.
"LeBron James is one of many competitors whose place in the spotlight has led not to silence but perspective, and he, Maverick Carter and Gotham Chopra have given us an important, insightful docuseries that should bring their fans and fellow citizens to a higher level of discourse, rather than the dismissal satirized in the title," Nevins added.
Follow me: @NardineSaad
---