Q&A: Lindy West on turning her memoir into Hulu's 'Shrill,' leaving Twitter and Miss Piggy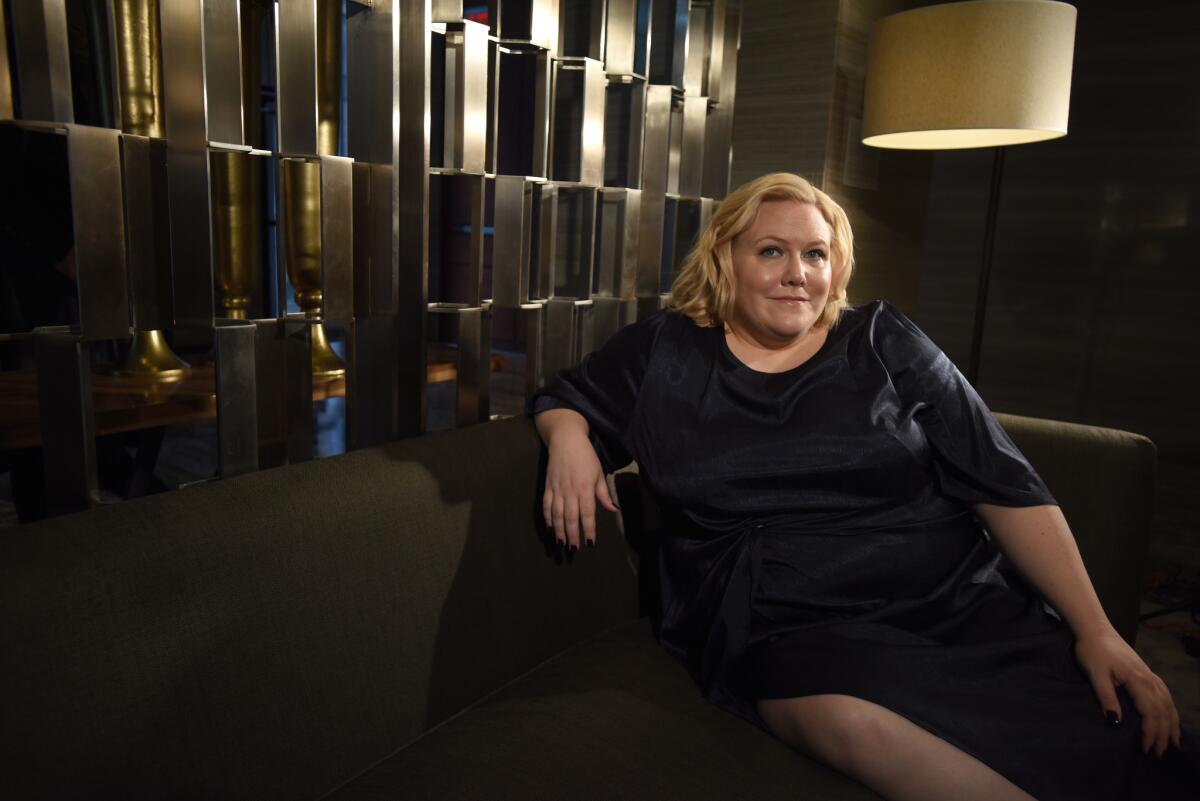 When Lindy West was first approached about turning her best-selling memoir, "Shrill: Notes From a Loud Woman," into a TV series, she was skeptical.
"There's not a lot of plot in me screaming about body positivity, but there's a lot of character in there," says West. "A lot of purpose."
West is known for her lacerating wit and avowedly feminist perspective in her work for Seattle's weekly newspaper The Stranger, the website Jezebel and, more recently, The New York Times.
"The book is introducing you to a fat person you can love and get to know on an intimate, complex level — that person being me. It eventually clicked that we could do that same thing in a show, give people this funny, complicated fat protagonist to fall in love with and hopefully shake up some of people's biases a little bit."
The comedy, which premiered this month on Hulu, stars "Saturday Night Live" breakout Aidy Bryant as Annie, a lightly fictionalized version of West who writes for an alt-weekly paper in Portland. As she finds her voice as a writer, she also has to contend with a fat-shaming boss (John Cameron Mitchell) and an unplanned pregnancy resulting from a regular hookup with Ryan (Luka Jones), a podcasting slacker who makes her sneak out the back door.
Warm, funny — and, yes, opinionated — West hopes "Shrill" will "give people like me at age 15 or Aidy at age 15 someone to relate to and be the show we needed to watch when we were kids."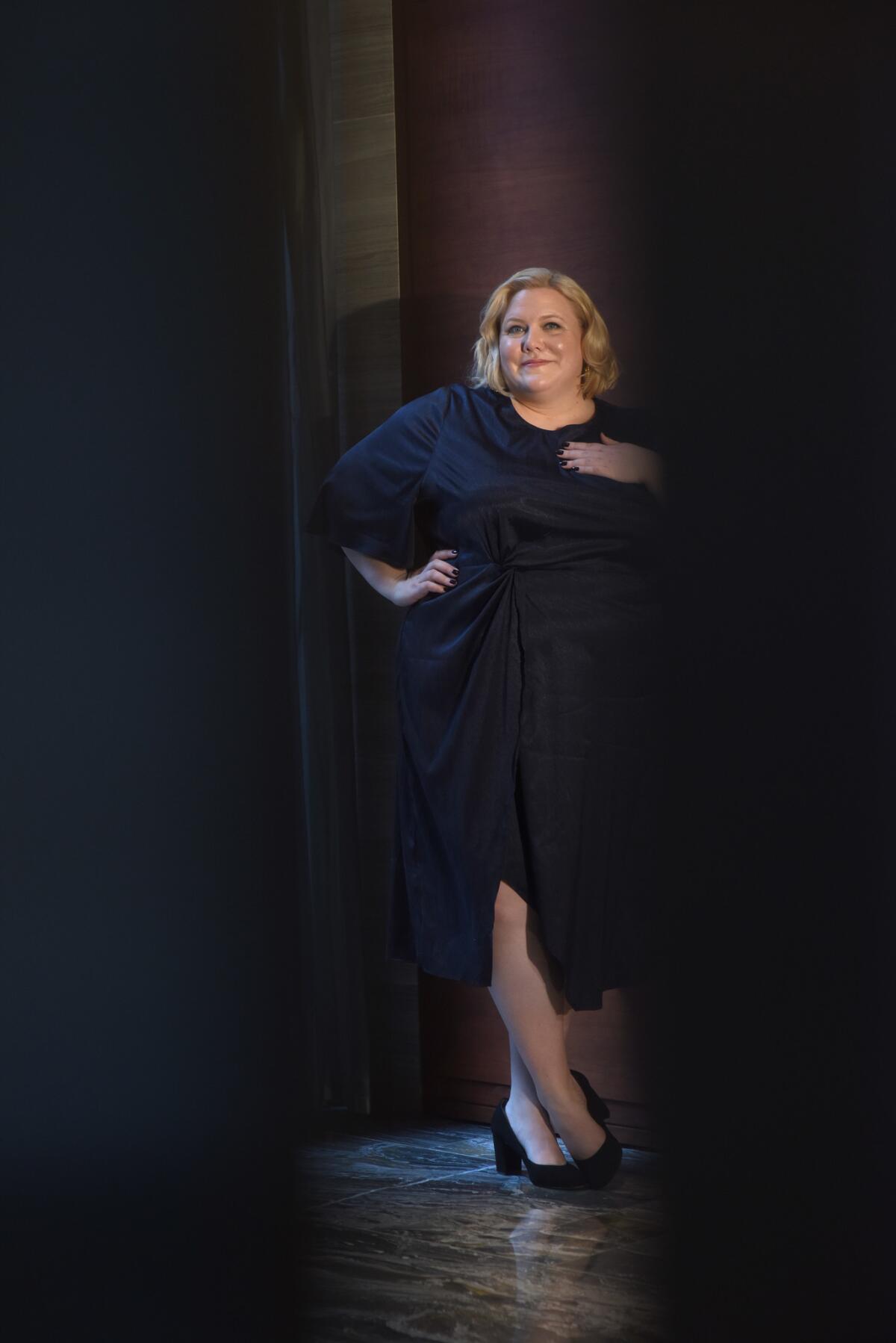 REVIEW: Hulu's 'Shrill' offers rare pleasures on the strength of 'SNL' star Aidy Bryant »
You've written about pop culture as a critic. How does it feel to be on the other side as the co-creator of "Shrill"?
It's scary and a lot of pressure. Also I was a critic for a really long time, so I'm like, man, I hope karma's not real because I was real mean to people's babies. Also now, once you actually make something and you see how many hours go into making one minute of television, I'm like, I just dismissed years of people's lives: "Eh, it sucked."
Has this experience made you reconsider anything you wrote?
Definitely. But I already was [doing that] as I aged. In my 20s I was like unnecessarily [mean] because that's an easy way to be funny and that's just lazy, immature writing. Yeah, I wrote some funny stuff, but was it justified? This certainly gives me more perspective on what it takes to make a piece of art and how hard it is to steer. Every once in a while I will see a celebrity at a thing, and a line I wrote will come to me in my head, and I'll be like, "Oh, God."
The first time I remember reading your byline was your review of "Sex and the City 2."
I was very cavalier then. There's a lot of stuff in that review that I would not write now, that I can't stand behind. But I admire my younger self's pluck. I was rarin' to go. Sarah Jessica Parker might have gotten wind about that review because it went viral. At one point my agent was like, "Oh, Sarah Jessica Parker's production company wants a meeting," but it didn't happen. And I wonder …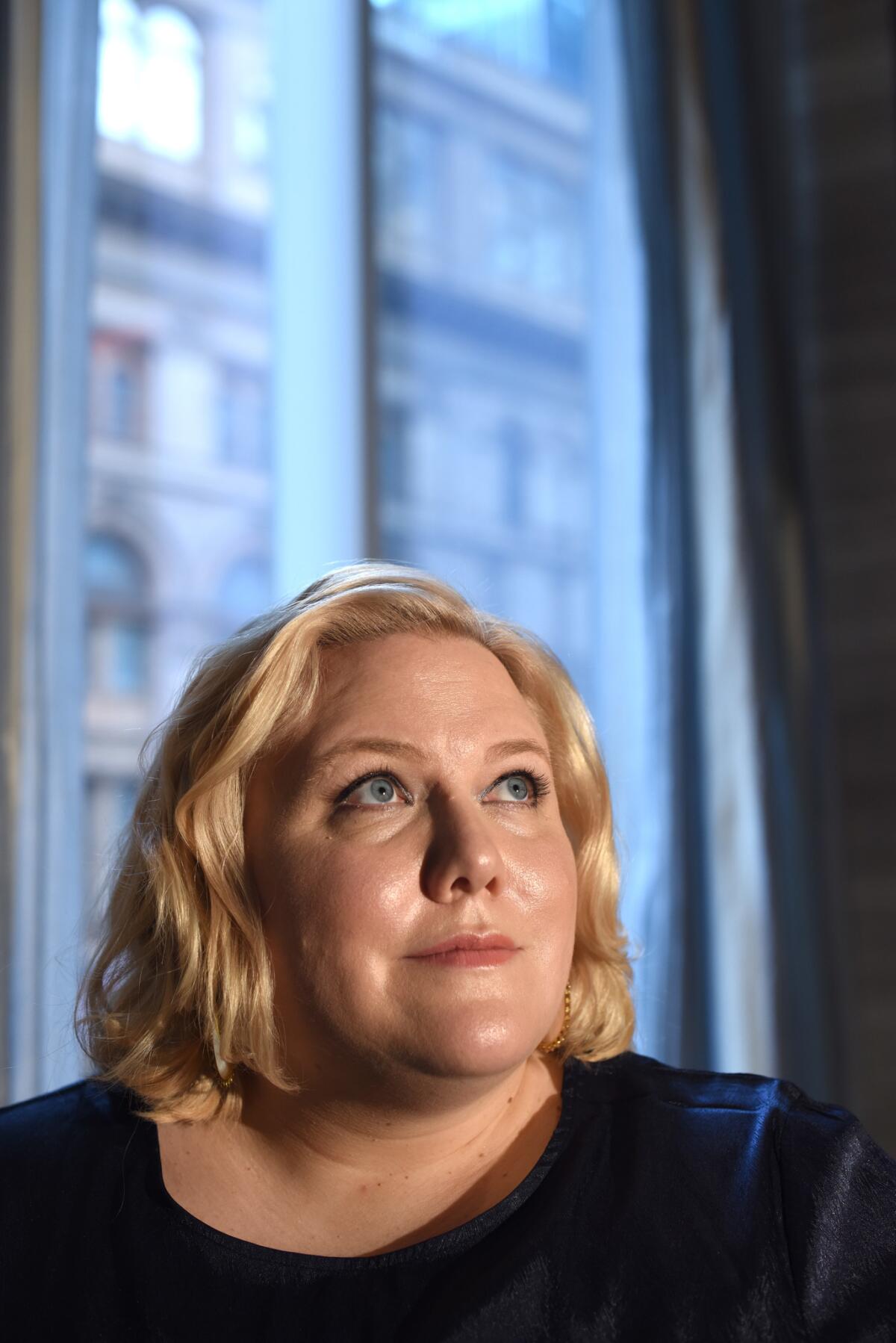 ALSO: Lindy West is the troll-fighting feminist warrior you've been waiting for »
Characters like Annie are usually used as comic relief.
They're a punchline or they're a tragedy. You can be a sad fat person who's trying to lose weight and failing. You can be a former fat person who did lose weight. You can be on "The Biggest Loser" and be starving and almost dying. If there's a happy fat person, they're a joke or a sex monster, like Miss Piggy. There's a lot of debate about Miss Piggy. I just feel like she does not respect Kermie's boundaries, but I don't want to totally come down on Piggy because I do love her in certain ways. We talked about this a lot in the writers room.
The show inhabits this contradictory space where it's a show about being fat but it's also not; the whole point is to not be that. There's more to Annie than that. She has a real life. She has relationships and a career and friendships — all the same complications that everyone has. She just happens to have this added external pressure to change her body and to fix herself. Fat people are the people we really punish for failing to be thin. There's this assumption that, if you can't or don't, you must not be smart enough, you must be lazy, you must be morally deficient. We wanted to provide a counter-example to that.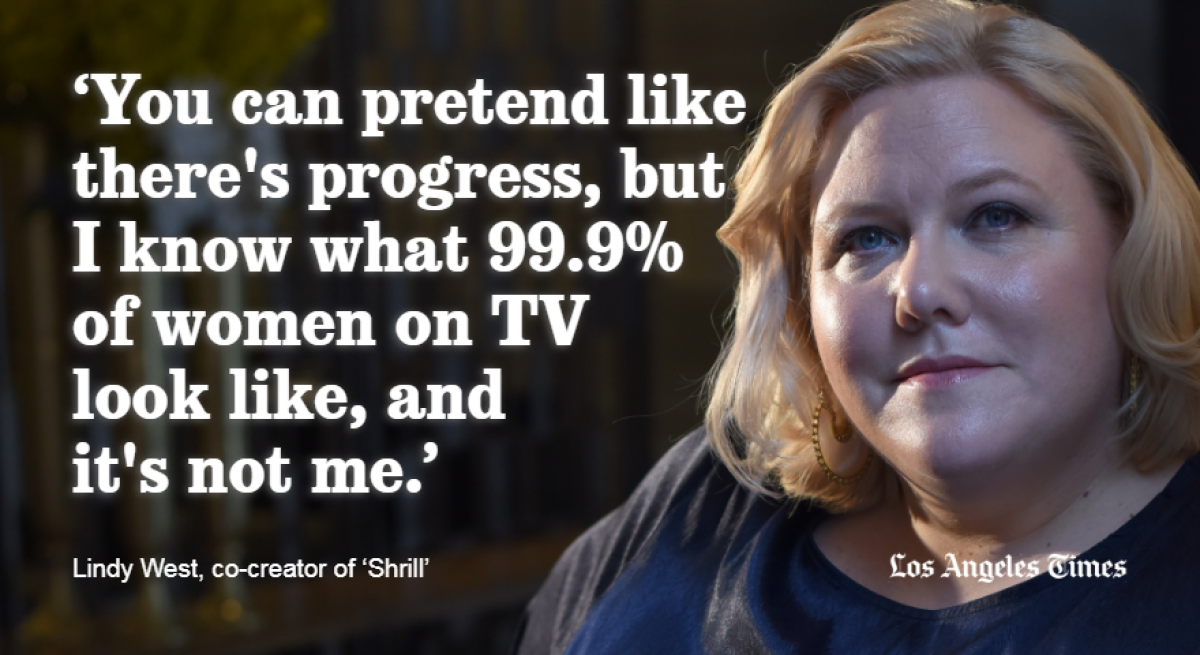 In the opening scene, a fitness trainer approaches Annie about her weight, using this language that's about self-care and empowerment. That was striking.
I think diet culture has been rebranded as wellness culture, which is a much more stylish thing for people to take part in.
Body positivity is so hot right now. People want to look enlightened in that way. But people still don't want to be fat. People are like, doesn't ["Shrill"] feel like progress? Yeah, kind of, but I know what the women on "The Bachelor" look like. You can pretend like there's some progress, but I know what 99.9% of women on TV look like, and it's not me.
Obviously I've invested much of my life in this fat positivity and I'm trying to fight for representation and dignity and respect. But part of me right now is like, you know what, never mind, all I care about is climate change. Call me a fat pig; I don't even care. I'm constantly on the verge of a panic attack because everything is so scary right now.
Because of climate change?
It just is so unnecessary for us all to die. The articles used to be like, "Your children are going to have a big problem." Now it's like, "You're going to die of a flood in 10 years." Like, man, I just got a TV show! [laughs] That's not my main reason why I don't want climate catastrophe. That's like way down on the list.
You decided to leave Twitter a few years ago. How has that changed your life?
I just read the news now like a normal adult. I would never tell people that they should quit Twitter because a lot of people really rely on it and I totally get that. I did too. That's part of why I hesitated. I was like I'm going to lose touch with all these interesting smart people. But I just weighed that cost-benefit and I was like, you know what, I think I'll figure it out without Twitter. And I have.
The reality is most people in the world are not on Twitter. We're just in this weird age where the president makes policy announcements on this little computer toy.
People misreport that I left Twitter because I was hounded by trolls. I'm certainly happy to be away from them. But really I left because they failed to do anything about Donald Trump. Twitter chose to let Nazis flourish on that platform, and they're still allowing that to happen.
After years of watching them do nothing, finally I was like why am I validating this platform with my presence? It felt gross to be there. So I left. I don't know why we've all been tricked into thinking it's essential and you should just write free content when we're already underpaid for writing professional content. I'd rather save my takes and jokes for my column.
ALSO: Rob Delaney and Sharon Horgan bring their funny, unflinching 'Catastrophe' to an end »
You've written about many subjects that evoke strong feelings — abortion, rape jokes, body image, "Love Actually." What subject has prompted the worst backlash?
People really don't like it when you're fat. That's been the overarching theme of all the harassment I've ever gotten. Writing about abortion, people are like, "Who would ever … you, why do you care?" Or when I wrote about rape jokes in comedy, people are like, "You wish that someone would rape you." Though I wrote something critical about "American Sniper" and then many snipers reached out to tell me they were going to snipe me. To have like military gun nuts mad at you is a different level of scary.
The first suggestion that comes up in Google is "Lindy West Love Actually." Your piece really struck a nerve, I guess.
That goes viral every Christmas, to the point where I'm now known as an anti-"Love Actually" activist. I'm like, you guys, I don't really care that much about "Love Actually." People are so passionate about it. Which is interesting because really my take on that movie is it's, like, very mediocre. There's no reason why we should all have such strong opinions about it. It's just a silly, nothing movie with like 400 characters so none of them are particularly developed.
Obviously you had to get the casting right. Tell me about casting Aidy Bryant and including her in the writers room.
Aidy was our first choice from the very beginning. Everyone agreed from the very start that it would be a long shot because she was still at "SNL." I just remember getting a call that Aidy had reached out to us. Hyperventilating, [I] couldn't believe our luck. She wanted to be involved creatively, and I really welcomed that. I didn't want to make the show with a team of thin writers. It was great to have that level of understanding between the two of us and to have had such similar experiences in our lives growing up in similar bodies.
The episode where Annie takes a joyful swim at a body-positive pool party is getting a lot of praise. What inspired it?
It's so … special. I just think about how many years I didn't go swimming. I remember going on family trips and not wanting to swim because you're taught that you should hide your body. And, oh, my God, swimming is the greatest. What's greater than swimming?
See the most-read stories in Entertainment this hour »
Follow me @MeredithBlake
Get our L.A. Goes Out newsletter, with the week's best events, to help you explore and experience our city.
You may occasionally receive promotional content from the Los Angeles Times.