PBS brings 'Little Women' to a new generation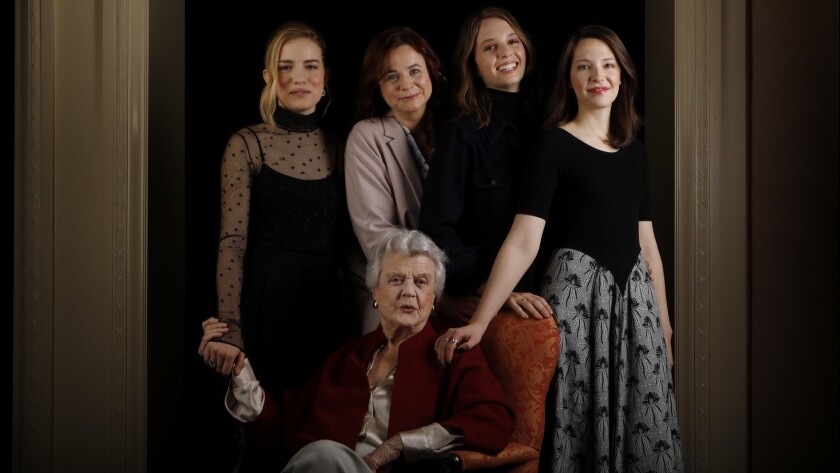 Am I a Jo, a Beth, an Amy or a Meg?
It's a question that generations of readers have asked themselves while immersed in "Little Women," Louisa May Alcott's cherished coming-of-age tale about four sisters in Civil War-era Massachusetts.
While many admirers of the book see themselves in Jo, the bookish tomboy and obvious stand-in for Alcott herself, others find aspects of themselves reflected in beautiful, nurturing Meg; shy, frail Beth; vain, materialistic Amy. Still others identify with their virtuous mother, Marmee.
Which may be why, like "Pride and Prejudice" or "Great Expectations," "Little Women" over the decades has been adapted numerous times -- into films, TV shows, an opera, a musical and even two anime series. The latest incarnation of "Little Women," a two-part "Masterpiece" miniseries, premieres May 13 on PBS.
Co-produced by the BBC, the series was written by Heidi Thomas, creator and showrunner of "Call the Midwife," another period drama focused on the lives of women. Starring Emily Watson as Marmee, Angela Lansbury as the formidable matriarch Aunt March and Maya Hawke as aspiring writer Jo, it tells a tale of young women coming of age in a fraught period that will resonate with contemporary viewers — bonnets and all.
"It's a book that exists outside of its own context, outside of its own time, outside of its own geography," said Thomas. "The relationships between the girls are extraordinarily durable, very passionate and alive. They don't feel like characters in a Victorian novel, and I think for that reason it hasn't dated."
The idea of revisiting the March family first arose in conversations between the BBC and executive producer Colin Callender, whose company Playground is known for its small-screen adaptations ("Howards End" on Starz, the upcoming "King Lear" for Amazon). They approached Thomas, whose "Call the Midwife" is one of the most popular shows on British television.
An avid fan of "Little Women" who first remembers reading it when she was 8 or 9 years old, Thomas was excited by the potential of a three-hour miniseries, as opposed to a two-hour feature, which would have required "very bold and quite bloody choices," she said.
But there was a problem: The BBC wanted the series ready for a Christmas 2017 broadcast in the U.K. — leaving just a year to complete the project from soup to nuts, and barely six months to generate camera-ready scripts, in between writing and producing another season of "Call the Midwife."
Thinking it an "outrageous ask," Thomas initially hung up on the BBC's head of drama Piers Wenger when he pitched her. . But after mulling it over for "about 48 and a half hours," she accepted what she jokingly calls "the Christmas challenge."
"I just knew it was a chance that may not come again," she said, recalling how she hunkered down to write in her favorite leather armchair for marathon sessions, even investing in a pair of flight compression socks to ward off vein thrombosis.
"There were days where I sat there so long I couldn't stand up, but when you love what you do, 18 hours is not a very long day," she said.
Thomas was motivated by a desire not to disappoint. "What you don't want to do is let yourself down or the book down or your audience down — those are three massive sets of expectations that somehow one has to fulfill." (So far, Thomas has at least satisfied British viewers: The series aired over Christmas, as scheduled, to highly positive reviews.)
When working from a classic, "you tend to be judged on what you leave out, not what you put in," explained Thomas, who previously adapted "Madame Bovary" into a miniseries that aired in 2000. The key is "identifying the sacred moments of the novel" and proceeding from there.
One moment she considered sacred? The scene where Amy falls through the ice while skating. She made the BBC's Wenger promise they'd have the budget to make it convincing.
But revisiting the book as an adult was also an eye-opening experience for Thomas. "When I first read 'Little Women,' I stood in the shoes of the girls. I very much saw myself as a fifth sister, as a lot of us do. Now I was standing in Marmee's shoes at the shoulder of those girls."
She was determined that her version of "Little Women" would depict a more complicated, less saintly version of Marmee, and that it was the story of the entire March family -- not just Jo. "It was very important for me that Meg and Amy and Beth all have their moments to shine. They're not just there to facilitate Jo's story."
See the most-read stories in Entertainment this hour »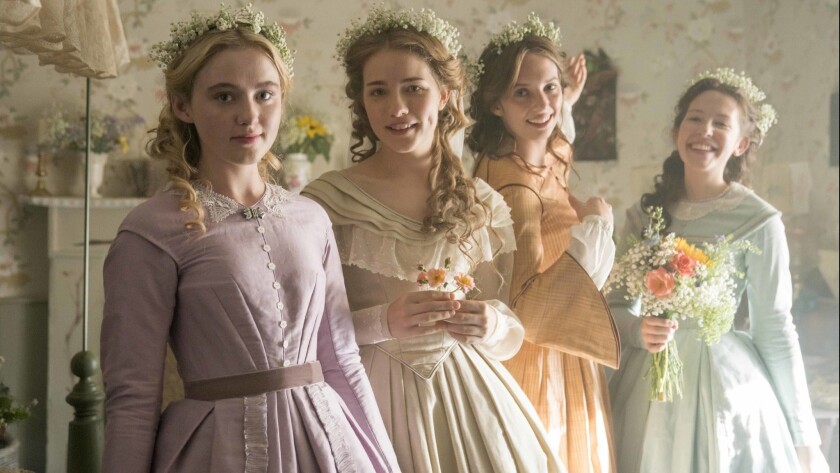 Still, finding the right actress to portray Jo -- a character who has been played by Katharine Hepburn, June Allyson and Winona Ryder, among others -- was critical. The role eventually went to Maya Hawke, a newcomer (of sorts) making her onscreen debut, despite coming from a family steeped in the business. (She is the daughter of actors Ethan Hawke and Uma Thurman.)
But, like Thomas, Hawke felt an intense personal connection to Alcott's novel. Growing up with dyslexia, reading was a constant challenge for her. "Little Women" is the first book she finished on her own. The 19-year-old connected to Jo's determination to become a writer at a time when women were rarely encouraged to pursue their own careers.
"She had a lot to overcome in order to be able to do what she loved, and that inspired me to overcome my own personal difficulties," said Hawke, whose on-screen siblings are played by "Scream's" Willa Fitzgerald (Meg), "Big Little Lies" star Kathryn Newton (Amy) and Welsh newcomer Annes Elwy (Beth).
"Little Women" also marks Angela Lansbury's first television role since 2005, when she guest-starred in crossover episodes of "Law & Order : SVU" and "Law & Order: Trial by Jury."
"Any time when one gets to use one's skills as an actress, you kind of jump at it because certainly at my time of life, the opportunity doesn't present itself as often as it used to in the old days," said the actress, 92. (Another selling point for Lansbury? The series filmed in Ireland, where she has a home.)
Thomas jokingly brags that she's worked with a lot of dames -- Lansbury, Judi Dench, Eileen Atkins.
"They don't get made dames for no reason," she said. "One of these things you get with these mature performers is they are incredible linguists. They can play a semicolon like a semicolon and a comma like a comma and a period like a period. You can put very, very complicated linguistic rhythms into their mouths. And that was very important to me with Aunt March. She is an 18th century lady, not even a 19th century lady."
Production on the series commenced in July 2017, with the Dublin suburb of Dún Laoghaire -- "the New Jersey of Ireland," as Hawke puts it -- functioning as home base for the cast. Fittingly, most of the key players on set were women. The series was directed by Vanessa Caswill, who'd helmed several episodes of "Thirteen," a gritty kidnapping drama for BBC Three. "We knew we wanted a director who would bring a fresh, contemporary, cinematic feel" to the material, said Callender.
Shockingly -- or perhaps not -- Lansbury says "Little Women" is the first time she's worked with a female director in her 70-year career. Even for the younger performers, accustomed to a slightly more equitable industry, the project felt different. "There wasn't a need to communicate the female perspective because everyone already had the female perspective," said Fitzgerald.
She recalled an email she received from producer Susie Liggat a few weeks before production was set to begin, asking if she'd be OK with foregoing shaving until the end of production.
"I was like, 'Of course I won't shave. This is the best email I've ever gotten from a producer,'" she said. "I think there was an interest in really exploring all aspects of the female experience in that time period, and that included body hair."
Caswill also oversaw intensive rehearsals that had the vibe of a consciousness-raising session. "We had a very strict policy of no phones anywhere," said Watson. "This was a very private space. [Caswill] said immediately, 'I want you to tell us stuff about yourself that nobody else knows.' We were very bonded as a group, by just talking about what it is to be a young woman. It's obviously a very ripe subject right now."
While Thomas sees "Little Women" as a story about authenticity rather than "pseudo-feminism," there is much in the miniseries that will speak to -- and even challenge -- contemporary viewers at a moment of historic political activism for women. There's Marmee, who for much of the story is essentially a single mother, left to raise four daughters in genteel poverty while her husband is serving as a chaplain in the Union Army. And even in 2018, Jo's decision to pursue a career rather than settle down with dreamy boy next door Laurie (Jonah Hauer-King) feels radical.
Said Thomas: "This novel was written in the 1860s. I sometimes think not a lot has changed, other than our expectations. We believe things to be different but I think for most women, living in the 21st century, there comes a point where you realize it is not so. We are being paid less. We are not, to quote 'Hamilton,' in the room where it happens. I think that is both a problem for us as a society and one of the great gifts of a novel like 'Little Women.' It has not dated as much as you might expect."
Follow me @MeredithBlake
---
The complete guide to home viewing
Get Screen Gab for weekly recommendations, analysis, interviews and irreverent discussion of the TV and streaming movies everyone's talking about.
You may occasionally receive promotional content from the Los Angeles Times.