The filmmakers behind Netflix's 'Making a Murderer' became part of the story they were telling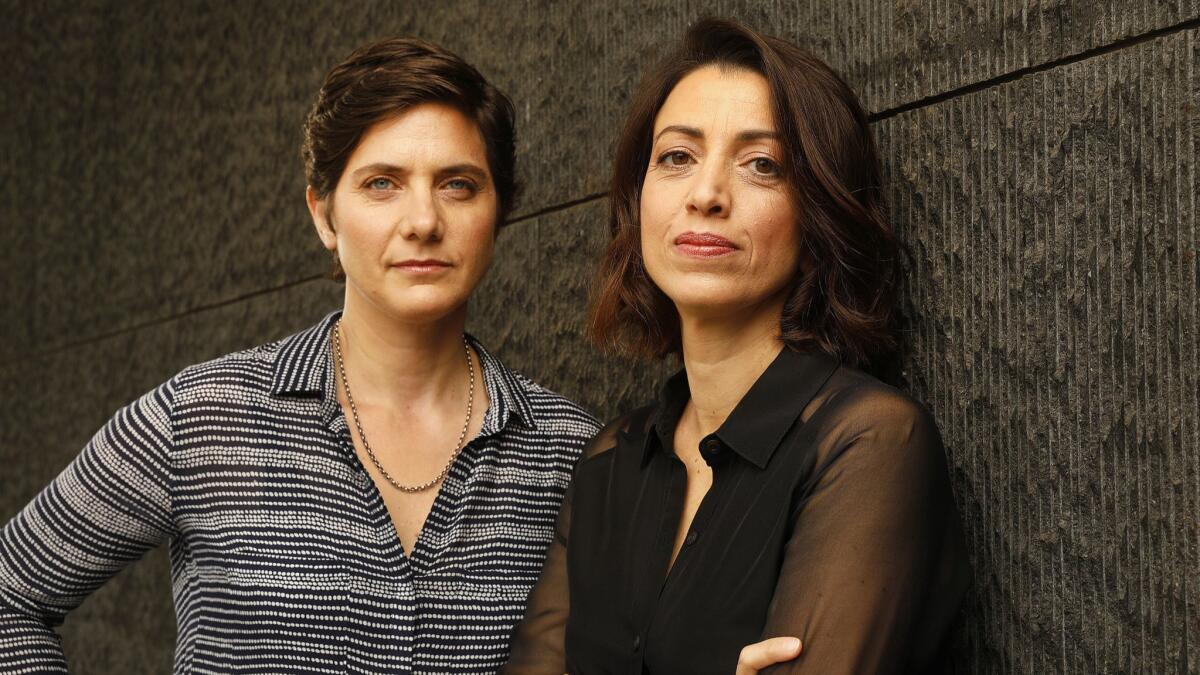 There was a moment when Moira Demos and Laura Ricciardi, the filmmakers behind Netflix's hit "Making a Murderer," knew their documentary series had crossed over from obscurity to a pop culture phenomenon.
"When Alec Baldwin called Moira on her cellphone," Ricciardi says flatly.
It was January 2016 — less than a month after the 10-part series began making the binge-watching rounds in households across the country (and beyond) in a time usually reserved for spreading good cheer, not becoming engrossed in a grim tale of murder and social justice. And Baldwin, they say, just wanted to let them know he was hooked.
A passion project 10 years in the making — begun in 2005 while they were graduate film students — the true-crime tale followed the case of Steven Avery, a Wisconsin man who had previously been convicted of sexual assault and then exonerated after 18 years in prison, only to find himself accused in the slaying of photographer Teresa Halbach.
The first season tracked the 2007 trial of Avery for Halbach's murder — collecting live courtroom feeds, police interrogation footage and jailhouse phone recordings, and conducting interviews — to present an in-depth look at the criminal justice system. Avery was ultimately found guilty.
A surplus of conspiracy theories from armchair detectives fed the internet even as developments in the case garnered a frenzy of media coverage. In addition to the cold call, Baldwin tweeted about the series — as did Rosie O'Donnell and Mia Farrow. And a petition with over 125,000 signatures was sent to the White House asking then-President Obama to pardon Avery and his nephew, Brendan Dassey, who was also convicted for his alleged involvement in the killing of Halbach.
"I would say Dec 18 [when the series was released] and the months following were incredibly rewarding," Ricciardi says. "Because when we set out to tell the story, we really had no idea whether the work we were doing would ever find a home, frankly. So to see the public responding to the material and really engaging in a dialogue about the American criminal justice system and issues that transcend the system was more than we could have dreamed."
What 'Making a Murderer' did was really provide an incredible example of complex, deep storytelling in the nonfiction form.
— Lisa Nishimura, Netflix's vice president of original documentary and comedy
Nearly three years after captivating viewers, the duo are back with "Making a Murderer: Part 2." Now available to stream, the 10-episode follow-up season tracks the legal odysseys that Avery and Dassey have been on since 2015 as they attempt to challenge their convictions. It's a gap in time that has also seen Netflix capitalize on the explosion in the public's appetite for true-crime docu-series since "Murderer" initially launched with the likes of "Evil Genius," "Wild Wild Country" and "The Staircase." With its return, "Making a Murderer" adds a new element to its intrigue: how the series' popularity has played a part in the narrative unfolding for its subjects.
"What 'Making a Murderer' did was really provide an incredible example of complex, deep storytelling in the nonfiction form," said Lisa Nishimura, Netflix's vice president of original documentary and comedy, in a phone interview. "I remember getting the call from them and saying [after Part 1], 'You know, we think that there might be an interesting update that we could present on Steven and Brendan and their post-conviction story. And for a really long time we called it 'Episode 11.' And then 1 turned to 2, turned to 3, turned to 4. Now we have 10 episodes."
The first episode of Part 2 opens with a montage of news footage and media appearances that lay out the "Making a Murderer" fever — the good and the negative. The camera then eventually lands on Steven's mother, Dolores Avery, the delicacy of her health and age more apparent, in her humble home as she goes through mounds of support mail — admirers have written letters, sent gifts and assembled scrapbooks dedicated to Steven and Brendan. It's a stark contrast to Part 1, in which she was opening hate mail.
"Their world has changed," Ricciardi says. "We were very conscious that if we document this world, it's a new world for them. There's an intense attention that wasn't there to that level before. But at the same time, you recognize a heaviness to [Dolores] — she's got this support mail, which makes a difference, but her son is still locked away."
The pair are sitting inside a conference room at Netflix's office space on Sunset Boulevard as they reflect on the new journey. They say Part 2 was driven by one dramatic question that now anchors this story's narrative: Here are two individuals who are serving life in prison for crimes they say they did not commit, and they're fighting to overturn their convictions, win their freedom and regain their reputation. Will they succeed? Yes or no?
"That, we imagine, would be the resolution — to this part of the story, at least," Demos says.
When Demos and Ricciardi finished filming the first part of the series, they continued recording conversations with Avery, sensing there'd be more story to tell.
"We knew we had a fighter," Ricciardi says. "Then you ask yourself: At what pace will things happen? Will there be something to document, something to point the camera at? And will we have access?"
Their world has changed...There's an intense attention that wasn't there to that level before.
— Moira Demos, one of the filmmakers behind "Making a Murderer"
The first part of the series concluded with two new attorneys taking on Dassey's case, Laura Nirider and Steven Drizin, from Northwestern University's Center on Wrongful Convictions of Youth, appealing his case through the federal courts. Part 2 follows them in their process. Meanwhile, Avery's new attorney is introduced: Illinois-based lawyer Kathleen Zellner, who specializes in wrongful conviction cases. She is attempting to get his conviction vacated in state court.
"Part of what was so interesting to us was they were on very different tracks," Demos says. "Laura and Steven were pursuing justice in the federal system, and Kathleen in the state system. Their methodology, their philosophy, their strategy was very different. And we thought that would make for rich storytelling, to compare and contrast how they were each working their respective cases."
The writer-producer-director duo embedded themselves in Manitowoc, Wis., for 18 months the first time they chronicled the goings on of the case. At its peak, their crew consisted of four people — themselves and Ricciardi's sister and brother-in-law.
Production on Part 2 of the series was markedly different. For one, they were commuting to the Midwest from Los Angeles. And they had an actual full-fledged crew during production, which took place from June 2016 through July of this year, allowing them to work on footage and shape the story while simultaneously filming. That perk would also present a challenge when chronicling the post-conviction process, particularly when fans of the show could now track developments in the case in real time.
"Part 2 was much more open-ended, and this part of the process can take much longer to develop and unfold, just by nature of how the courts work," Demos says. "For instance, with Brendan's story, in Part 1, you learn his lawyers, Laura and Steve, have filed what's called a habeas petition to challenge his conviction. That could take five years! We had no idea how dynamic and how active our footage would be. We had no idea how many episodes we'd end up with."
"It was a tricky balance between getting enough time to do the work at the level we wanted to do the work and having it come out when it's not out of date."
There was also the matter of the filmmakers now being well known. The bulk of filming took place on private property — either at the Avery family home or with Barb Tadych, Dassey's mother, at her home. But in the scenarios when they were in public spaces, especially where local media may be involved, it did create some interesting moments.
"There were some public events in Manitowoc we had to make tough choices about — if we had gone there, we could have been part of the event," Demos says. "People would have turned to us, and then we would have been part of it. And your goal as a documentarian is to be a fly [on the wall]. We had to stay away and [tell our crew] how we want to cover it, what the scene's about, what the focus is, and not be there ourselves."
Then there was the matter of giving due to Halbach and her family. Some viewers of the original felt the murder victim had been sidelined in favor of making a compelling portrait of the justice system. In both parts of the series, the filmmakers did not have direct access to the Halbach family. (The end credits for each episode in Part 2 include a list of people that declined to participate in filming.)
"We tried with whatever materials we could get to include Teresa and to include her family and the various victims of the crime, and include what they were going through," Demos says. "We invited them to participate in both parts, and totally respect their decision not to. And we're also very cognizant about the nature of post-convictions [the appeals process] — you've got teams of lawyers going back and raising questions and unpacking things when you're struggling, and we're opening up wounds and that's an unfortunate fact about this part of the process. We wanted to capture that, but it's not easy for anybody to do this."
With "Making a Murderer 2" out for public consumption, the duo, who hope to explore scripted entertainment next, are already facing questions about whether the story ends there or if there's the possibility of a third act.
"We'll probably never say never," Ricciardi says. "It remains to be seen whether we would continue to follow it. We would ask the same questions we asked when considering whether to do Part 2: What's happening? Who's doing it? Do we have access to it?"
'Making a Murderer'
Where: Netflix
When: Part 2 any time, starting Friday
Rating: TV-14 (may be unsuitable for children under the age of 14)
Twitter: @villarrealy
Get our L.A. Goes Out newsletter, with the week's best events, to help you explore and experience our city.
You may occasionally receive promotional content from the Los Angeles Times.