'Sons of Anarchy' spinoff 'Mayans MC' will have its own distinct vibe, says creator Kurt Sutter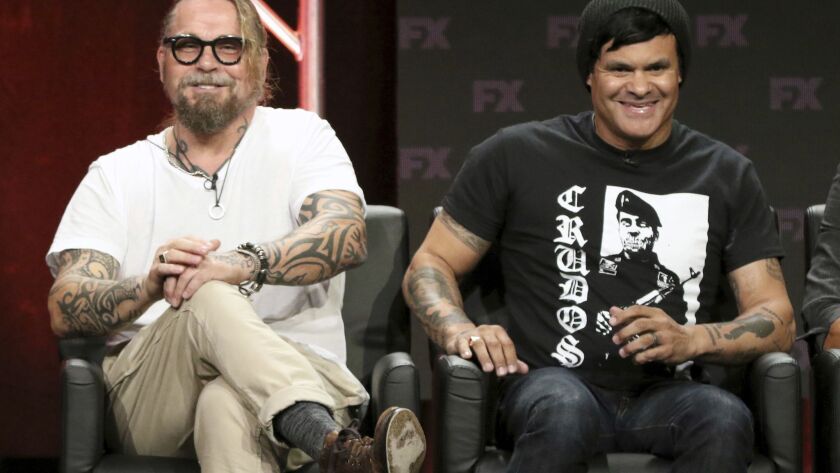 Four years after the death of motorcycle gang leader Jax Teller brought the curtain down on the popular FX drama "Sons of Anarchy," creator Kurt Sutter is hitting the road again with "Mayans MC," which comes to the network this fall.
As the cast and creators of the series took the stage at the Beverly Hilton for the Television Critics Assn. summer press tour, the first question asked if the timing was simply right for a return to another family embroiled in motorcycles and mayhem.
Sutter referenced his short-lived medieval-flavored series that followed the "Sons" finale.
"I planned on 'Bastard Executioner' bombing and only lasting a season," Sutter answered dryly. "All part of my big plan."
Still, there was a sense of timing with "Mayans". The show features a predominantly Latino cast telling a Latino story, an overdue sense of onscreen representation that has not gone unnoticed by Edward James Olmos, who plays the family patriarch.
"This show is going to move the needle," he said, who also starred in a Latino-centric series for PBS, "American Family." "We're more than 22% of the population and less than 4% of the images onscreen. . . We are in a very difficult time. This thing is going to shoot us right through the roof."
Co-creator Elgin James also considered the impact of "Mayans" offering increased visibility for Latinos but — as has often been the case — as criminals.
"It's something I've thought about a lot, especially since I grew up in a world of gangs and violence and it was something I said I never wanted to do once I became an artist," James said. "And then realizing that's exactly what I have to do as an artist as opposed to pretend it doesn't exist."
He continued, "A lot of the people on 'Mayans' behind the camera and in front of the camera grew up in the cycle of poverty and violence and incarceration — I know that I did. To be honest, I couldn't write on 'The Cosby Show'. . . but I do know that I have these stories I want to tell. I have this damage inside me that I have to get out."
For Sutter's part, the casting and world he's built for "Mayans" was tied to a sense of authenticity for the show, which is set in the bordertowns of California's Imperial Valley.
"I joke that I'm really proud of the fact I have a primarily brown cast with the exception of Sarah Bolger," he said with a grin, speaking of the Irish actress who plays the show's Emily. "And I went out and found the whitest woman I could find to fill that hole."
"Mayans M.C." premieres on FX Sept. 4.
The executive producers and cast of "Mayans M.C." speak to the representation the "Sons of Anarchy" spin-off brings. 
Follow me over here @chrisbarton.
ALSO:
---
The complete guide to home viewing
Get Screen Gab for everything about the TV shows and streaming movies everyone's talking about.
You may occasionally receive promotional content from the Los Angeles Times.