From Harvey Weinstein to 'Black Panther,' some of Jimmy Kimmel's best zingers from his Oscars monologue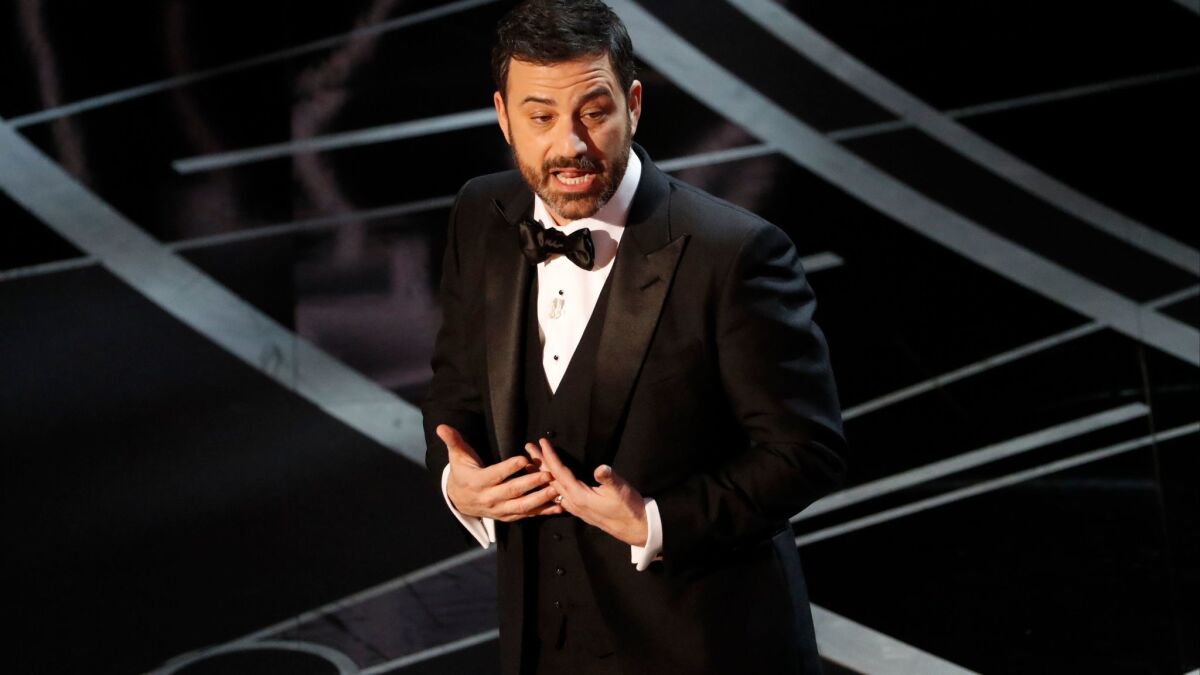 Jimmy Kimmel returned for his second stint hosting the Oscars, hopefully this time without the wrong film being named best picture at the end.
Here are some of the best bits from his opening monologue:
After thanking the academy for having him back a second time: "Some of you will be going home with an Academy Award. This year when you hear your name called, don't get up right away. Give us a minute, we don't want another thing."
About the "thing" that happened: "Last year, about a week before the show, the producers asked me if I wanted to do comedy with the accountants, and I said 'No, I don't want to do comedy with the accountants.' And so the accountants went ahead and did some comedy on their own."
OSCARS 2018: Live updates >> »
About the Oscar statuette itself: "Oscar is the most beloved and respected man in Hollywood and there's a good reason why. Just look at him, he keeps his hands where you can see him, never says a rude word and most importantly, no penis at all. He is a statue of limitations."
About Hollywood: "Here's how clueless Hollywood is about women. We made a movie called 'What Women Want' and it starred Mel Gibson, that's how bad it is."
About Harvey Weinstein: "The academy expelled Harvey Weinstein last year. There were a lot of nominees and Harvey deserves it the most."
About Weinstein's expulsion from the academy: "The only other person to be expelled from the academy was Carmine Caridi, a character actor who got kicked out for sharing screeners. Carmine got the same punishment as Harvey Weinstein for giving his neighbor a copy of 'Seabiscuit' on VHS."
About the positive nature of this year's changes: "It's positive change, this is a night for positivity, and our plan is we're going to shine a light on a group of outstanding and positive films each of which got crushed by 'Black Panther.'"
About the positive nature of this year's changes, Part 2: "I remember a time when the major studio heads didn't believe a woman or a minority could open a superhero movie and the reason I remember that time is because it was March of last year."
About offering a jet ski to whoever gives the shortest acceptance speech: "Why waste precious time thanking your mother when you could be taking her for the ride of her life on a brand new jet ski?"
Get our L.A. Goes Out newsletter, with the week's best events, to help you explore and experience our city.
You may occasionally receive promotional content from the Los Angeles Times.