In HBO's 'My Dinner With Hervé,' Peter Dinklage takes on the flip side of fame as the 'Fantasy Island' actor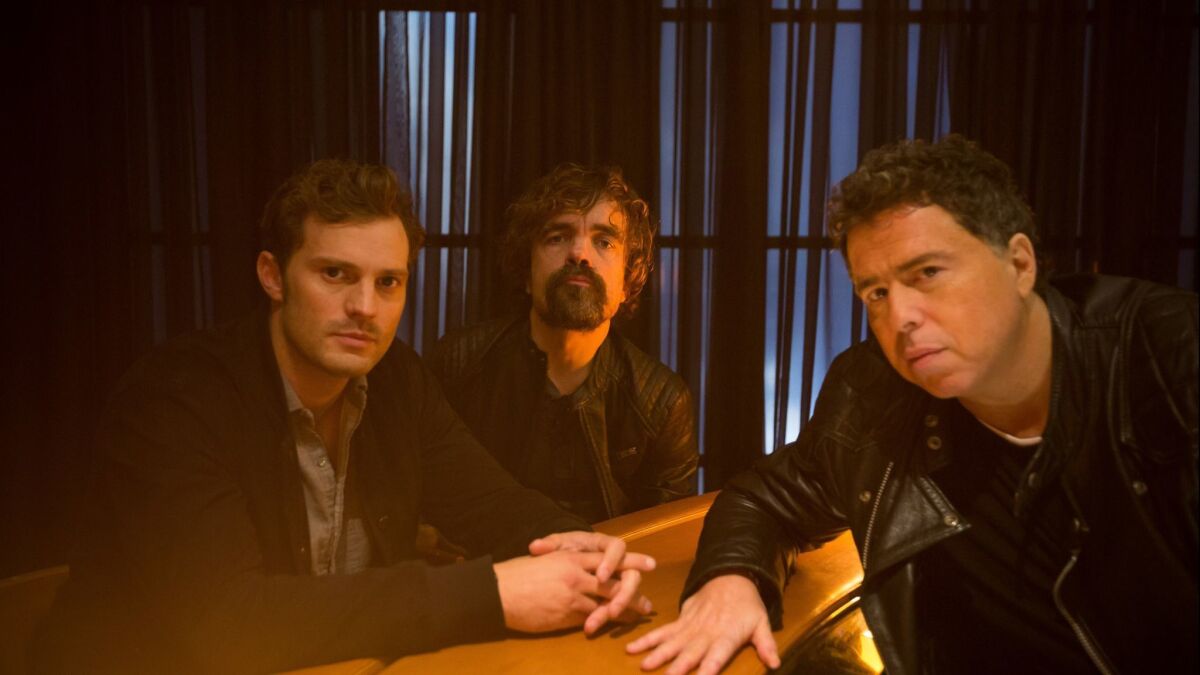 Reporting from New York —
In the last week of August 1993, Sacha Gervasi made a promise to actor Hervé Villechaize.
Then a reporter for the Mail on Sunday, a British tabloid aimed at the conservative readers of "Middle England," Gervasi was sent to Los Angeles for what was supposed to be low-hanging journalistic fruit: a jokey where-are-they-now feature about the former "Fantasy Island" star, who'd left the hit series a decade earlier amid a pay dispute and had barely been seen since.
But as writer-director Gervasi recently recalled in a joint interview with Peter Dinklage and Jamie Dornan, the stars of his HBO film "My Dinner With Herve," the no-brainer assignment took an unexpected turn. After an elaborate effort he likened to tracking down Howard Hughes, Gervasi met the 3-foot-11-inch French actor for dinner at a restaurant on Melrose Avenue. As it was winding down, the "charming, cosmopolitan" Villechaize suddenly pulled out the knife he'd been using to cut his duck à l'orange.
"He looks me in the eye and he says, 'Do you want the ... or do you want the true story?' And I'm like, I am literally about to be shivved to death by the dwarf from 'Fantasy Island.' He said, 'You've written the article already before you got here.' And it was … true, I had, because Hervé was a punchline, because he was 'ze plane, ze plane,' because how could he possibly be a real human being? He was just a Fellini-esque weird creature."
Gervasi wound up spending several days with Villechaize, who shared his colorful life story, which included a painful childhood in post-World War II France, an early career as a painter and a post-"Fantasy Island" downward spiral of drinking, spending and limited professional opportunities other than a gimmicky Dunkin' Donuts commercial.
Gervasi returned to London and vowed he'd do justice to the actor's tale and had just begun sorting through 12 hours of tape when he got a call from Villechaize's girlfriend telling him the 50-year-old had killed himself.
"I realized that for some crazy reason he had just picked some weird English journalist to tell his whole life to," said Gervasi, whose 25-year-old promise has now come to fruition as "My Dinner With Hervé," a film that premieres Saturday with Dinklage as the womanizing, debauched Villechaize and Dornan as Danny Tate, a recovering alcoholic and journalist loosely based on Gervasi himself.
Executive produced by Dinklage, "My Dinner With Hervé" re-creates Villechaize's final days and charts his unlikely rise to international stardom in the James Bond film "The Man With the Golden Gun" and later as trusty sidekick Tattoo in "Fantasy Island," the hit series from mega-producer Aaron Spelling.
The film is both a straightforward biopic and a meditation on fame and the ruthlessness of celebrity journalism, which builds stars up and then delights in taking them down. But rather than portraying Villechaize as a powerless victim, it shows how he contributed to his own downfall by playing up his status as a curiosity.
Dinklage, who has achieved an even greater level of fame through his portrayal of Tyrion Lannister on "Game of Thrones," understands why Villechaize loved the attention that came with being different — why he "owned it" by, for instance, wearing a T-shirt that read "Bionic Midget."
"If you have fame and you're ... visually unique — because that's how I describe myself, 'visually unique,'" Dinklage said with a laugh, "you walk into a room and people are like, 'Whoa, that guy's short.' You understand why somebody is looking at you. And the problem is, that can be like a drug. Because that goes away if you don't consistently do good work to maintain it.
"Fame is an abstract, it doesn't exist. It should be about the work. But when it's just about the fame part, and there's no work to support it, that's when it becomes very dangerous."
The story turns
Back in 1993, Gervasi's editor was less interested in a story about the dark side of fame and declined to run the story he wrote following Villechaize's death because "6 million people are gonna choke on their … croissants on Sunday morning. It's too morbid. It's too dark. It's not what we do."
Gervasi decided to pursue other outlets, writing a script for a short film that eventually made its way to Steven Spielberg, who hired Gervasi to write the screenplay for "The Terminal" and led to a career making films that often deal with the perils of pursuing a career in show business: the documentary "Anvil! The Story of Anvil," which follows a Canadian heavy metal band that never quite made it, and "Hitchcock," a narrative feature about the making of "Psycho."
"Hervé completely changed my life," said Gervasi. He first approached Dinklage about making a film about Villechaize roughly 14 years ago, around the time the actor broke through with his performance in Tom McCarthy's "The Station Agent."
At the time, it was still conceived as a short film, but over the years Gervasi reshaped it into a feature that would better "honor the memory of Hervé," Dinklage said. "It was just a long process. And there were times when I didn't think it would ever get made. Then HBO came in, because I have a great relationship with them."
"Why?" asked Dornan, feigning ignorance.
"I'm on 'Curb Your Enthusiasm,'" deadpanned Dinklage, noting this is the first time he's played a real-life person. "You have to get past how intimidating that is. Otherwise you'd just be insecure about it, completely, and then you don't have a performance."
The actor worked with voice coach Liz Himelstein to master Villechaize's French accent.
"That was the one thing I really needed to nail. Everybody knows 'Ze plane! Ze plane!' and how specifically Hervé that was. It was very important to me to get that accurate early on, so I could be freed up by it, so I wasn't just doing an imitation of it," said Dinklage. He was less intent about looking exactly like Villechaize and opted not to wear extensive prosthetics because, he said, "you don't want to just wear a mask."
Dornan, known for his role as Christian Grey in the "Fifty Shades of Grey" films, also knows a thing or two about being the star of an enormously popular franchise. The Irish actor was cast much later in the process but, he said, "it felt very personal to me very quickly. And I know it had no right to, because it had nothing to do with me. But sometimes as an actor, a script means something to you very quickly, you feel that deep connection to it personally.'
Gervasi jumped in: "One of the themes of the film is judgment. Peter and Jamie, at times, have been judged by their looks. So for me, casting Jamie opposite Peter, it was the right version of slightly different things. People might project stuff onto them, but is that really who that person is?"
There's also a certain symmetry in Dinklage playing, as he put it, "a guy who was on a very well-known TV show." On "Game of Thrones," Dinklage has won three Emmys and attained a level of popular and critical success rare for any actor, regardless of height, in an industry with a long track record of exploiting and degrading little people.
The actor, who appeared in this year's Oscar-nominated film "Three Billboards Outside Ebbing, Missouri" and recently wrapped production on the final season of "Game of Thrones," is now at a professional crossroads but seems well-positioned for a long, rewarding career — because, he said, he's found a "support system" of like-minded people to collaborate with.
"There's nothing without each other — without the writer, the director, the other actors. It's all we have," he said, gesturing to Dornan and Gervasi. "I was lucky early on in my career to really establish a strong foundation. That's really important. I don't think Hervé had that."
But Villechaize would no doubt be thrilled to see his story brought to life in such high-profile fashion. "He would be laughing his head off right now," said Gervasi, "because he just wanted to be remembered."
See the most-read stories in Entertainment this hour »
'My Dinner With Hervé'
Where: HBO
When: 8 p.m. Saturday
Rated: TV-MA (may be unsuitable for children under the age of 17)
Follow me @MeredithBlake
---
Get our L.A. Goes Out newsletter, with the week's best events, to help you explore and experience our city.
You may occasionally receive promotional content from the Los Angeles Times.