Review: 'Next of Kin': So well-acted...if only it didn't fall into the good Muslims in terrorism trap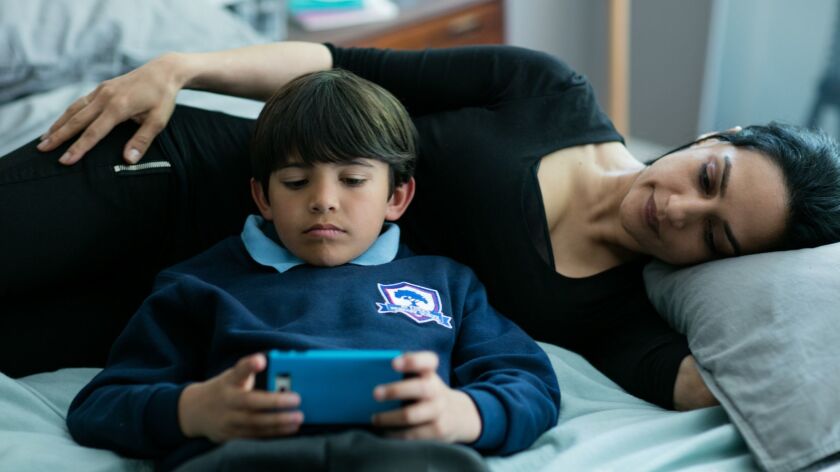 Television Critic
"Next of Kin" is an international thriller that looks at immigrant life, family bonds and the roots of terrorism in both interesting and predictable ways.
The six-part series follows London doctor Mona Shirani (Archie Panjabi of "The Good Wife"), a London doctor from a tightknit Pakistani British family as she tries to make sense of her brother's brutal murder.
But this production, available on the Sundance Now streaming service, isn't your average British TV murder where rumpled detectives with checkered pasts and crooked teeth scour the dreary landscape for clues.
The first three episodes reviewed here spend a great deal of time and energy establishing just how "normal" and average this immigrant family is. Mona, her brothers, sister and mother have cookouts, listen to music and frolic in the park with their kids like other Britons. The catch? They're Muslim, which in TV land means they have ties to a terror network.
It's the same old requisite backstory given to 99.9% of Muslim characters on the small screen: No matter their occupation or locale, they're connected to a sleeper cell or nefarious plot to destroy their adopted country. It can even be an unwitting connection, such as mingling with the shady bearded guy in their local mosque. But it's a brush with terror nonetheless.
Even when shows depict the cultural and religious differences with nuance and accuracy, as "Next of Kin" does, there's always a radical cleric in someone's closet preaching death to infidels. It's a standard that applies even to good Muslims, like Mona.
It's a shame because "Next of Kin" has the potential to be a smart and suspenseful series if it wasn't for a backdrop that feels mass-produced at this point, especially after shows like "The Night Of" and "Master of None" have shown there are plenty of other routes worth exploring.
Panjabi, whose role as Kalinda in "The Good Wife" won her an Emmy, is excellent as Mona. She plays a professional woman and devoted mother who is used to having things under control. But there's nothing controllable about the situation Mona finds herself in.
She and her British Anglo lobbyist husband, Guy (Jack Davenport), were seemingly unaware of the dangerous circumstances her brother Kareem (Navin Chowdhry) faced while working as a doctor in his charitable clinic in Lahore until he was kidnapped on his way to the airport. His execution at the hands of a radical militant group was recorded and posted on social media by ISIS.
Kareem's abduction coincides with a bomb attack in London and the disappearance of his teen son, Danny (Viveik Kalra). But Mona discovers Danny is alive in Lahore and has possible ties to the terrorist group that killed his father. How all these events are connected, and how they dovetail with family secrets, is where the series' suspense is at its best.
Created by husband and wife Paul Rutman ("Indian Summers") and Natasha Narayan, "Next of Kin" is full of mysteries worth solving. But the slow pace can sometimes prove a challenge. And otherwise smart characters make uncharacteristically stupid decisions that are hard to believe. Mona, for instance, is a whip-smart physician, yet she stumbles into situations over the first three episodes that are out of character.
She travels to Lahore after her brother's death, visits the scene of the crime, is shot, yet still continues to do reckless things like sending thousands of dollars to her nephew, even though there's a chance he's complicit in his father's murder.
The authorities are also watching her and her family back in London, and they seem to know more than she does about why Kareem was targeted. Detective Chief Inspector Vivien Barnes (Claire Skinner) becomes focused on capturing Danny, causing Mona to be torn between doing the right thing or doing what's right for her family.
"Next of Kin" has a wonderful cast that includes Shabana Azmi as Mona's tough and secretive mother. But the show comes with so much cultural baggage it's hard not to notice when it veers into the same old clichés that underpinned "24" and "Homeland."
---
Inside the business of entertainment
The Wide Shot brings you news, analysis and insights on everything from streaming wars to production — and what it all means for the future.
You may occasionally receive promotional content from the Los Angeles Times.